10 Dark Facts You Need To Know About Gotham City's History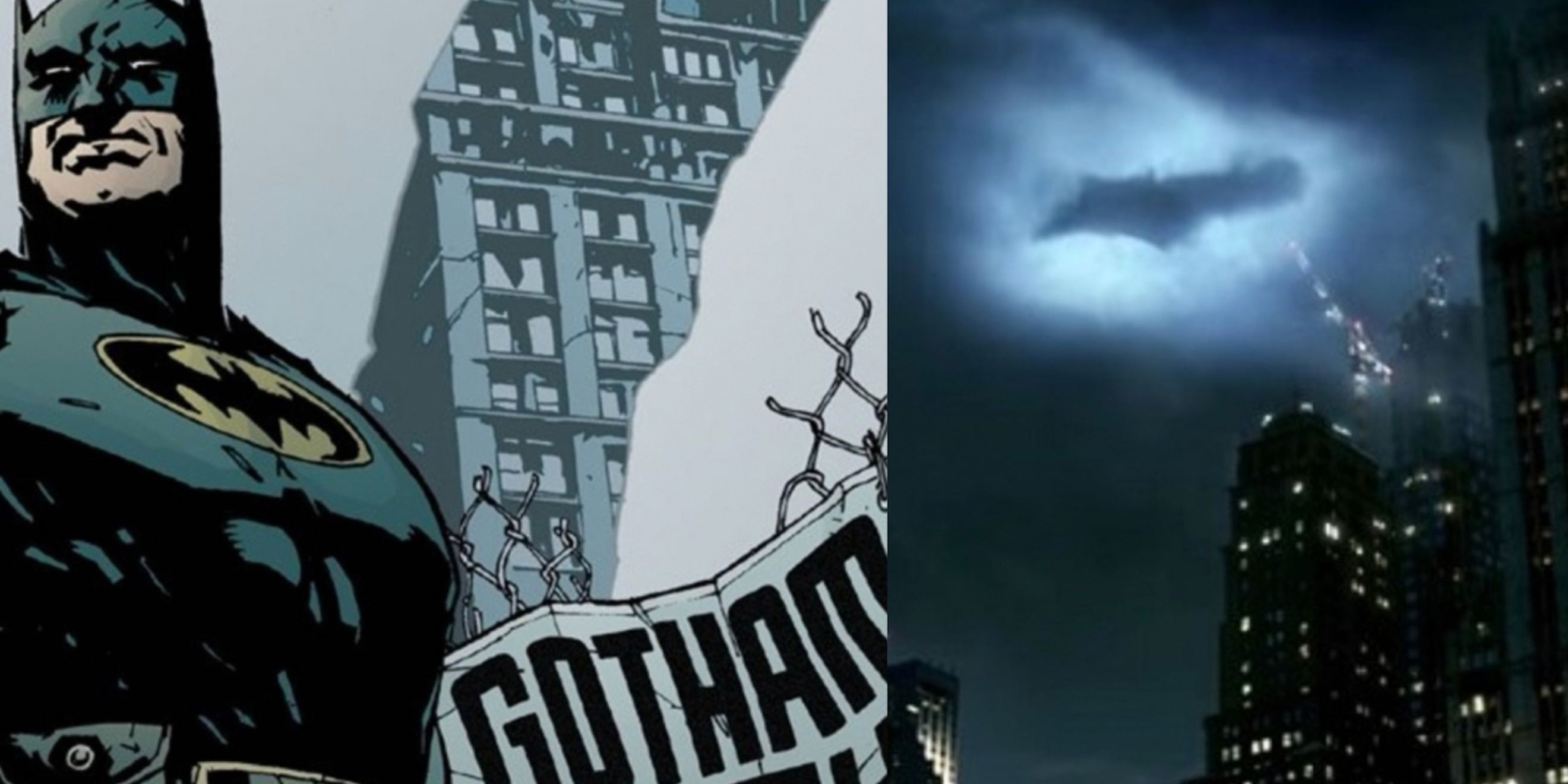 While this year The Batman may have had one of the most accurate Gotham cities on the big screen, many fans would agree that it's one of the worst fictional cities to live in. Most often just called Gotham, it's where Batman makes his home, but with streets dubbed "Crime Alley" and a rotating gallery of thieves regularly breaking out of Arkham, it's perhaps the most dangerous place in all comics.
Gotham has been a part of DC Comics since 1940, and during that time it has seen many changes and revealed many interesting story elements. Even some of the biggest Batman fans might not know all of these historical details.
Gotham is in New Jersey
Many depictions of Gotham in movies and television make audiences think the city is New York. After all, the comic city draws a lot of inspiration from New York itself. This is not the case, however.
RELATED: 10 Shows To Watch If You Loved Gotham
When Gotham is depicted on a map in DC comics, it's usually New Jersey. Add to that the idea that Metropolis is his "sister city" and that Superman's playgrounds are just across the river.
Gotham was first identified in Batman #4
Although the town where the Caped Crusader does most of his work has appeared in earlier comics, particularly in issues of Detective Comics before Batman got his solo series, the town itself wasn't actually identified.
Batman #4 featured four different stories, published in December 1940, including one titled "The Case of the Joker's Crime Circus". This version of the Joker steals from wealthy households who host his miniature circus at parties. It is in this story that the city of Batman is first called Gotham. Like most pieces of the classic Batman mythology, Gotham was created by Bill Finger and Bob Kane.
Gotham's History Wasn't Written For Batman Comics
Although Gotham City has been home to many crime fighters over the years, it is best known as the home of Bruce Wayne. The city's history, however, was not originally fleshed out in Batman comics, but instead, in Swamp Thing.
by Alan Moore Swamp Thing This is where comic book readers would learn the story of the Norwegian mercenary who originally founded the city. In 1635, the mercenary created Gotham, but it would eventually be taken over by the British, and later by several wealthy families and crime bosses.
More Gotham mayors die on the job than leave office
Being the mayor of a comic book town like Gotham is actually more dangerous than being a vigilante fighting there. In the 80 years since Gotham's comic book debut, the city has had many mayors on the page. Unfortunately, most of them don't last long as they end up being targeted by a bad guy.
RELATED: Which Batman Supporting Character Are You Based On Your Zodiac Sign?
The most common villain to target Gotham's mayor is, of course, the Joker, but there are a few other antagonists after these civic leaders. Marion Grange, for example, is murdered by Nick Scratch's team. Armand Krol also dies, but he is infected with the Clench virus. Even the Gotham TV series goes through six mayors during its run, and half of them are killed.
A Villain Brought Movie Architecture To The Comics
The 1989 Batman The film inspires many memes and is also known for its distinct gothic look.
The city's history revealed that Judge Solomon Wayne (Batman's ancestor) once commissioned an unlucky artist to design buildings that could make Gotham a city's structural powerhouse, one to keep bad guys from to enter. The artist was Cyrus Pinkney. Over several decades, Pinkney's designs were largely lost as the city grew and new buildings were built around its old ones. It wasn't until the early '90s that an obsessed Pinkney "fan" began blowing up buildings in Gotham to reveal Pinkney's work underneath and bring the comics closer to the aesthetic of the 1989 film. created by Tim Burton and production designer Nigel Phelps.
Falcone Penthouse is a prime hangout for iconic villains
Carmine Falcone is a name Batman fans will be familiar with. A member of one of Gotham's most prolific organized crime families, Falcone can be found in numerous screen adaptations of Batman. In the comics, his penthouse also becomes an underworld hotspot.
It's because Batman: The Long Halloween turns this penthouse into a place where Batman has his first encounters with two different Batman villains. In a retcon, he first encounters Two-Face and Catwoman at the penthouse, and both become two of his most iconic enemies, especially the latter, as there are many different versions of Catwoman.
Several Gotham landmarks have Easter egg names
There is a great tradition in comic books to honor creators who came before current writers and artists. That's part of the reason so many superhero movies feature Easter eggs that use the comic book creators' names. The same is done in the comics.
RELATED: 10 Best Gotham Episodes, According To IMDb
Many of Gotham's landmarks featured in the comics, even if they only appear once or twice, are named after those who helped shape Batman's legacy. Finger River and Finger Memorial Park, for example, are both named after Batman co-creator Bill Finger. Kane County Mortuary is named after co-creator Bob Kane. The Westward Bridge is named after the 1960s era Batman actors Adam West and Burt Ward.
Arkham Asylum first appeared in Batman #258
In modern comics, the facility is known by the full name of Elizabeth Arkham Asylum for Criminally Insane. When it first appeared, however, it was simply Arkham Hospital. Although he wasn't initially identified when the Joker escaped from it a few troubles earlier, he made his first real appearance in Batman #258.
This issue landed in the '70s, over 30 years after Gotham made its comic book debut. So even though the facility is one of the most famous locations in Gotham these days, it was a long time before the comics incorporated its story. The first arc featuring the hospital included Two-Face's escape.
Blackgate prison has been closed by Amnesty International
In Batman's world, if one of his villains doesn't end up in Arkham, he'll probably end up in Blackgate. Some of the villains spent time in both locations for their crimes.
However, the comics revealed that Blackgate was shut down for a while. When it was not operational, it was because Amnesty International had closed the prison. In the real world, Amnesty International is an organization that is not affiliated with any particular government group and that defends human rights all over the world. If the fictional version shut down Blackgate, the prison must have had particularly inhumane practices.
Gotham almost had three other names
According to The New York Times, before Bill Finger and Bob Kane chose Gotham as the name of Batman's hometown, there were three other options.
Civic City, Capital City, and Coast City were almost all names given to Gotham. Civic City became the name of a headquarters of the Justice Society of America. Coast City became the home of Green Lantern Hal Jordan.
NEXT: Every Movie Depiction Of Gotham, Ranked Least Accurate
Darth Vader's Knights of Ren Defeat Finally Reveals His Weakness
About the Author