10 movies from the 1990s that everyone should see at least once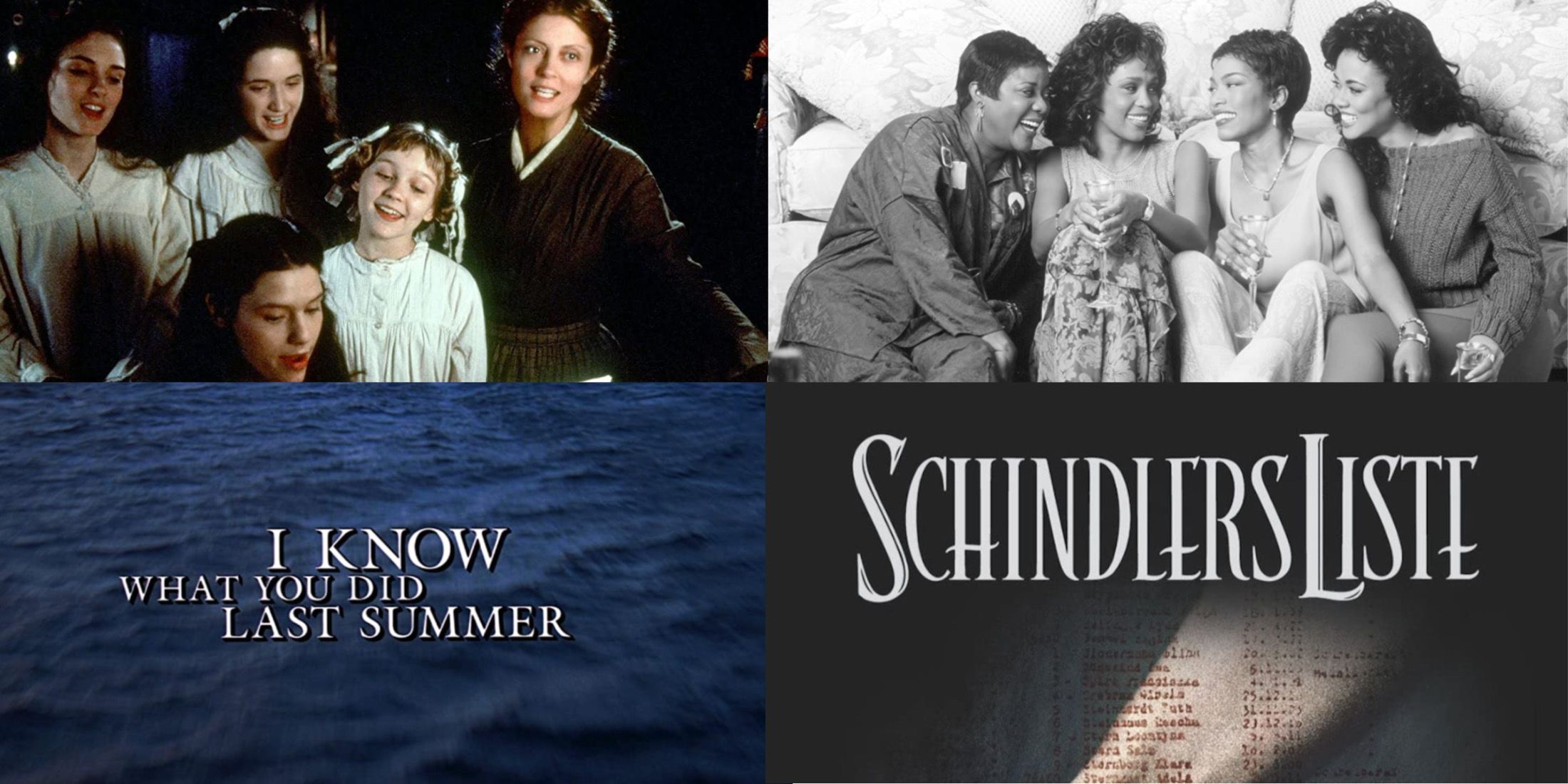 It's not as easy as it sounds — finding a movie to watch. Everyone has been there at least once in their life. Wanting to watch something, but not knowing what. It can be intimidating, to say the least. But do not worry. A range of streaming platforms are at your disposal: Netflix, Hulu, Amazon Prime, Apple TV, Roku and many more.
Related: The 25 Best Romance Movies Of The 21st Century (So Far)
Whether you're looking for a specific movie on your to-watch list or just something for the spur of the moment, there's sure to be something to catch your eye.
We've put together a list of some must-see movies from the 1990s, so you don't have to.
Thelma and Louise (1991)
Director: Ridley Scott
Screenwriter: Callie Khouri
With: Geena Davis, Susan Sarandon, Christopher McDonald, Michael Madsen, Timothy Carhart, Harvey Keitel, Brad Pitt
A film that was before its time. Thelma and Louise follow best friends Thelma Dickinson (Geena Davis), and Louise Sawyer (Susan Sarandon), as the couple set off together for a short fishing trip in the mountains, far from the dull and boring life of Arkansas. However, their journey changes from a peaceful escape to an escape from the law when Louise shoots and kills a man after he tries to rape Thelma. Louise is worried that no one will believe their claims if they turn themselves in to the police, so she decides to flee to Mexico, and Thelma follows with it. Along the way, the friends take positions that test their character and intellect, sealing their fate.
One of the most groundbreaking films in existence, still striking a nerve right now. Was it because of the violent acts of the women? Or was it because of the misandry displayed throughout the film? It would be up to viewers to decide, as Susan Saradon once said, "the best movies should challenge your point of view."
practical magic (1998)
Director: Griffin Dunne
Screenwriter: Alice Hoffman (novel), Robin Swicord, Akiva Goldsman
With: Sandra Bullock, Nicole Kidman, Stockard Channing, Dianne Wiest, Aidan Quinn, Goran Višnjić
In one of Sandra Bullock's most powerful performancespractical magic is a fantasy romantic comedy centered on two sisters, Sally (Sandra Bullock) and Gillian Owens (Nicole Kidman), who are also witches. The couple grew up with their aunts after their parents died – growing up surrounded by the use of practical magic. But being in the Owens family isn't all fun and rainbows when a curse follows the members – the men they fall in love with are on death row. As the sister got older, they began to avoid having anything to do with magic. But when Gillian's obsessive boyfriend dies unexpectedly, the Owen sisters turn to magic in an attempt to feign police suspicion and solve their problems – battling supernatural forces that threaten the lives of the Owen family and anything close to them.
Related: The best Halloween movies for kids and families
In the name of fraternity and the power of women — the film is a pirouette between Thelma and Louiseand The Exorcist. The movie is underrated, but with its quirky moments and visually stunning cast and scenery, it sure made its mark.
wait to expire (1995)
Director: Whitaker Forest
Screenwriter: Terry McMillan (novel), Ronald Bass
With: Whitney Houston, Angela Bassett, Loretta Devine, Lela Rochon
In this 1995 romance, wait to expire, the story follows four friends as they respectively navigate through life – their careers and their relationship with men. Gloria (Loretta Devine) finds love when a new neighbor arrives, while Savannah (Whitney Houston) and Robin (Lela Rochon) being "the other woman", believe their lovers will leave their partner for them. While Bernadine (Angela Bassett) finds herself alone when her husband decides to divorce for another woman.
An enjoyable work that takes the soap opera formula and modernizes it – managing to bring the problems of life to the big screen. With the Los Angeles Times calling the photo a "social phenomenon".
Little woman (1994)
Director: Gillian Armstrong
Screenwriter: Louisa May Alcott (novel), Robin Swicord
With: Winona Ryder, Claire Danes, Kirsten Dunst, Trini Alvarado, Susan Sarandon
The 1994 account of Little woman exceeded all expectations. A coming-of-age story centered on the March sisters as they live and grow up in post-Civil War America – growing pains, financial hardship, family tragedies and romantic rivalries in the 19th century Massachusetts.
The film's star-studded cast perfectly captures the wit and the humanity – showcasing the essence of their respective characters.
Schindler's list (1993)
Director: Steven Spielberg
Screenwriter: Thomas Keneally (novel), Steven Zaillian
With: Liam Neeson, Ralph Fiennes, Ben Kingsley, Caroline Goodall, Jonathan Sagall, Embeth Davidtz
A quasi-documentary that brought to life one of the darkest periods in history. Schindler's list revolves around businessman Oskar Schindler (Liam Neesonlisten)) in German-occupied Poland during World War II. After joining the Nazis – for political reasons, he equips his factory with Jewish workers – for pragmatic reasons. But when the SS begin to exterminate the Jewish people, Schindler arranges for his workers to be protected – becoming increasingly worried as he witnesses the Nazi persecutions – realizing that his arrangements are saving lives.
Related: Liam Neeson's 7 Best Supporting Performances, From 'Batman Begins' to 'Kingdom of Heaven'
A cinematographic, thoughtful and rigorous work that leaves images of horror and messages of hope anchored in the minds of the public.
Sliding doors (1998)
Director/Screenwriter: Pierre Howitt
With: Gwyneth Paltrow, John Hannah, John Lynch, Jeanne Tripplehorn
romantic comedy-drama, Sliding doors follows public relations executive Helen Quilley (Gwyneth Paltrow) as she gets fired from her job and rushes to catch the train. But what she doesn't realize is that her love life and career depend on whether or not she takes said train. As the audience is taken along two parallel timelines – one of which she boards the train in time, only to catch her boyfriend, Gerry (John Lynch), in bed with another woman. While the other scenario is that she misses the train, thus arriving home after the woman leaves.
The film is an intriguing concept – an intriguing concept with supernatural premises.
I know what you did last summer (1997)
Director: Jim Gillespie
Screenwriter: Lois Duncan (novel), Kevin Williamson
Starring: Jennifer Love Hewitt, Sarah Michelle Gellar, Ryan Phillippe, Freddie Prinze Jr., Johnny Galecki, Bridgette Wilson-Sampras
I know what you did last summer centers on four friends, a year after they ran over a fisherman and dumped his body in the water. When Julie (Jennifer Love Hewitt) receives an anonymous letter telling her that someone witnessed the crime. As the four friends are hunted down by a crochet welding maniac, they must do whatever they can to survive.
Although some may say the film is a bit melodramatic, but I know what you did last summer is a well-crafted film that revived the slasher genre in the 1990s.
pulp Fiction (1994)
Director: Quentin Tarantino
Writer: Quentin Tarantino, Roger Avary
With: John Travolta, Uma Thurman, Samuel L. Jackson, Bruce Willis, Tim Roth, Amanda Plummer
Dark comedy detective film pulp Fiction follows hitmen Vincent Vega (John Travolta) and Jules Winnfield (Samuel L. Jackson), gangster Marsellus Wallace (Ving Rhames), his actress wife Mia (Uma Thurman) and the bandits of the Pumpkin restaurant (Tim Roth) and Honey Bunny (Amanda Plummer) – as their stories intertwine in tales of violence and redemption.
Related: 9 Filmmakers And Their Must-See Stars To Collaborate With
A timeless post-modern dark piece that has stood the test of time, pulp Fiction was a low-budget film that never intended to achieve blockbuster status. The film's rhythm, impactful and playful narrative structure influenced a generation of filmmakers.
Primary instinct (1992)
Director: Paul Verhoeven
Writer: Joe Eszterhas
With: Michael Douglas, Sharon Stone, George Dzundza, Jeanne Tripplehorn
Primary instinct is a neo-noir thriller centered around the investigation into the death of a rock star. As crime novelist Catherine Tramell (Sharon Stone) becomes a suspect, she seduces detective Nick Curran (Michael Douglas) into an intense and manipulative relationship.
Never fall in love with your suspects. The film is slick and cleverly grabs the audience's attention – with questionable morals and homosexuality being reimagined in the most sinister and entertaining way possible.
The Nightmare Before Christmas (1993)
Director: Henry Selick
Writer: Tim Burton (story and characters), Michael McDowell, Caroline Thompson
Starring: Danny Elfman, Chris Sarandon, Catherine O'Hara, Ken Page, Paul Reubens, Glenn Shadix
The 1993 animated musical dark fantasy The Nightmare Before Christmas follows Jack Skellington (Chris Sarandon), the King of Halloween Town when he gets bored scaring people in the "real world" every year. When he comes across Christmas Town, he develops a new breath of life with all the bright lights and warm spirits. When Jack decides to bring Christmas to his own house, confusion and bewilderment arise.
The visual animation and music make for a delightful and magical film. A rare and timeless holiday classic loved by people of all ages.
Next:The 65 best movies on Netflix right now (February 2022)
'The White Lotus' Season 2 Adds Theo James, Meghann Fahy and More to the Cast
The cast keeps growing.
Read more
About the Author