10 Rare DC Comics You'll Never Own (Because They're Too Expensive)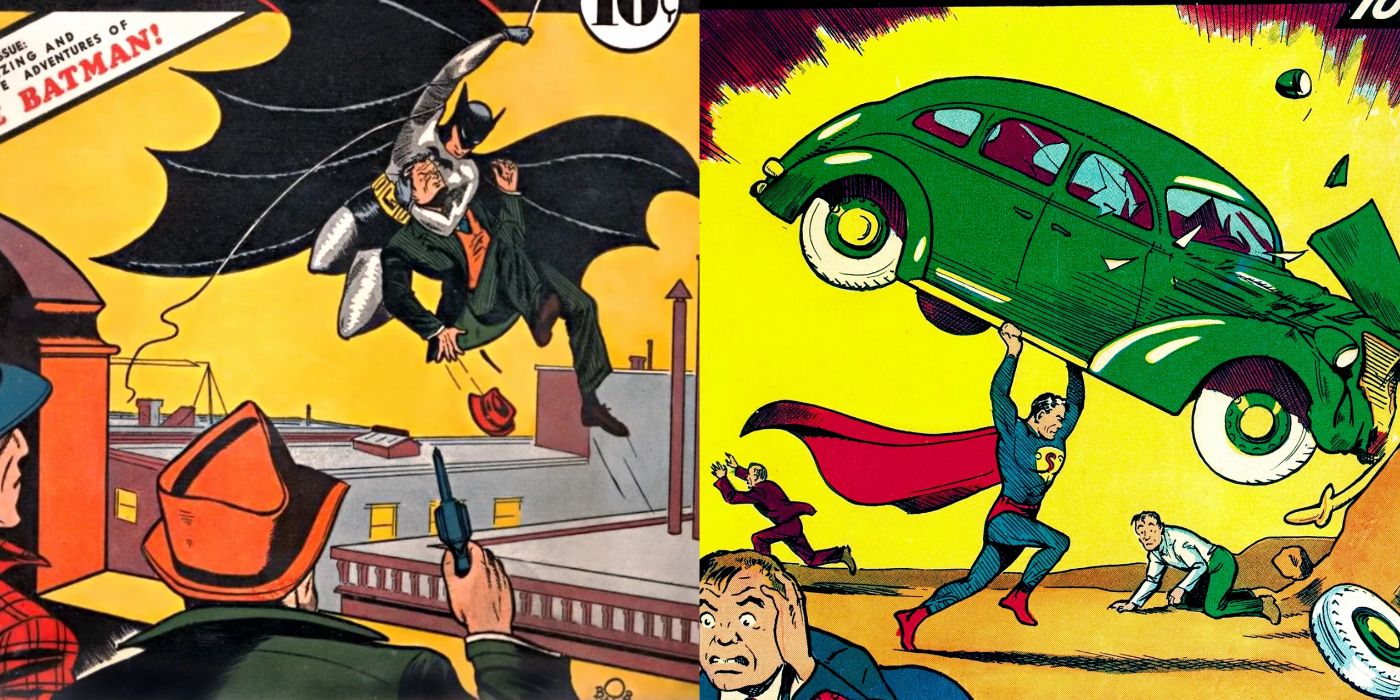 DC Comics has been around for over eight decades, creating some of the biggest names in comics. The publisher essentially created the modern superhero as fans know him, paving the way for 21st century pop culture. Comic book fans are known for their rabid desire to collect all the comics they can, especially early appearances of their favorite characters. Unfortunately, for most collectors, that's not exactly possible with older DC Comics.
RELATED: 10 Changes DC Should Make To The Status Quo
Many of these books are over eighty years old and are worth incredible sums. The price puts them beyond the reach of all but the wealthiest fans. Reprints do exist, so fans can certainly read these stories, but owning them is impossible for the vast majority.
10/10

Showcase #4 Kickstarted DC's Silver Age
$100,000
1956 was a huge year for DC. While the publisher had continued to publish superheroes throughout the 1950s, the next generation of DC characters weren't created until Showcase #4, by writer Robert Kanigher and artist Carmine Infantino. This book was Barry Allen's first appearance, starting the publisher's habit of continuing the legacy of their Golden Age greats.
The Silver Age would lead DC into its most creatively fertile years. This all stems from the first appearance of Barry Allen, the second Flash. A well-preserved copy of this sixty-six-year-old comic costs about a hundred thousand dollars, which is not to be sniffed at.
9/10

Detective Comics #38 introduced the world's first child sidekick; Robin the Wonder Boy
$107,550
Dick Grayson hasn't been Robin in four decades, but he's still very important to DC. As Nightwing, he became the kingpin of the DC Universe. However, as Robin, he holds a very important place in comic book history as he was the first child sidekick. Robin was a huge deal at the time, and Grayson's mantle passed on to several characters.
RELATED: 10 Famous DC Comics Heroes Who Died (& How They Came Back)
Robin the Boy Wonder was first created in Detective comic #38, by writer Bill Finger and artist Bob Kane. Sold as "The Sensational Character Find Of 1940" on the issue's cover, it's actually quite cheap compared to other Golden Age comics, with a price tag of $107,550.
8/10

The Justice Society first appeared in All-Star Comics #3
$300,000
The Justice Society is the most influential team in comics. DC putting all of its greatest heroes on one team was a groundbreaking move and would presage teams like the Justice League, Teen Titans, Avengers, Defenders, and more. The group first appeared in the 1940s All-Star Comics #3, by writer Gardner Fox and artist Everett E. Hibbard.
All-Star Comics #3 is more of an anthology piece than a modern team book, but it was quite rare to have so many heroes in a single book at the time. Eighty-two years have passed and many of these characters are still around today. The book itself sold for three hundred dollars in very good condition.
7/10

The Brave And The Bold #28 features the first appearance of the Justice League
$300,000 to $350,000
The brave and the daring #28, by writer Gardner Fox and artist Mike Sekowsky, is a milestone in comic book history. The first appearance of the Justice League and Starro the Conqueror, this book started a legend that will last to the present day. However, more importantly, it was the turning point of the Silver Age. The success of the Justice League would bring Marvel back into the superhero game.
The Justice League has had a storied history since then, and this sixty-two-year-old comic is one that many fans would love to have in their collection. However, premium copies of the book sell for between $300,000 and $350,000, so that's not in the cards for most of them.
6/10

All-American Comics #16 gave the world the first Green Lantern
$1,000,000
The first Green Lantern, Alan Scott, is a beloved DC character and has starred in many adventures over the years. Alan Scott has been a cornerstone of the Justice Society and the DC Universe mythos for eighty-two years, first appearing in Comic All-American #16, by writer Bill Finger and artist Martin Nodell. Scott's first appearance would create an incredible legacy.
While the Green Lantern would change drastically upon Hal Jordan's introduction, much of the iconography comes from Alan Scott. Scott's recovery as a gay man made him an even better character and his first appearance is worth up to a million dollars.
5/10

Flash Comics #1 was Jay Garrick's debut
$1,000,000
The Flash has changed a lot since Jay Garrick first appeared. Garrick was the first Flash, a mantle that would become hugely important to DC history. Garrick has since been considered the heart of the Justice Society, and over its eighty-two-year history has been an inspiration to heroes and readers alike. He was also the first non-Trinity Golden Age hero to appear in the Silver Age.
Jay Garrick has been leading his race for decades now. Even today, he's many fans' favorite Flash, and his first appearance is worth far more than any of the Flashes that came after him. It sells for up to a million dollars.
4/10

Wonder Woman made her first appearance in All-Star Comics #8
$1,000,000
Wonder Woman is known as DC's greatest warrior. It has a rich history from its beginnings in All-Star Comics #8, in a story written by William Moulton Marston with illustrations by Harry G. Peter. All-Star Comics was the anthology book for members of the Justice Society, with most of the stories in this issue written by Gardner Fox with works by various artists.
Wonder Woman has been a feminist icon from the start, and Marston put a lot of S&M and queer undertones into the character, making her decades ahead of her time. Its first appearance costs a significant amount of money, selling for over a million dollars. Amazingly, Wonder Woman isn't even on the cover of All-Star Comics #8.
3/10

Batman #1 is the first appearance of the Caped Crusader's greatest enemy
$1,500,000
The Joker is Batman's most iconic villain. He's been an integral part of the character's mythos for years and casts a massive shadow over pop culture. The villain first appeared in the 1940s Batman #1, by writer Bill Finger and artist Bob Kane. While Joker's first appearance is only one story in this book, it's the most ominous.
RELATED: 10 New Forgotten 52 Comic Book Epic Readers
The Joker has changed a lot in the eighty-two years since this issue dropped, and so has his price. The book sold at the newsstand for a penny, but today it can fetch up to $1.5 million. That's an insane amount of money, which suits the Clown Prince of Crime.
2/10

Detective Comics #27 launched Batman into the world
$3,000,000
Batman is comics' greatest vigilante and one of the most popular fictional characters of all time. He was a star in all types of media and Batman is still near the top of comic book sales each month. The Caped Crusader first appeared in Detective comic #27, in a story written by Bill Finger with illustrations by Bob Kane.
There are other stories in the book, but Batman's is of course the most important. Detective comics #27 is worth more than three million dollars, among the most valuable comics of all time.
1/10

Action Comics #1 gave birth to the modern superhero with its Superman debut
$8,000,000
Superman is the greatest role model in the comics. Every superhero since Man of Steel first appeared in 1938 has followed his lead and he changed the comic book industry forever. When he debuted, pulp heroes and detectives were all the rage, but Superman changed everything. Action comics #1 contained many stories from many creators, but only that of writer Jerry Siegel and artist Joe Shuster had a massive impact.
Superman's first appearance is a defining piece of pop culture history and gave the United States a new mythology. Superman's first appearance is astronomically expensive, with the highest-rated copy estimated at eight million dollars.
NEXT: 10 DCEU Characters Who Look Nothing Like The Comics