10 Things You Didn't Know About Blade's Backstory In Marvel Comics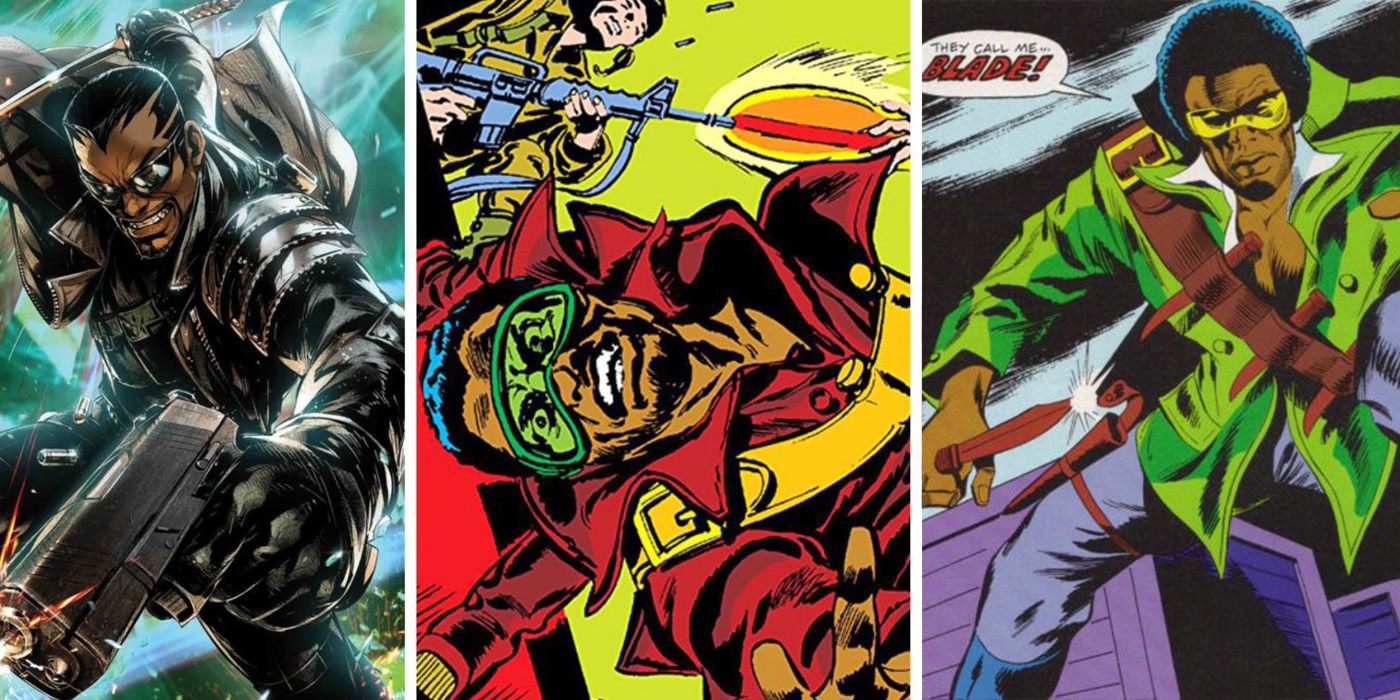 Fans of horror, fantasy, and the supernatural are very fond of Marvel's titular vampire hunter, Blade. Eric Brooks, better known as Blade, made his comic book debut in 1973 in the pages of Dracula's tomb #10 by Marv Wolfman and Gene Colan. Blade was initially a supporting character, but later received his long-running series after garnering interest from readers.
RELATED: 10 Best Members Of Marvel's Legion Of Monsters, Ranked
When it was announced that Oscar winner Mahershala Ali would be playing Blade in the MCU, fans jumped in excitement at the vast storytelling potentials possible. Despite a successful film trilogy in the 1990s, large parts of Blade's backstory are still relatively unknown or have yet to be adapted into other media.
ten

Blade was born and raised in an English brothel
Blade's British origins may be unknown to many fans. Blade's mother was working in a brothel in London when she became pregnant with him. When labor was induced, a doctor was called in to help ease Eric's birth complications.
The doctor turned out to be the vampires' nemesis, Deacon Frost. Frost bit and killed Blade's mother and transferred her vampiric abilities to Blade in the process. This bite also prevented Blade from being fully transformed into a vampire. After young Eric was orphaned, the brothel mistress raised him through his teenage years until Eric decided to use his unnatural abilities.
9

Blade was born in the 1920s
Eric Brooks has an abnormal human lifespan due to his vampire-human hybrid DNA. Blade was born in the 1920s in London, England, and aged at a much slower rate than the average human. This ability keeps Eric young, nimble, and nimble as he repeatedly faces supernatural threats.
RELATED: 10 Most Powerful Fighting Techniques In Superhero Movies, Ranked
Blade has another power that helps boost his longevity. The Daywalker has a healing and regeneration factor comparable to Deadpool and Wolverine. This allows him to recover from some of the most horrific injuries such as gunshots, stab wounds, and even severed limbs.
8

Blade was trained by a jazz trumpeter
Contrary to Blade movie lore, Eric was actually trained as a vampire hunter by a jazz musician. Jamal Afari was a trumpeter who was attacked by a group of vampires. Eric noticed the violent encounter and quickly intervened. The two killed the bloodsucking gang using Afari's silver-headed cane.
Grateful for Eric's help, Afari offered to move into the brothel to give him music lessons and teach him how to hunt and kill vampires. Jamal even gave Erik his menacing nickname, Blade, for his proficiency with knives and daggers. Afari was later turned into a vampire by Dracula and Blade was forced to commit suicide.
seven

Blade Almost Never Existed Because Of The Comics Code
The Comics Code of Authority was established during the 1954 US Senate hearings after a claim that comic books presented obscene material to minors. This decision changed the landscape of comic book publishing over the next 17 years, as publishers had to adhere to strict guidelines that prevented depictions of extreme violence or certain concepts like demons.
Blade narrowly missed the possible creation denial by just two years. The infamous Vampire Hunter was created in 1973. His creation opened the door for Marvel Comics to use monsters, supernatural beings, and apparitions of all kinds.
6

Blade creator sued Marvel Comics
The resounding success of the 1990s Blade The cinematic trilogy surprised the world while laying the foundation for today's Marvel Cinematic Universe. After the box office success, Blade co-creator Marv Wolfman sued Marvel for the ownership rights to the character.
RELATED: 5 Marvel Anime Vampire Blade Would Kill (& 5 That Beat It)
Wolfman claimed he never signed an employment contract, meaning the character was technically his. The legal battle spanned nearly a decade, with a judge ruling in favor of Marvel in a 2006 lawsuit. Legal experts argued that the cinematic portrayal of the Blade character was incomparable to the comic book origins of hero, because many aspects have been changed.
5

Blade wasn't overpowered in his first appearance
Blade is known for his powers and abilities which often place him alongside similar heroes such as Wolverine and Moon Knight. In Tomb of Dracula #10 by Marv Wolfman and Gene Colan, Blade was nothing more than a human with a skill set and a penchant for hunting vampires with wooden knives.
Blade didn't receive his superhuman abilities until the mid-90s, when he was retconned and given an updated backstory. Blade's new look and abilities were created in his own solo series, Blade: The Vampire Hunter #1 by Ian Eddington, Doug Wheatley, Chris Ivy and Tom Ziuko in 1994.
4

Blade often teams up with other Marvel heroes
Blade is often considered the king of teams. His background as a supporting character laid the foundation for his work with all manner of heroes across the Marvel Universe. Blade has worked with The Avengers, Spider-Man, Punisher and more.
Blade has joined some of Marvel's coolest teams, such as the Mighty Avengers and the Midnight Sons, a team that specializes in demonic and otherworldly threats. Having Doctor Strange and Ghost Rider as close confidants allowed Blade to develop a strong network of allies to help him defeat even the strongest supernatural foes.
3

Morbius Made Blade 'The Daywalker'
Blade is called The Daywalker because he is immune to sunlight and UV rays which most vampires have an aversion or weakness to. In Peter ParkerSpiderman #8, by Howard Mackie, John Romita Jr., Scott Hanna, and Gregory Wright, the living vampire, Michael Morbius, transferred this power to Blade after biting him.
Due to the circumstances of Blade's birth, he has a natural resistance to being turned into a vampire. Rather, Morbius' bite gave Blade extra power in his arsenal of superhuman abilities. Morbius inadvertently made Marvel's greatest vampire hunter even deadlier.
2

Blade was once a member of the fictional British intelligence agency MI13
MI13 is the Marvel Universe's super spy agency. Military Intelligence, Section 13 was a group created to combat superhuman, extraterrestrial and mystical threats plaguing the UK.
RELATED: 10 Ways Wesley Snipes May Appear In The Blade MCU Movie
The team is usually led by Captain Britain or Black Knight, but features a rotating roster of new and familiar heroes like Pete Wisdom and Spitfire. Blade joined the team for a short time to help fight off a supernatural force bent on destroying London. After leaving MI13 he spent a lot of time with the group known as Strikeforce.
1

Doctor Strange Helped Launch Blade's Vampire Investigation Agency
Despite his immense power, Doctor Strange often needs help in dealing with supernatural and mystical threats. It is for this reason that he co-founded The Nightstalkers. The group is known in the Marvel Universe as Borderline Investigative Services.
Strange and Blade bonded over the common goal of using the team to utterly destroy the vampires. The composition of the group is generally constantly changing, but its most recognizable members include Blade and fellow vampire hunters Frank Drake and Hannibal King. The Nightstalkers have also worked with hired mercenaries like Punisher and Shiv.
NEXT: 10 Best Brothers In Comics