A visit to a 19th century hospital ‹ CrimeReads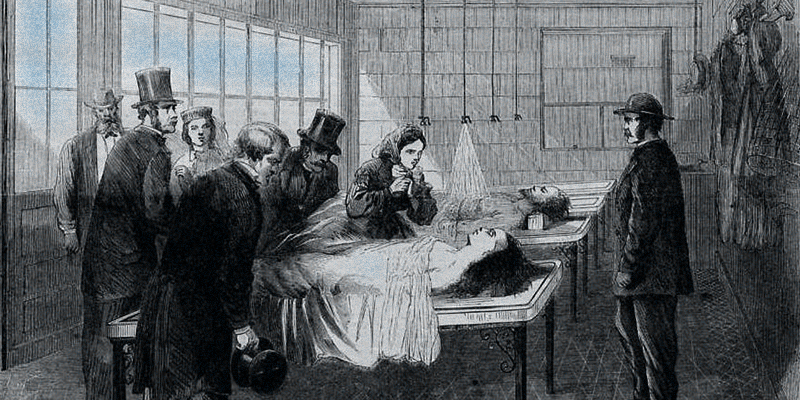 Imagine you are a time traveler and find yourself stuck in 19th century America. The year is, say, 1883. The place, New York. Like today, there is plenty to see and do here in Empire City. Be sure to catch a glimpse of the Brooklyn Bridge while it's still under construction. Board the Skytrain and visit Central Park. Or see the newly installed electric streetlights that line Broadway.
But danger lurks here too. Pickpockets and confidants haunt the streets. Fights in bars are commonplace. And then there is the disease. Cholera, typhoid, smallpox, yellow fever. Although scientists of this era are beginning to understand how these diseases are spread, most people still blame the poisonous air vapors known as miasma. Thanks to all those vaccines you received before you left the 21st century, you are largely immune. But it's no use to you when, while dodging a pile of horse manure, you're hit by a passing cart. Your leg is broken.
What happens next largely depends on how much money you have in the bank (or hidden under your mattress). If you are rich, your footman will help you get home and summon a private doctor. All the care you need, even surgery, will be done here. A hired nurse will take care of you afterwards.
But you are a visitor to this city and you have just spent the last of your money in the fancy shops near Union Square. You don't have a footman to help you get home. Instead, a crowd gathers around you, attracting the attention of a nearby police officer. He rushes to his post and telegraphs an ambulance.
The article continues after the ad
At a frantic pace of ten miles an hour, the horse-drawn ambulance rushes towards you. A surgeon jumps from the back of the wagon when he arrives. In his briefcase are everything you need: a belly pump, a tourniquet, splints and bandages. A jug of whiskey and a straitjacket are on hand in the wagon if the situation calls for it. He splints your leg and helps you get into the cart.
The driver shakes up his reigns, and off we go. There are several hospitals in New York right now. Some private, some public. Private hospitals feature beautiful brick facades, spacious hallways and tall wards. Some even have a limited number of private rooms adorned with Moroccan rugs and polished walnut furniture. These cost between $15 and $50 per week (about $430 to $1,430 today).
But remember, you don't have that kind of money. Private hospitals are selective in their clientele. The ambulance called for you was from a public or "charity" hospital. Less well-funded and unable to select their patients, these institutions have higher mortality rates, sometimes exceeding 20% ​​of those admitted.
Your ambulance arrives in front of a large, imposing building that could pass for a prison, and the doors open. The trolley stops in front of the reception room and a caregiver helps you to enter. Here, the house surgeon will decide your fate. He examines your leg and says surgery is needed. Off to the operating room then.
The article continues after the ad
Since electric lighting is still a novelty, the theater is lit mainly by sunlight. Rows of benches rise above the operating scene and spectators throng. Most are medical students, eager to learn from the actual demonstration. A few smoked cigarettes. One eats a sandwich. Another sneezes in your direction before finding his handkerchief. Since most medical schools still prohibit women from enrolling, all participants are male.
You are placed on a table in the center of the stage. Do not worry; it has probably been erased since the last case. If you're lucky, the instruments were too. Perhaps the surgeon has heard of Joseph Lister, whose recent work suggests that tiny organisms – germs as some call them – are responsible for disease, not miasma. In this case, the instrument may even have been disinfected. He could also wash his hands. But don't count on him changing clothes or putting on sterile gloves, that all comes much later. The bloodstained lab coat he grabbed from a hook on the wall was the same one he wore for the previous case.
Still, you can be happy for one thing: anesthesia. Gone are the days of holding patients down while the surgeon quickly sawed through limbs or opened up body cavities. You will likely receive a dose of ether and remain unconscious throughout the procedure. You'll miss the surgeon's class, sure, but that's surely better than pain.
When you wake up, you're in one of the surgical wards – a long, open room with rows of beds lined up on each wall. Only patients of your same sex are here. If it was a private hospital, you'd probably be segregated by race as well. All the beds in your department are occupied, some with two or more patients. But it is clean, quiet and well ventilated. It's thanks to the nurses.
The article continues after the ad
If you had been unlucky enough to land here ten years ago, your nurse would have been untrained and possibly illiterate. She could even come from the hospice or the prison of Blackwell's Island. The meat that's missing from your stew or your slightly light dose of eau-de-vie? It was probably his work.
Now, however, nurses go through a rigorous two-year training program. Only women of "good race" are admitted. They must also be well educated, not disabled and single. They live on site at the hospital or in a nearby group home. Drinking, swearing and frolicking with the opposite sex are prohibited. Anything deemed unfeminine or immoral may result in a trainee being expelled. They study everything from making the bed to administering drugs to applying leeches. They speak in low tones to keep the room quiet and are constantly on the lookout for dust, drafts and the dreaded signs of hospitalism (i.e. infection).
As you have just come out of the operating room, the nurses are particularly suspicious. Gangrene, pyemia (pus-filled abscess), and blood poisoning are common complications of surgery. For some procedures, such as amputations, the chances of dying within a month of surgery are over 50%.
Treatment for these infections varies. Some sores are left open to drain. Others are doused with cold water. Still others are washed down with carbolic acid, a common disinfectant of the time. Poultices of flaxseed meal, charcoal or mustard powder can be applied. But one treatment is notoriously absent: antibiotics. The discovery of penicillin and other similar drugs is still decades away.
The article continues after the ad
In addition to overseeing the hospitalization, your nurse did her best to put you at ease. Hot water bottles have been placed near your feet to keep them warm, and a metal basin is at your disposal. (Vomiting is a common side effect of ether.) For a day or two, you'll only get milk, beef tea, or brandy. Then you'll move on to oatmeal, poached eggs, and boiled mutton chops. When you are well enough to get up, the nurse will help you up to the balcony or down to the lawn for some fresh air. But don't expect to be released anytime soon. The average length of hospitalization at this time is more than 30 days.
From the relative comfort of your ward, you hear about other parts of the hospital. In the basement are the alcoholic cells. It is not uncommon for the police to call an ambulance when they come across someone who has passed out in the street due to being drunk. These patients are quickly assessed and brought into these cells to dry off. Some are victims of what are called in the street "the horrors" – tremors, sweats, nausea, vomiting, hallucinations – when they retire. Of these, a good number die.
There is also the Insane Pavilion. Crowded with those whom society considers "idiots" and "crazy", this building is only halfway there for the most part. A "mad examiner" assesses people brought here to determine if they can be released or committed to an asylum. Here in New York, a diagnosis of insanity means a trip to the famous Octagon on Blackwell's Island. From vermin-infested cells to mandatory cold baths to outright abuse, conditions at the Octagon are worse than anything you'd encounter here in the hospital.
However, a ferry ride to Blackwell Island is not the only journey patients make from hospital. With medical knowledge and aseptic practices still in their infancy, the last stop for many patients is the morgue. This low building near the quays is a place of morbid curiosity for many in the city. Here, the unclaimed dead are laid out in a room with large windows facing the street in the hope that passing friends or relatives can identify them.
The article continues after the ad
After seventy-two hours, these still unclaimed bodies are placed in a roughly fashioned coffin and transported to Potter's Field on Hart's Island. That is, unless the morgue keeper has set them aside to be delivered to one of the city's many medical schools for dissection. A sinister practice, certainly, but which prevents the looting of tombs. Before the passage of the "Act to promote medical science and protect burial places" in 1854, it was common in New York for medical schools to pay grave robbers for corpses. The law, informally known as the "Bone Bill", allowed "dying, unclaimed, and friendless vagrants" to be turned over to these schools for dissection.
Fortunately, you avoided such a fate. After a few weeks, you are deemed well enough to be released. The staff wish you luck and see you at the front door. The bill for all the care you received? Free! Yours was a charity hospital, after all. A private hospital might have charged a small weekly supplement for board (more if you were in a private room), but nothing like the huge bill you would receive after a stay in a 21st century hospital. Still, I'm sure you're happy when your time machine is up and running again and you're taken back to the future where operations are performed with sterile equipment and no audience.
Further reading:
The Art of Butchery: Joseph Lister's Quest to Transform the Grim World of Victorian Medicine by Lindsey Fitzharris
Bellevue: three centuries of medicine and chaos in America's most famous hospital by David Oshinsky
The article continues after the ad
***