"Acute Misfortune" Film Review – Does Society Support Bad Talent?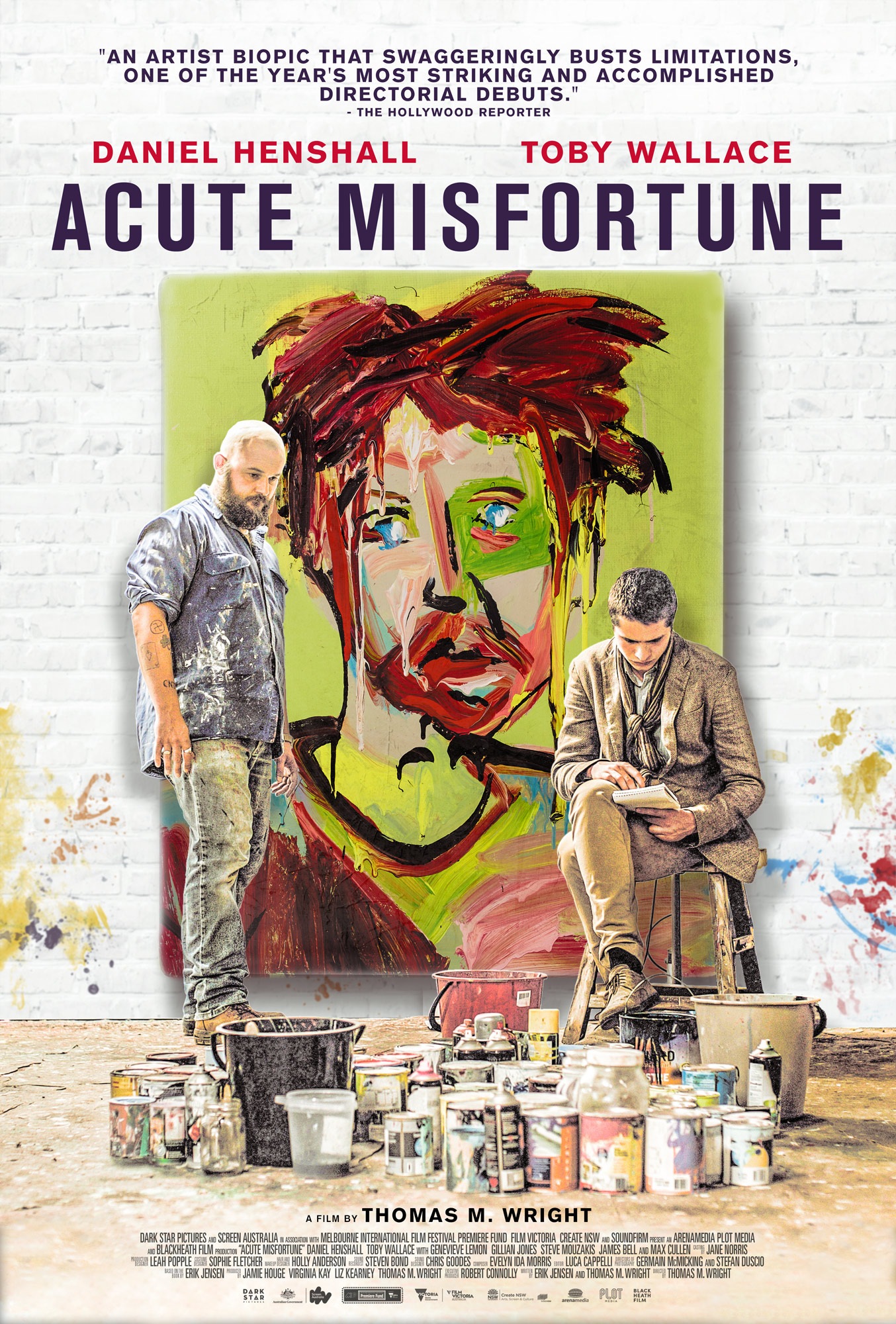 Acute misfortune ended up being a very different movie than what I usually watch when it comes to queer media. Focusing on the late artist Adam Cullen and his young biographer Erik Jensen, I think the narrative raised some interesting questions about the type of artistry supported by society.
I was provided with a free digital screener of Acute misfortune for evaluation. The opinions I have shared are my own.
Based on the biography of Adam Cullen written by Erik Jensen, scenes in Acute misfortune will make you think, because it's real. Cullen is not a fictional character created to show how crazy some artists can be. Erik is not a fictional character created to display a toxic relationship. The film featured real life events experienced by Cullen and Erik. It showed how twisted some individuals could become because of the way society viewed them.
For those who may not know it, Cullen'is a controversial Australian painter who died in 2012 at the age of 46. Her work focused on death, criminals, headless women, etc. Of course, some people in the arts community gravitated around his taste, which got him to be quite celebrated. Attention and fame, according to this film, fueled his problematic personality.
The way Cullen was placed on a pedestal made me think of the countless celebrities and influencers around the world. There is just something in society (for some strange reason) that wants to separate art from artist. And in doing so, the company is offering these problematic and, in some cases, dangerous "artists" a free pass to do whatever they want.
Sean Connery recently passed away on October 31, 2020. While many mourn the loss of such a Hollywood legend, apparently according to some reports Connery was okay with hurting women physically and psychologically. People still say that the "talented" Woody Allen should not be boycotted for producing incredible "art". Even JK Rowling has given rise to discussions involving people wanting to apologize for his comments about the transgender community because of their love for the Harry potter franchise.
With Acute misfortune Being based on what Jensen wrote, I appreciated how the real Jensen didn't try to hide his flaws in telling the story of Cullen's life. You can see Jensen was incredibly intrigued by Cullen. He even received a bullet (accidentally?) In the leg and still hasn't left Cullen. There was an obsession with the game and I loved the way it looked on screen. And given that Jensen was just a young 19-year-old gay man when he met Cullen (an adult), the way Jensen tried to make sense of his interactions with Cullen made sense. I didn't like these interactions, but I understood them.
To come to the technical side of this film, I think the director Thomas M. Wright (who also co-wrote the screenplay with Jensen) did an impressive job. I liked the use of visuals depicting certain scenes played backwards. I also liked the way the camera was used to share the POV of our two leads. For example, during some scenes, when Jensen was talking to Cullen, the camera acted like Jensen's eyes and only showed Cullen to give us the young man's POV.
Daniel henshallis awesome like Adam Cullen. From what I could tell, he gained and then lost weight to portray such a troubled character. Toby Wallace like Erik Jensen is amazing too. And that's a good thing because these two characters are still on screen. It was the acting that really helped showcase the emotions the two characters went through, especially when they didn't have any dialogue to deliver.
I think Acute misfortune succeeded in showing how society should stop supporting the 'struggling artist' narrative. It doesn't help anyone. This movie isn't necessarily a celebration of Cullen's work. Rather, it's about using the life story of such an artist to hopefully change (for the better) the kind of people society is prepared to support.
Acute misfortune is currently available on demand through Dark Star Pictures.
Please feel free to share your ideas with us.
Author:
Farid-ul-Haq
Farid has a double master's degree in psychology and biotechnology as well as an M.Phil in molecular genetics. He is the author of numerous books including Missing in Somerville and The Game Master of Somerville. It gives us insight into comics, books, TV shows, anime / manga, video games, and movies.
–
Read our before commenting.
Do not copy our entire content from other websites. Links are encouraged.
Copyright © The Geekiary
Related