'Ambition' & 'Loyalty' – Claws Season 4 Ep 3 & 4 Review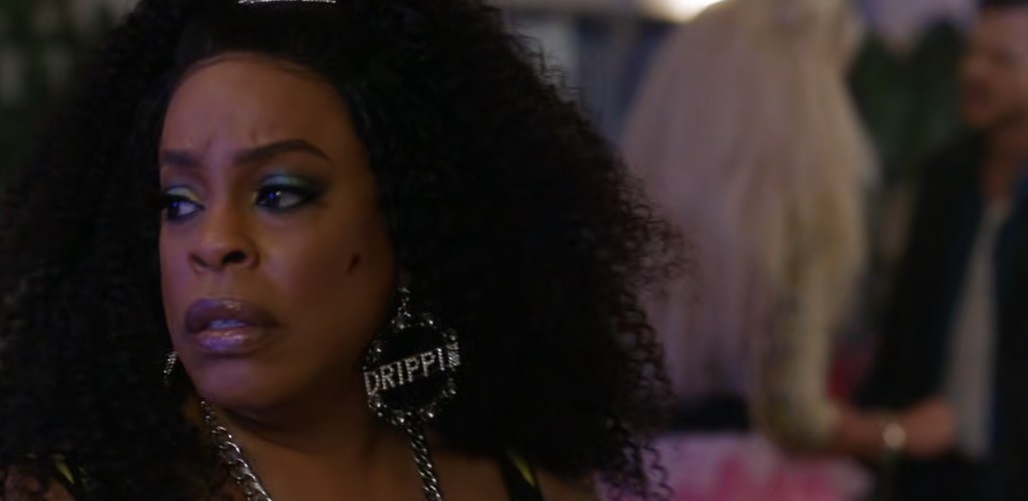 Claws Season 4 episodes 3 and 4, "Ambition" and "Loyalty," respectively, changed things for Desna and his team in a big way. Additionally, Desna and Jenn seem to be at odds over how they should continue to run their affairs.
With Bryce finding another way in the previous episode to win back some of Uncle Daddy's goodwill, "Ambition" showed Bryce's plan failing…again. How he ended up selling the fentanyl patches to a death cult was hilarious. Of course, Bryce would get involved in such a situation. It's a good thing that Ann was able to figure out what Bryce had actually done and she, Bryce and Uncle Daddy ran to remove the patches from all the corpses in case the police followed said patches to their operation.
Poor Bryce just can't catch a break. I think we'll see him join Desna soon. It's clear that Uncle Dad doesn't really need him. Uncle Daddy even had Bryce face off against a professional fighter in a cage match because Uncle Daddy had a crush on the wrestler. Sigh!
While it's going to take time for Bryce to finally face the truth about his lack of worth to Uncle Daddy, at least Ken has decided to take a stand. I appreciate Ken's current story arc. I think it was time for him to realize what he brought to the table. Uncle Daddy and Desna needed Ken more than he needed them.
Plus, I'm here for Ken to get away from Polly and find new love for Selena. Played by transgender actress Zión Moreno (Gossip Girl reboot), I was wondering if Claws would explore this particular side of the fictional character. Turns out the writers did it during "Loyalty."
I liked the way Selena treated Ken saying he didn't care that she was a transgender woman. Even though people who say they don't care about someone's sexuality or queer identity are coming from a good place and it's their way of showing support, saying "I don't plug" can also seem to erase a large part of the person to whom those particular words are addressed.
Selena wanted Ken to "care" about being a transgender woman because it was part of her. I liked how Ken realized what she meant and made her position clearer. He is definitely in love with Selena. And I can't wait to see how their relationship develops.
As for Polly, she is still working on her wealthy elderly boyfriend, Axel. It turns out that Axel is terminally ill and only had a few years to live. Of course, Polly is already thinking of ways to get Axel to leave all his money to her. The appearance of Axel's daughter, who saw Polly's angle, made things difficult. I wonder if Axel's two remaining children will also appear to stop Polly from stealing their father.
"Loyalty" allowed Polly to meet Joyce, Axel's friend. Her bucket list involved learning how to dance the bustle and so Axel brought her to Polly because Polly lied about being a trained dancer. Since Joyce couldn't take the years of pain anymore, we got to see Polly realize that she was somehow made to help the old people pass to the other side. Polly continues to be a mess and I'm here for it all.
"Ambition" and "Loyalty" spent time on Desna and Jenn trying to grow their drug business. Desna introduced a multi-level marketing strategy (a pyramid scheme) to get other people to sell drugs for her. However, this raised some issues.
One of the drug-selling parties organized by his recruit led to an overdose in one person. Desna and Jenn also had a problem with a housewife named Kim. There was also a huge problem with another rookie named Bambi (which I'll get to in a bit).
With Kim's husband stealing money from her, Desna urged Jenn to be stricter with Kim and make her husband pay. Desna's bossy way of handling business clashed with Jenn's softer nature. The two tried to get together to help Kim cope with her husband, but it didn't go as they planned.
I'm a little mixed on the subject. I see Desna is overdoing it a bit and she should try to figure out where Jenn is coming from. However, I can also see Desna's thought process. The drug trade is not for the weak. There is no room for softness.
That said, I think Desna crossed a line trying to handle things with Bambi. Desna doesn't like people who steal from her, and Bambi had to pay to be a thief with her life, even if it was some kind of accident. Also, Desna saying Bambi deserved what she got was cold. Desna is heading down a dark path and I hope her friends can catch up with her a bit.
Jenn and Bryce working for Desna and Uncle Daddy, respectively, also impacted how they raised their two daughters. Jenn accompanying Desna to look after Bambi prevented her from getting home in time, leading to her two daughters deciding to take a trip outside at night once the babysitter left.
Desna loves Jenn and her children. So I wouldn't be surprised if she tries to get Jenn to step away from some of the responsibilities of running a business together. Whether or not Jenn will accept such a suggestion remains to be seen.
Some other thoughts and questions:
I think Desna and Jenn accepting a loan from a shady bank will soon come back to bite them.
Desna asking Tony to deliver his product using his van could get Tony in trouble.
What do you think about Dean hooking up with Eve (Linda Hamilton) and wanting to become a midwife? I'm interested to see how it goes.
Yes, to Ann realizing that she wasn't ready to date another woman, especially not a woman who is also her employee. Naturally, she still hasn't recovered from Arlene's murder.
In my opinion, Desna and Dean handled their little argument pretty well (about Dean accompanying Ann to her yoga class). I highly doubt Ann would do anything to hurt Dean, even if her relationship with Desna continues to be shaky.
Virginia continuing to connect with Georgia was nice. However, I feel like compared to the rest of the characters, Virginia's arc is the weakest.
What did you think of 'Ambition' and 'Loyalty'?
Let us know.
Author:
Farid-ul-Haq
Farid holds a double master's degree in psychology and biotechnology as well as an M.Phil in molecular genetics. He is the author of numerous books including Missing in Somerville and The Game Master of Somerville. It gives us insight into comics, books, TV shows, anime/manga, video games, and movies.
–
Read our before commenting.
Do not copy our content in its entirety to other websites. Links are encouraged.
Copyright © The Geekiaire
Related