Anthony McDonough's Unlabeled saves lives one bottle at a time.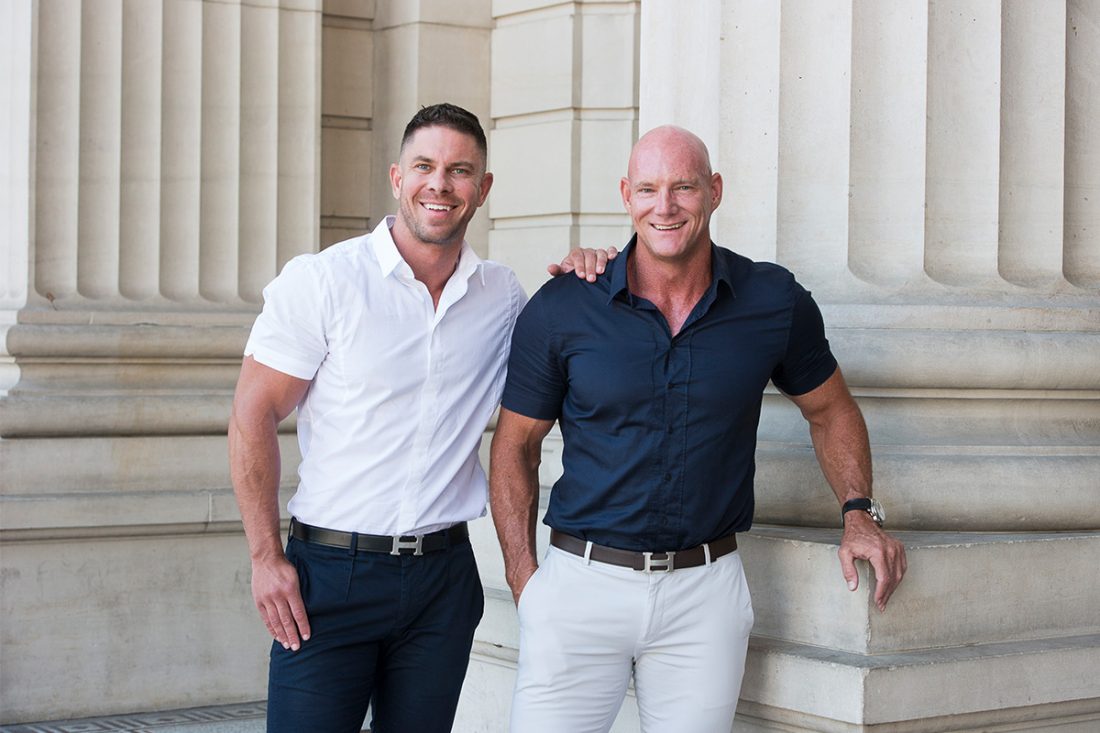 When Anthony McDonough and Chris Glebatsas were in the midst of a two-year court battle over a hostile attempt by their investor to take over their global skincare business, they probably didn't think they would take on new investors. coming.
Represented in international markets, including Bloomingdales in the US, Harrods in the UK and David Jones in Australia, the duo's Liquid Skincare brand had achieved international success.
It all came crashing down when they realized how detrimental it could be to do business with the wrong people. Discouraged by the long legal ordeal, the two men decided to direct their attention to something positive – pro bono work.
It was helping small businesses get started that got McDonough and Glebatsas thinking differently about how they could continue to make a positive difference in the world on a larger scale.
That's when they came up with the idea of ​​creating social enterprises with 100% of the profits going towards supporting an important community cause.
"Most of the everyday products on our shelves come from a handful of large multinational companies, structured to meet the needs of their shareholders," McDonough explains.
Instead, their vision was to launch a brand that consumers could buy in their local supermarket that was both ethical and sustainable by design.
Inspired by their 18-year-old daughter Grace and her knowledge of youth culture, coupled with their own early life struggles, McDonough and Glebatsas decided the company would support youth suicide prevention.
The power of purpose
They called their first brand Unlabeled to encourage young people to be themselves without the limiting labels that play a role in bullying, depression and other issues that can eventually drive young adults to commit suicide.
"We believe that being a responsible citizen is not only about caring for the planet from an environmental point of view, it's also about caring for the planet from a human point of view," emphasizes McDonough.
McDonough knew from his research that purpose-driven companies are a macro-global trend, but he was also aware that most companies, especially in fast-moving consumer goods, place profit squarely at the center. above the lens.
"Despite available research showing that younger generations are more purpose-driven and have considerable combined purchasing power, there still aren't many ethical everyday products on the shelves that tick all the boxes. ", shares McDonough.
Their total commitment to making a difference would therefore require the right kind of investor base – individuals who were not looking for a return on investment, but the opportunity to invest their money to generate positive long-term change.
"We've actually created a group of investors behind the BIMM Group who are only interested in doing good in the world," McDonough says.
"Every dollar earned through BIMM Group goes back into the funnel to start another social enterprise and thus becomes a revolving channel where when you start a social enterprise, it can generate funds to start another social enterprise."
True champions of change, the Founders see their business model as a model for charities and ethical businesses. "Instead of people giving money to charity, let's create businesses that create money that goes back to those charities," Glebatsas offers.
This would eliminate the need for these organizations to seek donations while providing a win-win solution for consumers, charities and social enterprises.
"The causes we support are social, cultural or environmental. Sometimes they are all three. –Anthony McDonough
With plans to launch two more brands within three years, McDonough and Glebatsas have high hopes for BIMM's future as an emerging ethical version of Procter and Gamble.
"Our social enterprises, starting with Unlabeled, exist for one reason only, and that's to support causes that aim to leave our world a better place for future generations," McDonough says.
Currently, Black Dog Institute, QLife, Headspace and Kids Helpline benefit from funds provided by Chemist Warehouse buyers who purchase Unlabeled from 450 stores, but this is just the start.
The LGBTQIA+ community and animal rescue are next on their list of causes to fight. Until then, they plan to see their products on the shelves of other major retailers in Australia.
One of the biggest lessons they learned from Liquid was to make sure investors aren't in charge of operations, which leaves McDonough and Glebatsas in the driver's seat when it comes to making decisions that are right for the business. 'business.
This means that cutting corners is definitely not an option for founders. Some of Unlabelled's biggest ethical and sustainability milestones to date include its status as a health-promoting charity, which translates to a high level of transparency.
"It is set up as an ACNC [Australian Charities and Not-for-profits Commission] registered as a nonprofit with DGR approval, which means all of its books are open," says McDonough.
Additionally, their boxes are made from sustainably sourced pulp and their bottles from post-consumer recycled plastic waste.
"If we were right after profit, we would ship these bottles from China and instead of them costing us $0.30 a bottle, they would cost us $0.03 a bottle and we wouldn't be using plastic waste. post-consumer," says McDonough.
Natural formulas
Although their backgrounds are in finance and marketing, there's one area where McDonough and Glebatsas excel the most: creating the latest skincare formulations.
"We used to always laugh, 'We're selling skincare, we're not saving lives.' Now we can really say, "We're selling skincare and saving lives," says Glebatsas.
Conscious skincare enthusiasts will appreciate the locally sourced ingredients that are captured in the form of luxurious hand and body cleansers or moisturizing soaps, which are enlivened by a carefully selected blend of essential oils.
"We used to produce premium skincare and so what we did was we created a premium product, but at a great price," McDonough said. CEO magazine. "What we would have previously sold for AU$45, we now sell for AU$8.99 through Chemist Warehouse without sacrificing quality."
McDonough and Glebatsas both envision a future where consumers have more brands to choose from in their local supermarket – those that fund shareholders or those that fund societal change.
"The causes we support are social, cultural or environmental," McDonough says. "Sometimes it's all three."
Read next: This luxury brand is saving orangutans one serum at a time