Beyond the Familiar | Literacy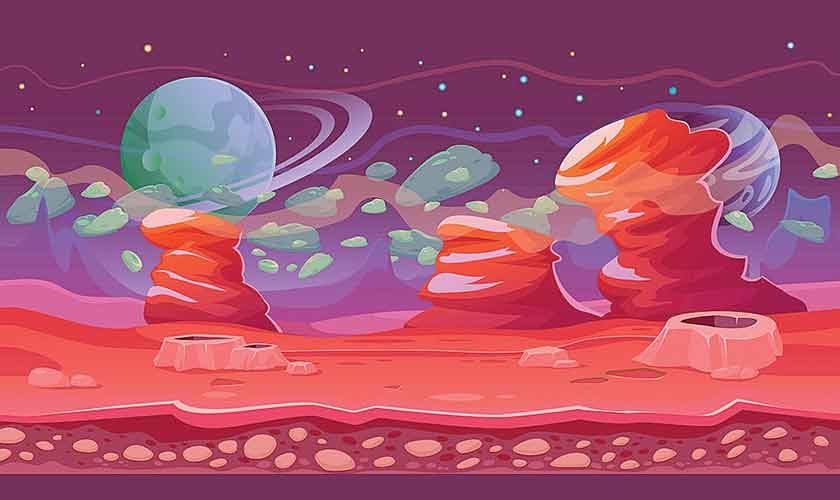 The origins of science fiction literature date back to 1818 when Mary Shelly published Frankenstein. Regular science fiction publications did not begin until the 1920s, when Hugo Gernsback – considered by many to be the father of science fiction – began publishing his amazing stories who serialized science fiction. Shelly's Frankenstein – in which its protagonist, Victor Frankenstein, creates a monster by assembling body parts and bringing them to life through a process of galvanizing, combining speculative fiction and science.
Frankenstein is considered a major literary work of the proto-science fiction era. The invention of the commercially successful steam engine by Thomas Newcomen in 1712 and subsequent events during the Industrial Revolution led to the birth of science fiction. With the emergence of factories and assembly lines, electricity and the steam engine, writers speculated about a new world that might exist. These authors extrapolated about the societies of the future where humans travel to the moon at night using powerful machines or venture into the unexplored space of the cosmos.
Jules Verne is considered the pioneer of extraordinary journeys with his Journey to the Center of the Earth (1867). Before the Industrial Revolution, writers used wacky concepts of travel because they had no reference point: technology. Gonsales, the narrator of The man in the moon (1638) by Francis Godwin, reaches the moon while seated on a giant swan that can fly great distances. Godwin's story was speculative with no reference to technology.
by Gernsback amazing stories led to the birth of other science fiction and fantasy magazines of the time, including Amazing Stories Quarterly (1928), Stories of Aerial Wonders (1929), Stories of scientific wonders (1929), amazing stories (1930), Miracle Science and Fantasy Stories (1931), Thrilling Wonder Stories (1936), super science stories (1940) and Science Fiction Galaxy (1950) among others. Most science fiction writers from the 1920s to the 1940s published serialized stories in these science fiction magazines which were later published in book form. This created an acceptance for science fiction. Among others, its subgenres included space colonization, alien invasion, teleportation, time travel, and dystopia.
The science fiction genre could not have flourished in the West without the pioneering efforts of Isaac Asimov, Robert Anson Heinlein and Arthur C Clarke, collectively known as the Big Three in Science Fiction. They were joined by HG Wells, Ray Bradbury, Aldous Huxley, Ursula K Le Guin, Frederik Pohl, Octavia E Butler, Philip K Dick, Frank Herbert, Stanislaw Lem, Kim Stanely Robinson, CJ Cherryh, Margaret Atwood, Orson Scott Card and William Gibson, among others. by Asimov Foundation series laid the groundwork for writers of its day and those following to conceive of worlds other than Earth in the cosmos. Heinlein, on the other hand, brought science fiction stories to the fore without compromising on hard science – fictional stories that deal with the workings of machines, ships, gadgets, etc.
Wells brought aliens to Earth with his War of the Worlds (1898). It also took readers on a journey through time by The time machine (1895) where the narrator experiences a future in the year 802,701 which is the mirror reflection of uncontrolled capitalism. Arthur C Clarke's 1968 novel, 2001: A Space Odyssey, took readers to a modern-day space station. The story includes themes such as the impact of technology, the aftermath of a nuclear war, and space exploration.
Over the past eight decades, the literary genre of science fiction and its subsequent subgenres, as explored in Western literature, have undergone evolution. Writers have designed future societies, extrapolated the life of humanity on Earth and in the universe through colonization, and immersed themselves in time travel. They also approached the political and social fabric of future societies with plausible and outlandish ideas. These include immortality, interstellar travel, and living with aliens.
The opinions of Pakistani authors on science fiction as a literary genre and how it can be developed in the country are interesting and varied. Taha Kehar, novelist and literary critic, says, "I firmly believe that science fiction novels don't have to answer the puzzles of modern science or, for that matter, actively deviate from realistic narratives. What they must do is venture into uncharted territory, deconstruct age-old notions of history, and confront inconvenient truths.
Dr. Faraz Talat, mental health professional and science fiction novel author 74, regards science fiction as "any story that invites the reader to develop a deeper understanding of science, to be able to fully enjoy the story". For Awais Khan, the award-winning author of no honor and In the company of strangers"science fiction is anything that expands the horizons of things we already know. Maybe that's what makes it so interesting.
"Sci-fi writing can grow in Pakistan if there is more mainstream literary space given to local writers who have already ventured into the field." — Sidra F Sheikh
Mohammed Ali Samejo, author of Karachi Legends and Damaged regards science fiction as "an allegory of human life and society in the past, present and future". He adds that "it's a carefully crafted alliance of fact and possibility." Sidra F Sheikh, author of The light blue sweatersays that "science fiction is writing that takes the reader into new, futuristic, and imaginary worlds, or that at least contains elements of futuristic extrapolation or technological advances, even if set in the real world".
Asked how aspiring Pakistani writers can develop their sense of science fiction writing, Kehar says, "Aspiring science fiction writers should always read widely in the genre to spot commercial trends in writing. of Science fiction. the point of this exercise is not to imitate other writers, but to identify where the boundaries have been set and how they can be pushed further. He says it is not possible "to write about an alternate reality without understanding the complex realities of our world. Some of the best science fiction novels I've come across draw heavily on the social dynamics of our world to cultivate fictional worlds. He urges budding writers "to find ways to build a bridge between these separate realms."
Dr. Faraz says there is a tendency to view science fiction as a less "serious" form of writing; perhaps because it relies on the reader's fascination with scientific exposition, rather than the quality of prose. "An appreciation of science can improve the quality of our writing. And that's part and parcel of science fiction," he says.
Awais Khan argues that "writing science fiction should be no different from writing any other type of fiction. First and foremost, you have to be a reader if you want to be a writer. According to Samejo, "Once they (the writers) see that there are no limits to what they can imagine as science fiction, they will automatically begin to realize that their wacky ideas must have a certain sense of the earth."
"People tend to think that any genre involving world-building or imagination, like science fiction or fantasy, is for kids. Maybe most writers think they won't get caught seriously if they're not writing literary fiction and there's a certain snobbery attached to it," Sheikh says.
The growth of science fiction as a literary genre has been limited in recent years. A handful of authors have come up with sci-fi literary works without any major push from publishers or literary circles. There can be many reasons for this.
Kehar points out that while fantasy and science fiction writing is prevalent throughout South Asia, "these genres have been pushed out of mainstream literary discourse – a trend that has been seen around the world, not just in South Asia Such perceptions are often difficult to change even if they are based on myopic and somewhat static assumptions about what these genres entail.
"It's simple: we're bad at science," says Dr. Faraz. "And we're bad at science specifically because of a culture that discourages questioning." He says our culture of not questioning our elders and leaders, not questioning tradition, and not investigating reality has steered us away from curiosity. "Science, and by extension science fiction, begins with a question. We need to allow ourselves to be dissatisfied with what we know and start thinking creatively about how to verify, or potentially disprove, conventional wisdom. Science is not a formula to be memorized in an FSc textbook. It's a state of mind. »
Samejo says that "it is only in the last few decades that comic book movies have started to create a new perspective for Pakistani viewers, but it remains mostly superficial as people rarely watch hard sci-fi movies. that affect them at a fundamental level." While commenting on how science fiction is developing in Pakistan, Sheikh says, "It can grow in Pakistan if there is more mainstream literary space given to local writers who have already ventured into the field". She suggests that literary festivals and other similar platforms should introduce local sci-fi/fantasy works and their authors to a wider audience and give them the recognition and encouragement they normally reserve for literary fiction.
---
The writer is a fiction writer and columnist. He is the author of Divided species, a science fiction novel set in Karachi. For more information: www.moiwrites.com