Bootleg and Flux House to experience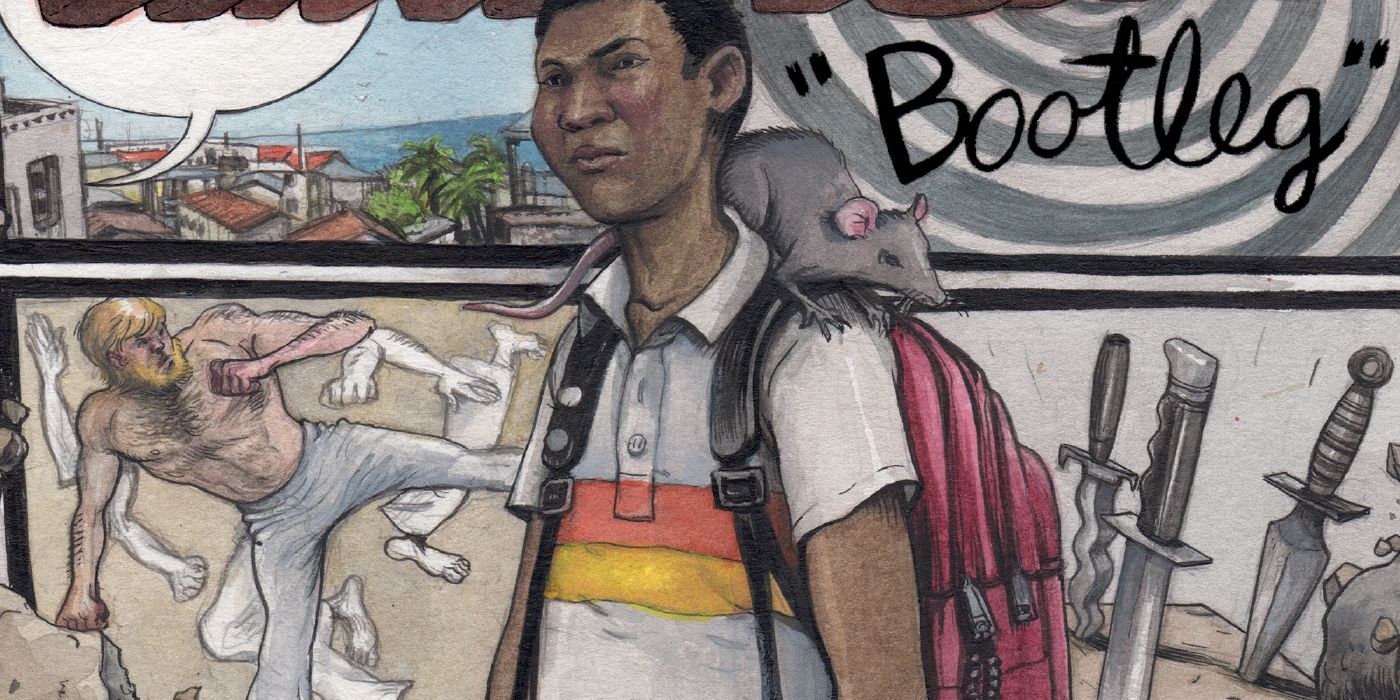 Throughout his impressive career, writer and artist Matt Kindt has made comics that are as experimental as they are entertaining. His distinctive art style and appreciation for genre fiction has helped create series like whip gun and Depth, as well as his collaborations with designers like Jeff Lemire, David Rubin, Keanu Reeves and Doug Braithwaite, instant classics. Now the prolific creator is launching his own publishing house with Dark Horse Comics and revisiting his magnum opus, Caution MGMT.
First publication of Flux House, Mind MGMT: Counterfeit #1, written by Kindt and drawn by Farel Dalrymple, will introduce fans to a new generation of psychic secret agents. Each installment of the four-issue miniseries will be drawn by a different artist. After Dalrymple, David Rubin, Matt Lesniewski and Jill Thompson will each draw a number, marking the first time Kindt has not drawn mind management by himself. CBR recently spoke with Matt Kindt about returning to Caution MGMT, the ambitious nature of the new series, its creative process and the future of Flux House.
Related: Jordan Blum & Patton Oswalt Discuss Minor Threats Working Class Villains
What can you tell fans about the new characters in Mind MGMT: Counterfeit?
It's a bunch of punks. Young. A new generation of MIND MGMT that has its own ideas about things. It's a new generation. Looking back, that makes it a good place to start reading. mind management if you've never read it before. These kids don't know what MIND MGMT is and they don't really care. But they have some interesting mental skills that MIND MGMT cares about. One kid sees patterns, another can't die (she thinks) and the third has a knack for creating memes that literally go viral [laughs]…It sounds ridiculous when I talk about it and well… Maybe it is.
Do you hope that each of the artists you work with for Mind MGMT: CounterfeitDo the different styles influence each other, or do their distinct styles impact the story?
My hope is that each style will relate to each new character, so that the art style actually shapes the personality of these new kids. Each issue introduces us to a new one as they're recruited, so the breakdown of styles really gives us a unique perspective through each character's eyes. Like each mind management project I did, it's an experiment. I'm trying something new – trying to push comics, expectations, and the perceived limits of what you can do with them beyond the breaking point. Issue 1 has a page with almost fifty panels, and it took 4 very dense pages of typed script to create. I promise you it's unlike anything you've ever seen in a comic book. I know you should never promise too much. But in this case, I sincerely promise you.
Related: Teller's Michael Moreci Breaks Acceptance During Armageddon
What kind of influence did you have on the visual design of Mind MGMT: Counterfeit?
It was interesting. I definitely consulted with each artist before giving them a script. There are a lot of weird things I wanted to make sure everyone was comfortable with. When I draw it, I don't mind punishing myself, you know? If it's hard, it makes me want to do it even more. But I don't want to hand over a script for a 50-panel page to someone else without talking about it first. But to everyone's credit, they were all in. They have the project, the idea and the motivation to do something unique and different. It's really the mind management mark at this point. You should be a little paranoid before you start. And if you haven't read anything mind management before that, I'm pretty sure you'll come out the other side thinking differently about comics as a storytelling medium.
Was it difficult to pass on the reins of art after drawing the series for so long?
It was a bit strange. But Farel, David, Matt and Jill are so amazing. Honestly, it was more like asking your favorite artist for a commission. It's fun to see the characters and concepts filtered through their sensibilities. It's the fun of commissions. It was like that but a thousand times. It was so much fun that these Hall of Famers weren't just collaborators, but co-conspirators. Comic saboteurs!
Related: Manga Adaptation Of HP Lovecraft's The Shadow Over Innsmouth Coming To Dark Horse In Single Omnibus
You recently shared a preview of the backup story that will be serialized with Mind MGMT: Counterfeit on social networks. What can you tell readers about The black Cat?
This is the first story I'm doing under my new pseudonym. I wanted to write, draw and paint in a different style from what I'm used to. But it is difficult. I think being a "veteran" in the industry now, there's a weird subconscious safeguard that I've put in place. I work like that because that's what readers like. So I tried to unlearn all of that and do something completely different. The main character of the comic reads a comic "The Black Cat" inside mind management. And I really wanted to create this mini-comic within the comic. So that seemed like the perfect start for my creative alter ego. It was liberating. I chose colors, a line style and brushes that I would never have used on my own. But it was hard. I started painting, then hesitated, opting for similar color choices out of habit and muscle memory. Then I would stop and literally choose the opposite. It ended up being 20 pages total over 4 issues, and on page 18 or so I found I was falling back into my old ways – my old choices. It was hard to maintain it. But I promise you haven't seen the last of this artist – I'll definitely try again.
To your question though – 'The Black Cat' is inspired by those great Golden Age comics I used to download on my iPad 'Black Cat' – superhero and horror stories – some of the best covers . Just fun stuff. I was just going to call it "Black Cat" but I felt like it needed a more pretentious but silly shine. So it's half French and all wrong. It should be "Le Chat Noir" or "Le Chat Noir" or "Le Chat Noir". But these made too much sense. In another twist, the story ended up being a story about the making of a prequel movie to one of my all-time favorite film noir, Double Indemnity. I made a sequel to Double Indemnity in the original version mind management called Triple Indemnity, so the prequel is of course called just Indemnity.
Related: Marauders: Steve Orlando Redefines Rescue For The Krakoan Era
Do you plan to revisit any of your other series with the new imprint?
I'm bringing back one of my old spy books (which has yet to be announced), but in a super fancy new edition that will have a punch card jacket that I can punch for you in person and reveal secret messages on the book. So it's something old and new. And while I'm not continuing old books, some characters from other books will make appearances in new books. I have a universe-hopping hero/villain who is going to have his own lead role in a new book.
Throughout your career, you have used a surreal and experimental aesthetic to bring new energy to genre fiction. It seems that Flux House will be a way to take this experimentation even further. What are some of the things you're most looking forward to trying?
Book covered with fur. A disguised spy book on the shelf covered in a grocery paper bag, playing cards that will upgrade/destroy any card game you play, a time travel story told with a real deck of cards that you re-shuffle, and some sci-fi magazine-sized epics! So many. Yesterday I was describing what I was doing to a friend of mine, and I put it this way: upbeat sincerity mixed with a dollop of Sex Pistols.
Do you plan to publish comics from other creators with Flux House or will the imprint be primarily an outlet for your work?
My next two years are booked, and all of these projects are ones that I write and draw or write. I would love to use this platform to elevate some creators that I'm a fan of, so I won't say no, but it might take a few years to get there. If I do, I would love to design the books. I did that more often. I did designs for Lemire, Alex Robinson, Alan Moore and a few others. So I could see that happening again for sure.
Related: Joe Manganiello Details Playing 'Dick Cheney on Acid' at Moonhaven
What other publishing projects have you researched to inspire you when developing Flux House?
McSweeney's has always been a huge touchstone. I love what Folio Books does with its special editions. I think that's the goal, right? There must be a real reason physical books exist. It's so easy to download and read everything on your iPad. If we're chopping down trees, using ink, flying these books all over the planet, the books had better be damn good. I think what sets Flux House books apart is that I don't separate the design of the book from the story. The design of the book is part of the story. The cover is the first page. The back cover is the last. Every inch of the book should be considered and used to help the narrative.
In a previous interview, you mentioned that your "intention is to have as much fun as possible, but never the same way twice." What's been the most fun for you so far, putting on Flux House and Mind MGMT: Counterfeit together?
I think drawing under a pseudonym was the most fun I had until yesterday. mind management was going to press, and I was told there had been a production error and we had 4 more pages that needed content. I had twelve hours to figure out what to do. Suggestions and the easiest thing to do was just to fill it with house ads for my other books. But it is a MIND MGMT book. It never has ads. And if so, it's fake or something subversive that's an advertisement but also part of the story. I went to bed a little upset. I didn't want to just put sketch pages or script pages as filler. I don't want to do comics that have filler. But ten hours… Now eight… Now six… Not enough time to write and draw more pages of history. But are there any? Can I? I have a meeting at 11:00, and it's 8:00. What do I do?
I woke up the next morning and had an idea. This is now my 4 favorite pages. It literally makes the issue twice as good somehow, and it was a day before going to press without it. If that error hadn't happened, I wouldn't have had to find the idea and it wouldn't have been there. I like this. Destiny and circumstances, inspiration and despair come together at the same time. It's the kind of thing I live for.
Mind MGMT: Bootleg #1 goes on sale Wednesday, July 6.