Can Marvel's Best Superhero Wedding Happen in the MCU?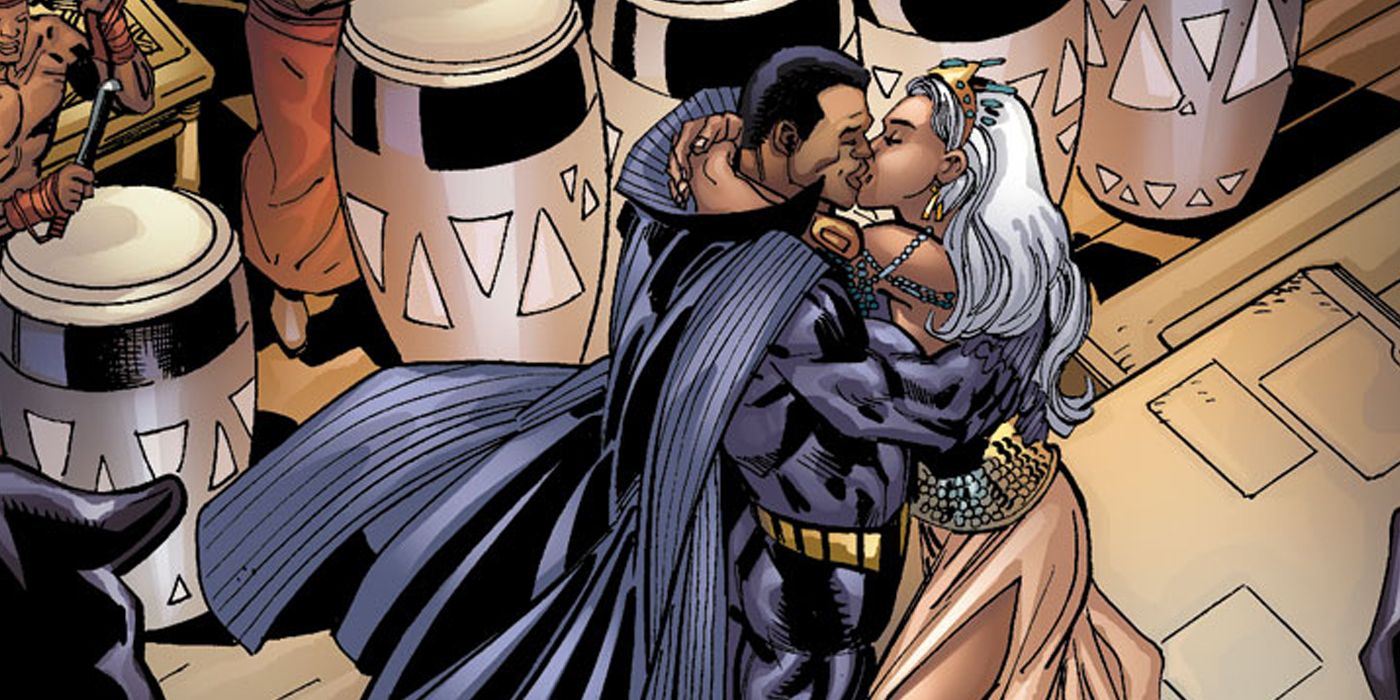 During his lifetime, the marriage between T'Challa and Ororo Munroe was one of the most famous couples in comic book history.
Nurturing a healthy romantic relationship is easily one of the most difficult aspects of a superhero's life due to the many complications in his career. However, some have managed to overcome these obstacles and have a long-term relationship with their partner, and a select few have even found the opportunity to pop the question and get married. There have been many significant superhero weddings over the years, but few have been as well received as the wedding between Black Panther and Storm.
During his lifetime, the marriage between T'Challa and Ororo Munroe was one of the most famous couples in comic book history. Sadly, like many other beloved comic book marriages, the union between the King of Wakanda and the newly terraformed Queen of Mars was ultimately called off, but the Walt Disney Company's 2019 acquisition of Twentieth Century Fox gave many fans hope that the introduction of the X-Men into the Marvel Cinematic Universe would give the relationship a second chance. Sadly, the tragic passing of Chadwick Boseman the following year ended those hopes, but there's always the possibility of a similar romance blossoming between the MCU's Storm and another Wakandan hero.
RELATED: How An X-Men Icon Became Marvel's Most Tragic Vampire
Black Panther and Storm's history with each other is so romantically inclined that it could be compared to a classic fairy tale. The two first met by chance as teenagers while T'Challa was traveling through Africa on a rite of passage, and a mutual attraction immediately formed between them. Although T'Challa ended his budding relationship with Ororo to continue his royal training, the two quickly resumed courtship after reuniting as adults. Following T'Challa's proposal, the two were married in a lavish ceremony at Black Panther #18 (by Reginald Hudlin, Scott Eaton, Kaare Andrews, Klaus Janson, Dean White and Randy Gentile) which brought together many of their closest friends in the superhero community, and their marriage remained strong for many years. many years. Unfortunately, their union ended abruptly during the Avengers vs. X-Men crossover event after a Phoenix Force-empowered Namor floods Wakanda, killing thousands and leading a grief-stricken T'Challa to banish all mutants from his kingdom.
During their time together, Black Panther and Storm were one of the most popular superhero pairs within the Marvel Universe itself and among Marvel Comics fans. Their impending wedding made headlines around the world, and the wedding itself was considered a landmark moment in comics regarding the portrayal of people of color. Many heroes of color from across the Marvel Universe were invited to the ceremony as guests of honor, and the event itself became a symbolic celebration of how far Marvel Comics has come since its inception. Not only that, but Black Panther and Storm were simply a strong couple who enjoyed powerful chemistry, each bringing something to the relationship that the other lacked. Under their shared rule, Wakanda truly cast off the shackles of its isolationist past and took several major steps to become the global superpower it is today, and the pair have remained a high-profile celebrity couple to this day. to their divorce.
RELATED: Black Panther 2 Set Photos Reunite Shuri and Okoye
Prior to Chadwick Boseman's passing, many fans speculated that the introduction of mutants into the MCU could lead to the two heroes forming a relationship similar to that of their comic counterparts, but the actor's tragic death has made that impossible. However, there is still a chance that Storm will end up with a Wakandan hero. Winston Duke's M'Baku is the most obvious candidate, given rumors that the character will play an expanded role in the upcoming Black Panther: Wakanda Forever, but there are several other possibilities. What if..? introduced the Marvel Cinematic Multiverse, so Storm might end up dating a more heroic version of Michael B. Jordan's Killmonger. Or, if Kevin Fiege sticks to his public pledge to bring more diversity into the MCU, perhaps Storm's Shuri and Letitia Wright could become the franchise's first gay couple.
The passing of Chadwick Boseman leaves the future of the MCU's Wakanda uncertain, but there's still a chance that Storm could play a role in its formation. With his incredible power and wisdom, the X-Men's longtime second-in-command could be an invaluable addition to Wakanda's heroes.
KEEP READING: Black Panther Just Revealed Wakanda's Worst Mistake – And It's Putting The Nation At Risk
Marvel Reveals Its Newest – And Deadliest – Hulk
About the Author