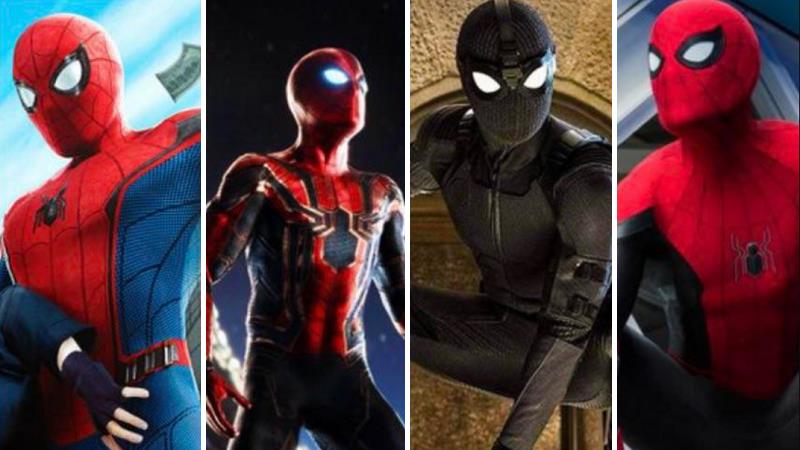 The web-slinger has donned a number of different costumes in the Marvel Cinematic Universe, and we're ranking them from least to most amazing, from Captain America: Civil War at No coming home!
Peter Parker has worn many different costumes in the Marvel Cinematic Universe since his debut in Captain America: Civil War in 2016, and Spider-Man: No Coming Home alone introduces three new additions! Although the future of the Marvel Studios hero is uncertain, there is undoubtedly more to come.
Disney owns the merchandise rights to Spider-Man, of course, so perhaps we shouldn't be surprised that Peter is constantly changing his appearance on the big screen!
Either way, there have now been a total of eight different costumes worn by Spidey over the past six years, so we've decided to rank them from least to most spectacular. Each of them has good and bad points, and we think you'll be surprised where these outfits land.
To view this ranking, simply click on the "Next" button below!
8. Stealth Suit
It's fair to say that most fans expected Spider-Man to have a very different black suit after traveling through space in Avengers: Infinity War, but this stealth suit given to him by Nick Fury (well , Talos) is very cool despite a rather original costume. creation rather than something from the comics.
Clearly inspired by the "Spider-Black" version of the character, it's a pretty clever way to hide Peter Parker's identity as he tries to stop Mysterio's Elementals overseas, but not exactly Spidey- ish beyond glasses! Yes, he looks spectacular in action, but it's unlikely to be remembered as one of his most iconic or classic big-screen costumes.
It worked well in the context of this sequel, anyway.
7. Homemade Costume
On the surface, this costume doesn't draw much inspiration from the comics either, as Peter Parker has never really worn anything like it. However, upon closer inspection, it becomes clear that the Scarlet Spider costume is what led Marvel Studios to come up with this homemade costume for Peter Parker, and it looks pretty darn spectacular.
First seen in Captain America: Civil War and later highlighted in Spider-Man: Homecomingit was a bold move by Marvel to have Peter wear this while battling The Vulture in the film's final act.
However, seeing him lifting that rubble while wearing the hoodie made it clear that it's more than the suit that makes the (spider)man. We wish he was in the classic red and blue costume when this happened, but we'd be happy to see more of him in flashbacks.
6. The black and gold suit
This costume is the upgraded costume returned after one of Mysterio's followers threw paint on the wall-crawler. The inner workings of the suit are surprisingly visually striking, but what's the point?
Disney owns the merchandising rights to Spider-Man, so we're guessing "selling more toys" is likely the answer to that question. This was only part of the hero's clash with Electro and Sandman, so didn't really factor in Spider-Man: No Coming Home for more than a few minutes, and, reasoning aside, it looked pretty good in action.
Black is clearly Holland's color, so fingers crossed he gets another black suit down the line.
5. Iron Spider
While this might be a departure from the Iron Spider costume seen in the comics, it still managed to look amazing on screen, and seeing those extra arms in action was a highlight in Avengers: Infinity War.
Created entirely by CGI, it's hard to judge a costume brought to life via VFX in a list full of practices, but there's no real way a costume like this could have been done justice. He briefly returned to Spider-Man: No Coming Homethough we weren't too sad to say goodbye to him after Peter was defeated by Doctor Octopus.
In the end, as great as this one looked in action, there are better versions and it could and should have been more memorable. It certainly wasn't Spidey's most exciting outfit in the MCU, but we don't hate it.
4. Integrated suit
As noted, the Iron Spider suit has a lot of good and bad points, but this suit – a combination of that and the upgraded suit – looks much more like what Peter should have worn in the MCU from day one.
Different from what's come before but still a decent nod to the comics, the built-in suit encapsulates magic, science, and classic Spider-Man. He looked amazing in motion, and while the gold was a bit too strong, this modern take on this iconic superhero matched the unique aesthetic of the MCU perfectly.
It differentiated the MCU's Spidey from every other Spider-Men he came across, while still staying true to what we grew up seeing on the page. It's hard to find fault with that.
3. Stark Suit
Some fans weren't happy with this suit (mostly because of those black lines and the fairly prominent web shooters), but it's definitely classic Spider-Man… even if the logo isn't that amazing.
That might seem like a lot of negatives for a suit that sits so high here, but there's something that obviously sets this one apart from the rest in a big way.
We're of course referring to the wiggly eyes, an element absent from previous live-action costumes that ultimately allowed the wall-crawler to convey emotion in much the same way as its comic book counterpart. It looks amazing in action, and it could easily be remembered as one of the best "classic" costumes for years to come.
2. Improved Costume
Less busy than Spider-Man: Homecoming costume and much more visually distinctive thanks to the red and black color scheme, it's almost the hero's best big-screen costume yet. It looks like an Alex Ross drawing brought to life, and the fact that Peter created it himself was an added bonus.
From a purely visual standpoint, this is a truly amazing costume and we're sure fans will be looking forward to seeing more of it in the MCU in the future. That's no longer the direction it seems to be heading in, of course, though we're sure that color scheme could return one way or another.
For a while, it was hard to see how it could get any better than this, especially when it pays homage to the work of the late great Steve Ditko.
1. The classic red and blue
Admittedly, we only saw this costume for a few seconds, but that's all we needed to declare it the best of all Peter Parker MCU costumes.
Without access to Stark Technology, the teenager was forced to create his own superhero costume…just like his comic book counterpart. Clearly inspired by the two Spider-Men he met earlier in Spider-Man: No Coming Homethis sleek red and blue number is a little shiny, but it looks like it was pulled straight off the page.
We can't wait to see more of this design in the MCU, and it's what it says about the character beyond what he's wearing that's a big part of why we love him. Add to that the fact that he looked both amazing and spectacular in action, and it's a worthy winner of our rankings.