From the Vault: Roy De Forest | Vision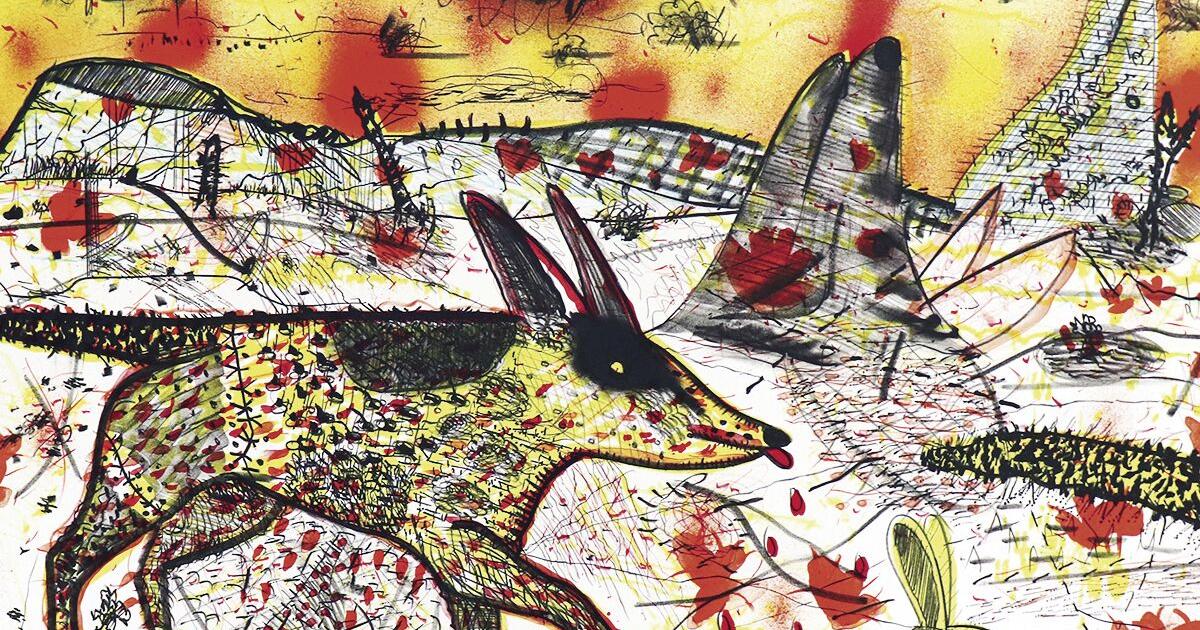 Greetings from the Roswell Museum! I am delighted to introduce a new artist to everyone: Roy De Forest. Many thanks to our curator Aaron Wilder, who helped me find it.
During the Great Depression, a farming family experiences the unthinkable: drought, sandstorms, grasshoppers and genuine uncertainty about the future. These are the many experiences Roy De Forest – an interdisciplinary artist – shares of the Great Depression. When he was very young, his family moved from North Platte, Nebraska to Washington's Yakima Valley.
De Forest shared his memories with Lynn Robert Matteson, which were preserved in "Oral History Interview with Roy De Forest".
"We had this old Model T, and we drove it all the way, and we rode, and we lived in camps and picked pears… I remember being on the road like Jack Kerouac ."
In the 1930s, the family finally purchased an established farm where pears and plums were grown and harvested. De Forest further told Matteson the following about his high school days: "I think I intended to be an engineer or something in the sciences or something of that nature."
However, while in high school, the school's college preparatory class was scrapped, leading to De Forest taking a high school art class and entering an art competition. "I won a poster for National Apple Week, which was big around Yakima. And I got $40 or $50, I think, and you could only spend it on art supplies. You know, I – we weren't so well off, and so I thought, boy, this is great," De Forest shared with Matteson.
His journey to pursue an artistic career came in 1950, after receiving a scholarship to the California School of Fine Art, now the San Francisco Art Institute. While at the California School of Fine Art, he began to find his voice and continued to work with vibrant colors and explore mediums, which went against the structure of Western art. Through his works, one can see the inference of growing up on a farm surrounded by cattle, dogs, horses, and other animals. It is clear from viewing his work the importance of these influences throughout his life.
Fast forward to 1960 – the California Bay Area Funk movement was in full swing. The Funk movement brought back figurations as a subject matter in paintings; unlike the expressionist movement of non-figurative abstract forms, artists Jackson Pollock and Mark Rothko practiced. The Funk movement takes its name from the term funky jazz, and De Forest was becoming a leader of the movement. This movement, and a love of pulp fiction and poetry, inspired whimsical and evocative titles for his paintings and sculptures. Thanks to the introduction of narrative and figurative elements in his works, his storytelling has evolved. De Forest returned to the Bay Area in the 1960s and opened his first of many exhibitions at the Dilexi Gallery. Over the next few years, De Forest established his dynamic collage style and established a pantheon of figures, which would continue to populate his work, such as men, ships, horses and dogs painted as if made of bricks. In 1965 he began teaching at the University of California at Davis where he remained for more than 25 years as an instructor. UC Davis now houses one of the largest collections of De Forest artwork.
De Forest was also a member of the Nut Art movement. In 1972, a statement written for CSU Hayward defined him as "a squirrel in the forests of visual delights".
The Roswell Museum is fortunate to have a number of De Forest's works on display through September. A common theme through his work is travel and the idea of ​​the "American West". Through his work, the theme of travel is generally approached over water or mountains, by boat, plane or on foot. However, the journey can go deeper for viewpoints, seeing the journey metaphorically as self-discovery. Although his work is considered whimsical and with a small asterisk of "mad genius", De Forest was influenced by a wide range of sources in art history. According to the George Adams Gallery, De Forest and his colleague Wayne Thiebaud had a long-standing game of "trying to trick each other with obscure artist names".
When viewing De Forest's works, viewers have access to the artist's imagination. De Forest allows his characters in his work to access "see through" their own environments, often through windows. These windows can metaphorically be linked to the journey of self-discovery. These characters and this imagination can be seen in person at the Roswell Museum. One of the many reasons I appreciate this artist's work is that every time I look at one of his works there is always something new to discover.
Roy De Forest died in 2007. In 2008, shortly after De Forest's death, Mario Naves wrote in The New York Observer how this artist's works "are not fantasies; they are real. An artist's responsibility is to create fiction that we can enter, experience and believe in. How convincingly it is made and how much the artist yields to his logic determines his aesthetic viability.
For a lasting remark, I leave you with this quote from Roy De Forest himself: "For me, one of the most beautiful things in art is that it is one of the last bastions of magic. It's one of the few areas of human endeavor. It's possible to do something that you'd otherwise be locked up or incarcerated for, especially if you were a politician and did what you can do in a picture." Well said, Mr. De Forest, well said.