Hawkman's JSA teammates saved him from a continuity nightmare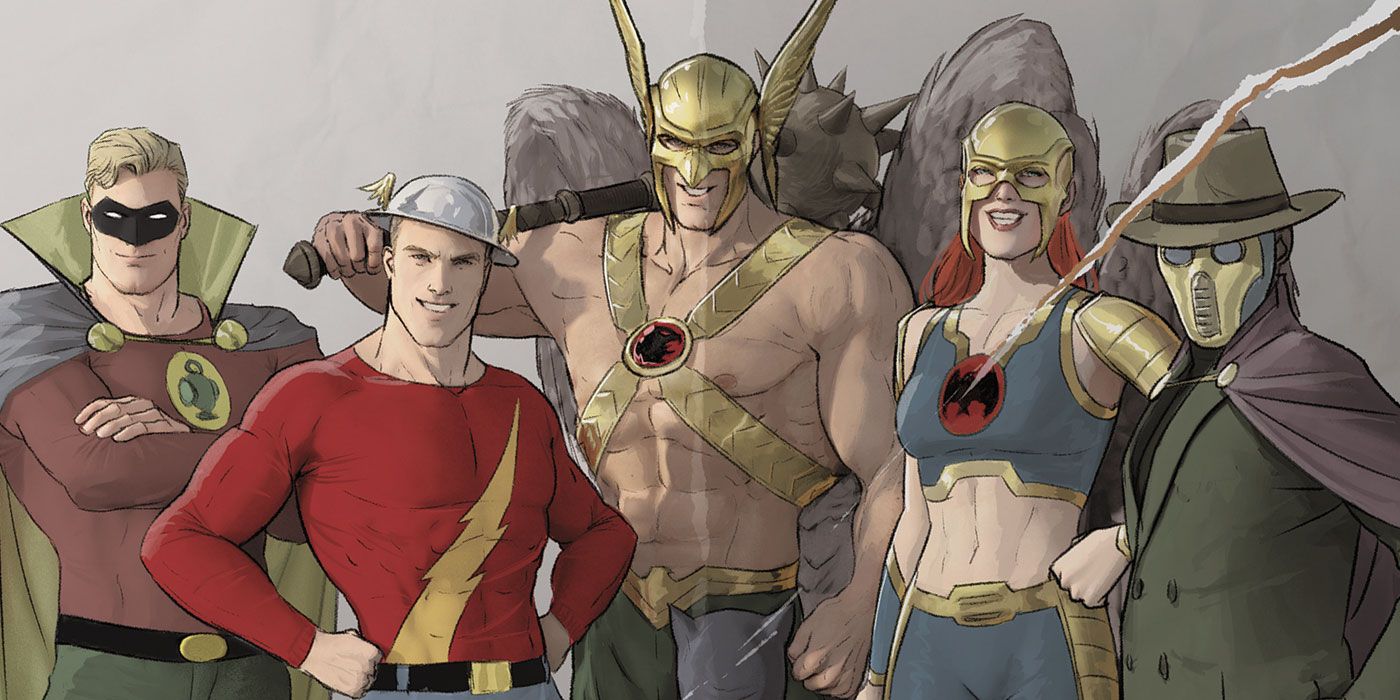 While not quite a top DC character, Hawkman has long been a top-tier B-list hero in the DC Universe. With memberships in both the Justice League and the Justice Society, not to mention the Nth metal wings, it's somewhat surprising that he hasn't become more prominent. Perhaps that major lack of success is down to how convoluted the character has become, with the '90s in particular nearly clipping his wings for good.
Hawkman has more contradictory versions of himself than most comic book characters, some of which intertwine in annoying ways. This saw it become such a continuity headache that DC actively banned its use, only the JSA revival saving it from its hiatus. With the character set to make his big screen debut soon, here's a look at how the page has almost turned permanently for him in the comics.
RELATED: Black Adam: [SPOILER] is the leader of the DCEU's Justice Society of America
Crisis on Infinite Earths Ruined Hawkman
Before Crisis on Infinite Earths, there were two major DC continuities – Earth-One, where the current Justice League resided, and Earth-Two, where the JSA lived, which got its start during World War II. Earth-Two had the first Hawkman, Carter Hall. This version of the character was a reincarnation of the ancient Egyptian prince Khufu, using the mysterious Nth metal to fashion wings for himself and his wife Shiera. On Earth-One, Hawkman was Katar Hol, an alien Thanagarian who came to Earth with his wife Shayera.
With Crisis, DC sought to eradicate their ridiculously bloated multiverse, consolidating all universes into one Earth. This meant that the JSA and JLA would now share the same world and have their histories combined. This worked well for "repeating" characters like the various Flashes and especially the Green Lantern Corps, but the contradictory Hawkmen were arguably both too similar and too different to coincide with each other. This was the start of Hawkman's turbulent continuity flight.
RELATED: Batman & Hawkman Once Fought – Cthulhu?!
DC Comics dropped Hawkman after the "Hawksnarl"
Timothy Truman gave Hawkman a modern reboot in the miniseries Hawkworld, which was followed by an ongoing series by John Ostrander of the same name. Using the Katar Hol version of the character, both of which received acclaim from fans, ultimately brought Hawkman some success. Unfortunately, however, these books ended up being unintentionally problematic. The Hawkworld The series was set in modern times, but there had already been a Thanagarian Hawkman who had served the JLA in the rebooted continuity, not to mention the Golden Age Carter Hall who was now on the same Earth.
This other Thanagarian was revealed to be the villainous Fel Andar, who brainwashed a human into his version of Hawkwoman. It was all a little too confusing for a character whose premise was to just be a guy with wings, and DC took notice. The scenario H-hour attempted to support continuity issues that Crisis either was not repaired or was inadvertently created. Hawkman was one of them, with the story culminating in various Hawk-People merging into a single "Hawkgod". Hawkman #27 (by Robert Venditti, Fernando Pasarin, and Oclair Albert) would exemplify this new division, becoming accurately described by fans as the "Hawksnarl". The titular character would start to lose his mind and sanity, eventually withdrawing for a bit as he ventured into the realm of Hawkgod.
During this time, Hawkman would be banned from DC Comics, with its meandering and confusing continuity deemed far too toxic and confusing. This turned out to be a problem with Grant Morrison's run on JLA, which featured versions of all major legacy characters, past and present. Morrison wanted to have a new version of Hawkman, completely separate from all of his past continuities, but the idea was rejected by DC's editorial staff. Thus, the angel Zauriel was created to take his place, though Aquaman mistook him for Katar at one point.
RELATED: Dark Crisis Is Already Worse For The Teen Titans Than Infinite Crisis
The JSA finally saved its flagship member Hawkman
In the late 1990s, DC was experiencing a true renaissance. Beyond the aforementioned success of JLAthere was also a JSA relaunch that made characters inherited from the Golden Age look bigger than they had been in decades. Of course, Hawkman was one of the founding members of the JSA, so it made sense to bring him back, warts and all. First, it was established that the alien metal Nth that Prince Khufu found in the past would bind his soul to that of his lover Chay-ara, allowing them to find each other in each reincarnation. It was also speculated that Katar and Shayera were just one set of these reincarnations.
In a scenario that began in JSA #21 (by Geoff Johns, David S. Goyer, Alan Davis, and Mark Farmer), it was revealed that Shiera's descendant, Kendra Saunders, the new Hawkgirl, was not Kendra, but rather Shiera's rebirth. His soul had bonded with Kendra's body when the latter committed suicide and Shiera's soul left the conjoined Hawkgod. From there, Kendra/Shiera would be drawn to Thanagar, followed by the JSA. Arriving in Thanagar, Kendra became something of an emotional anchor for a newly reincarnated Hawkman, whose memories of all past versions of himself emerged from a bubbling pool. Invigorated by seeing his friends and family by his side, he joined the JSA and fought valiantly alongside them.
From there, Hawkman would finally ascend into the DC Universe, even receiving an ongoing series from Geoff Johns. Her relationship with Hawkgirl was more different than ever, with the young woman firmly asserting that she was not Shiera. Since then, he's had books in both New 52 and DC Rebirth, with the latter officially decluttering his continuity once and for all. Now that he fights alongside the JSA and JLA, it's hard to believe his current path was once derailed by his own legacy.