How a Marvel mistake derailed an MCU's Eternal Star fight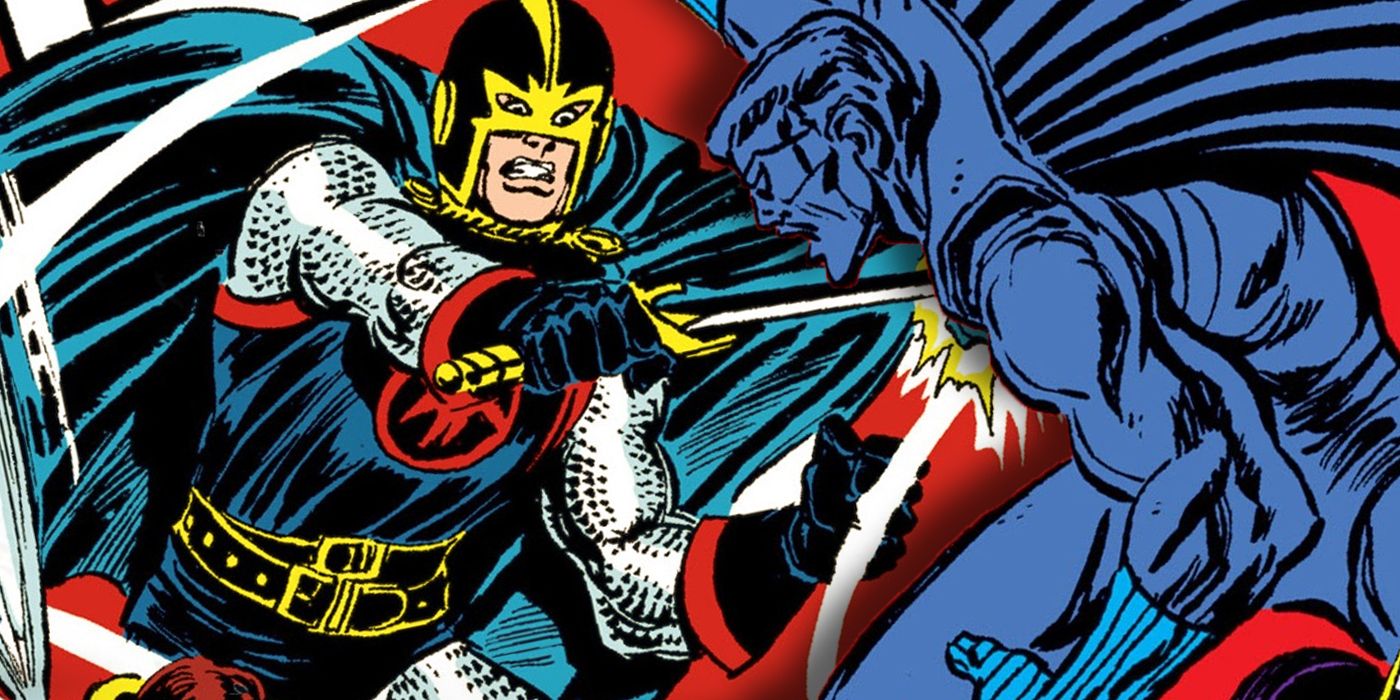 In the latest Comic Book Legends Revealed, find out how a coloring error caused a problem with Avengers any sense.
Welcome to Comic Book Legends Revealed! This is the eight hundred and ninth episode where we take a look at three comic book legends and determine if they are right or wrong. As usual, there will be three posts, one for each of the three captions. Click here for the first part of this episode's captions. Click here for part two of this episode's captions.
NOTE: if my twitter page reached 5,000 subscribers, I will be doing a bonus edition of Comic Book Legends Revealed that week. Good deal, right? So will follow my Twitter page, Brian_Cronin!
COMIC LEGEND:
Marvel had to put in recoloured panels so fans could cut and paste them into an old issue to correct a coloring error, as the end of an Avengers issue made no sense.
STATUS:
True
This ends perhaps the weirdest theme in Comic Book Legends Revealed – Marvel's cut and paste fixes!
The most famous screenplay in Roger Stern's acclaimed 1980s series on the Avengers was "Under Siege," a storyline in which Baron Zemo slowly but steadily put together a mammoth Masters of Evil roster, then systematically planned the downfall of the Avengers, culminating with the villains attacking and taking control of Avengers Mansion on him. -same !
The storyline was slowly introduced, as Stern showed Zemo recruiting new team members and also spying on the Avengers to notice their various interpersonal issues that made the team weak. Avengers The No.271 is a good example of this, as Namor abruptly left the team, leaving them shorthanded and especially shorthanded in the feed department. Meanwhile, Hercules gets angry under the Wasp's leadership, as he clearly doesn't really respect her.
Meanwhile, Black Knight yearns for the Wasp as she is oblivious to his interest in her. These fractures were all later exploited by Zemo in his attack on the Avengers (Hercules, for example, ignores an order from the Wasp and tries to attack the Masters of Evil on his own and he is beaten almost to death).
RELATED: How Thor Hid Secret Wars From Marvel Readers
In the above Avengers # 271 (By Stern, John Buscema and Tom Palmer), Wasp (along with Mercenary Paladin, who she was casually dating at the time) visits new villain Yellowjacket, in jail, when she gets out of jail by Screaming Mimi and Gray Gargoyle.
We see Wasp trying to follow the escaped villains and she notices that she has a clue of some people in the hallways …
Black Knight was having dangerous experiments on Captain Marvel when he heard that Wasp was in trouble. He ditched Marvel to come to the aid of the Wasp, hoping to prove himself to the Wasp (Dane is a screwed up dude).
He arrives and shoots down the gray gargoyle, although that doesn't make sense as to HOW he did it, does it?
RELATED: Captain America Accidentally Missed A MAJOR Body Part in a Comic Book
Well, the column of letters for Avengers # 277 (the "Under Siege" story finale) revealed what the deal was. In the end, the colorist made a mistake and forgot to color people like statues earlier in the story and ALSO forgot to show that Black Knight's sword had some sort of sucking effect on the body. gray gargoyle, rendering him human and allowing Black Knight to knock him out. So the column of letters had panels that you could cut and paste and put in the pages of # 271 so this story now makes sense …
You can understand how difficult it would be for a colourist to keep track of all the people who have been transformed (or not transformed) into statues. I think there was even a similar error a few glitches later, but it wasn't as inexplicable as it sounds.
DISCOVER A REVEALED TELEVISION LEGEND!
In the latest TV Legends Revealed – The Executives of Warner Bros. Did they really consider having a Static Shock live action TV series starring Jonathan Taylor-Thomas from Home Improvement?
MORE LEGENDS!
OK, that's it for this episode!
Thanks to Brandon hanvey for the Comic Book Legends Revealed logo, which I don't even know anymore, but I've used it for years and you still see it when you see my old columns, so that's fair enough to thank him again, I think.
Don't hesitate (damn it, I beg you!) To write with your suggestions for future installments! My email address is [email protected] And my Twitter feed is http://twitter.com/brian_cronin, so you can ask me for captions there too! Also, if you have any correction or comment, please feel free to email me as well. CBR sometimes sends me emails with emails they get about CBLR and that's fair enough, but the fastest way to get a correction is to email me directly , honestly. Corrections don't bother me. It is always better if things are precise!
Here is my most recent book, 100 Things X-Men Fans Should Know And Do Before They Die, from Triumph Books.
If you want to order a copy, ordering it here gives me a referral fee.
Here is my second book, Why Does Batman Carry Shark Repellent? The cover is from Kevin Hopgood (the guy who designed the War Machine armor).
If you want to order a copy, ordering it here gives me a referral fee.
Here is my comic book legends book (130 legends. – half of them are reworked classic legends that I featured on the blog and half of them are legends. never published on the blog!).
The cover is by artist Mickey Duzyj. He did a great job on it …
If you want to order it, you can use this code if you want to send me a little referral fee.
Follow Comics Should Be Good on Twitter and on Facebook (also, feel free to share Comic Book Legends Revealed on our Facebook page!). Not only will you receive updates when new blog posts appear on Twitter and Facebook, but you will also get original content from me!
See you next time!
KEEP READING: Avengers: How THIS Yellowjacket / Wasp Scene Faded Over Time
Immortal Hulk's penultimate issue promises major superhero showdown
About the Author