How DC Almost Rehired Captain Marvel's Original Co-Creator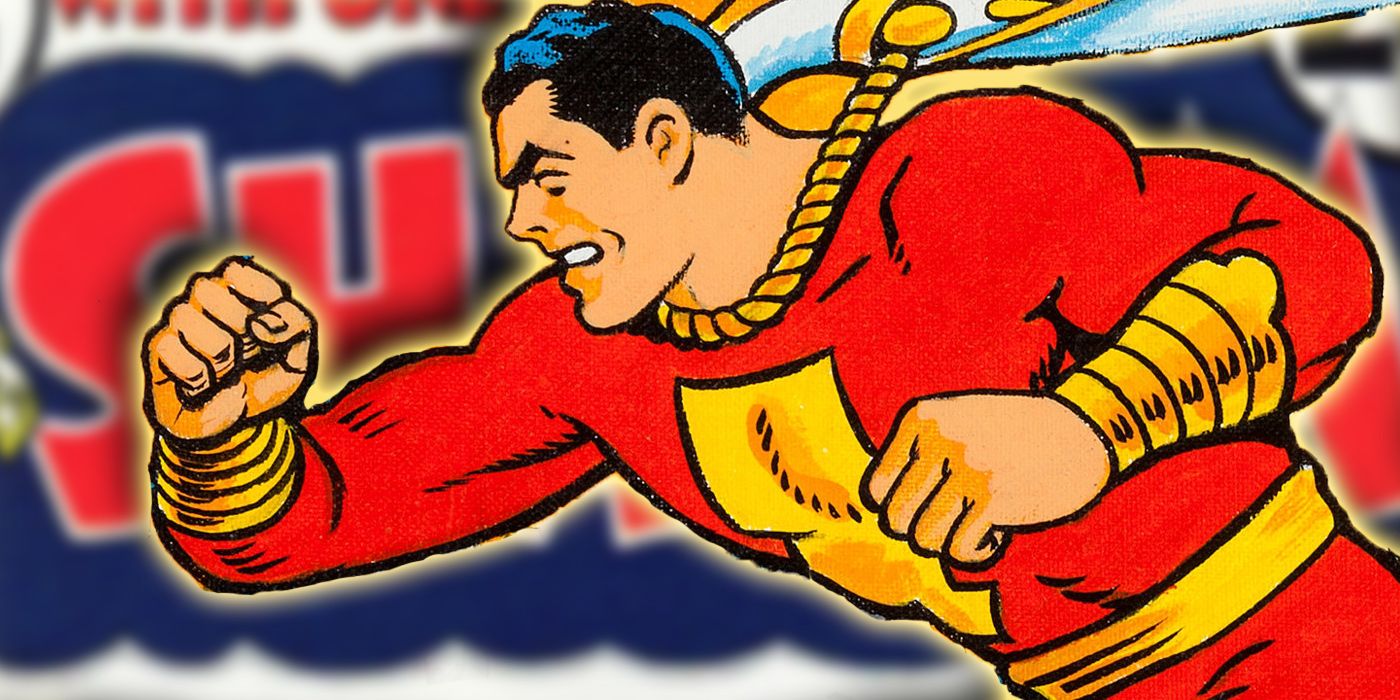 In the latest Comic Book Legends Revealed, see just how far DC has come for CC Beck to start drawing Shazam again by letting him write his own scripts.
Welcome to Comic Book Legends Revealed! This is the eight hundred and eleventh episode where we take a look at three comic book legends and determine if they are right or wrong. As usual, there will be three posts, one for each of the three captions. Click here for the first part of this episode's captions.
NOTE: if my twitter page reached 5,000 subscribers, I will be doing a bonus edition of Comic Book Legends Revealed that week. Good deal, right? So will follow my Twitter page, Brian_Cronin!
COMIC LEGEND:
DC tried to get CC Beck back on Shazam! allowing him to write his own scripts for drawing, but after heavily modifying his first script, Beck simply gave up again.
STATUS:
True
Beginning in late 1939, Fawcett Comics' Captain Marvel quickly became one of the world's most famous superheroes. The original idea that set Captain Marvel apart from other superheroes was that the comic wasn't just about Captain Marvel, but also (damn it was PRIMARILY) about young Billy Batson, a boy who had all kinds. trouble and when he needed it. with the help of Earth's Mightiest Mortal, Billy would shout "Shazam!" and switch places with Captain Marvel, who would do his thing. Introduced by Bill Parker and CC Beck, this new approach allowed creators to tell traditional children's adventure stories and mix them with superhero stories. Otto Binder was the lead writer of the Captain Marvel stories and he helped add an interesting mix of fun sci-fi and fantasy approaches to the stories. Over the years, Captain Marvel Jr. and Mary Marvel have joined the cast. The main villain throughout the series was Doctor Sivana, a brilliant but evil scientist.
Beck designed the series throughout his time at Fawcett. However, a lengthy lawsuit filed by National Comics (later DC) saw Fawcett abandon his superhero comics in the 1950s and Captain Marvel disappeared. In the 1970s, DC struck a deal with Fawcett to license Captain Marvel for new comics (now called Shazam! since Marvel had registered the name Captain Marvel in the late 1960s).
Publisher Julius Schwartz hired Captain Marvel's original artist CC Beck to draw the series, which was written by Denny O'Neil and Elliot S! Maggin, with each issue featuring a main O'Neil story, a backup of Maggin, and then a reprint of an older Captain Marvel story.
RELATED: She-Hulk: Marvel went to great lengths to get Brian Bolland coverage
The problem is, the combination of these modern writers and the classic Beck was … not a good one. The concept of the series was that the Marvel family all lived on separate Earths and that Sivana had trapped them in suspended animation for twenty years. They were now back and ready to fight again. O'Neil and Maggin were sort of stuck between updating the myth and sticking to the original concept and Beck hated their scripts. Eventually, O'Neil left the series and E. Nelson Bridwell resumed his part of the book.
Beck would make slight edits to the copy of the stories and those would be altered by the DC editorial, pissing off everyone in the process (Beck because he thought he was helping to improve the stories and the writers because 'they didn't want Beck to play with their thing).
In the end, Beck flatly refused to draw two of Maggin's scripts. He thought DC would try to fight to keep him by offering him better scripts. Instead, they just gave the scripts to other artists and prepared to move forward without Beck. Bridwell, however, the writer Beck liked best of modern writers, fought to keep Beck. He told Beck that Beck could try to write his own screenplay for the series.
RELATED: The Flash: How Wally West Became the Killer in Heroes in Crisis
Beck was happy to do so, and so Beck made up a story involving the Seven Deadly Sins tormenting Billy Batson and Captain Marvel. He then didn't hear from DC for months, until finally, six months after Beck sent in his script, Bridwell returned the heavily tagged script, with the story being greatly simplified compared to the original Beck, some changes being particularly strange (the Seven put a curse on a drawing to play with Captain Marvel, while in Bridwell's version, the Seven acquire a "dream inducing" device which they hide in the drawing. to play with Billy.
There is a sequence where Uncle Dudley clings to Captain Marvel's leg as Marvel flies which Beck really hated.
Beck hated the edited script, but he first tried playing ball and he started drawing the edited script, but when he hit Dudley on the Captain Marvel leg scene he was disgusted and tore it all up. and threw the story in the trash. Beck sent the edited script back to DC and told them he didn't want anything to do with it and even Bridwell gave up on trying to contact Beck anymore and that was it for the awesome comics and DC (Bridwell, however , continued to hold Beck in high regard, giving interviews where he spoke of Beck in very complimentary tones).
Captain Marvel pundit PC Hamerlinck has an incredibly detailed article on this whole affair (with a detailed description of the original Beck script and the rewritten Bridwell script) which he co-wrote with Roy Thomas in Alter ego # 7 of TwoMorrows. You can read it here.
DISCOVER A REVEALED TELEVISION LEGEND!
In The Latest TV Legends Revealed – Why Did A Carpet Salesperson Get A Celebrity Appearance On The 1960s Batman TV Series?
MORE LEGENDS!
OK, that's it for this episode!
Thanks to Brandon hanvey for the Comic Book Legends Revealed logo, which I don't even know anymore, but I've used it for years and you still see it when you see my old columns, so it's fair enough to thank it again, I think.
Don't hesitate (damn it, I beg you!) To write with your suggestions for future installments! My email address is [email protected] And my Twitter feed is http://twitter.com/brian_cronin, so you can ask me for captions there too! Also, if you have any correction or comment, please feel free to email me as well. CBR sometimes sends me emails with emails they get about CBLR and that's fair enough, but the fastest way to get a correction is to email me directly , honestly. Corrections don't bother me. It is always better if things are precise!
Here is my most recent book, 100 Things X-Men Fans Should Know And Do Before They Die, from Triumph Books.
If you want to order a copy, ordering it here gives me a referral fee.
Here is my second book, Why Does Batman Carry Shark Repellent? The cover is from Kevin Hopgood (the guy who designed the War Machine armor).
If you want to order a copy, ordering it here gives me a referral fee.
Here is my comic book legends book (130 legends. – half of them are reworked classic legends that I featured on the blog and half of them are legends. never published on the blog!).
The cover is by artist Mickey Duzyj. He did a great job on it …
If you want to order it, you can use this code if you want to send me a little referral fee.
Follow Comics Should Be Good on Twitter and on Facebook (also, feel free to share Comic Book Legends Revealed on our Facebook page!). Not only will you receive updates when new blog posts appear on Twitter and Facebook, but you will also get original content from me!
See you next time!
KEEP READING: Was a Spider-Man and if…? Story too dark for the comic book show and code?
Kang's Reed Richards connection began as part of Marvel's Secret History
About the Author