Jinkx & Dela Holiday Special Review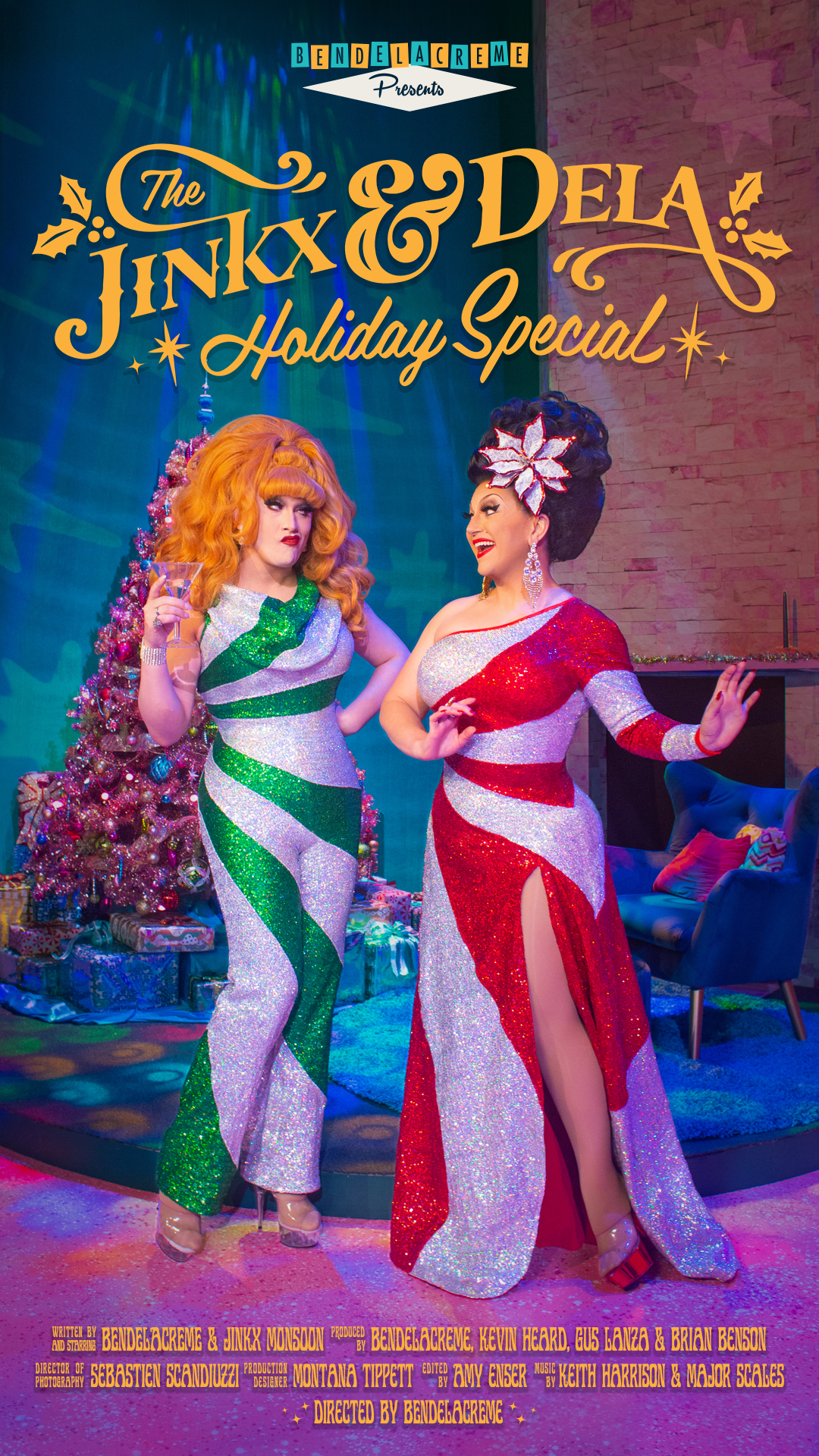 The Jinkx & Dela Holiday Special is a fun way to spend an hour. High-profile drag queens Jinkx Monsoon and BenDeLaCreme hosted a Christmas variety show to share the importance of tradition and foster an inclusive community.
I was provided with a free digital filter of The Jinkx & Dela Holiday Special for evaluation. The opinions I have shared are my own.
viewers of RuPaul's Drag Race are familiar with the powerhouses of Jinkx Monsoon and BenDeLaCreme. The two have been friends for years. The electric chemistry between them lights up every moment of the holiday special. I wanted it to be longer than the one hour runtime because I was having so much fun.
Recorded on a sound stage, the premise deals with Dela wanting to celebrate the joys of Christmas and deciding to put on an elaborate show. However, Jinkx is not into the festivities and wants to be left alone to drink and date a handsome man in peace. The special has Dela not backing down and trying to force holiday cheer on an indifferent Jinkx. Dela making contact with her deceased grandmother, who manifests herself with a glass of eggnog, does not help the situation as she encourages Dela to keep trying to get Jinkx to embrace the Christmas spirit.
There's a meta-sensitivity to it all as the two leads address the audience and make changes to the script on a whim to compete with each other. As expected, there's a bunch of Christmas-themed musical numbers, quick outfit changes, and lots of jokes. However, I was quite surprised by what this special had to say.
As the story progresses, we discover that Jinkx and Dela had very different vacations growing up. Jinkx's family didn't have the funds to throw lavish end-of-year parties. They also argued a lot during the family dinner. So it was understandable that Jinkx wasn't interested in what Dela was suggesting. Not only that, I loved how upset Jinkx was at how her emotions regarding the vacation were ignored by Dela. The tale also explores Dela's persistence in wanting to keep her family traditions alive and why this is meant for her.
During the holiday special, the two go through character growth that allows them to see each other's perspectives. Additionally, the narrative asks the audience to reflect on the importance of their own holiday traditions. Do some traditions actually bring you joy or do you just repeat them every year because it's hard to break away from your past?
Through Dela's conversations with her very problematic deceased grandmother, the screenplay asks whether certain traditions are worth keeping alive. Christmas and other holidays tend to be quite difficult for a number of people in the LGBTQ+ community. Wouldn't it be better to invent new traditions to celebrate the holidays as you wish?
From global warming to respect for others and inclusion, there's a lot Jinkx and Dela tackle in this hilarious hour-long holiday special. I highly recommend you watch it. Also, don't skip the end credits as it contains a number where Jinkx and Dela sing about the different holidays celebrated around the world.
The Jinkx & DeLa Vacation Special is screening at the Alamo Drafthouse Cinemas. You can find it digitally on Amazon Prime, iTunes, Apple TV, Google Play, and Vudu. DVD and Blu-ray can be purchased from the official website.
If you are able to get a ticket, you can catch The return of the Jinkx & DeLa Holiday Show, LIVE!
The live show is currently taking place, with the final date for the tour being December 30, 2021.
Author:
Farid-ul-Haq
Farid holds a double master's degree in psychology and biotechnology as well as an M.Phil in molecular genetics. He is the author of numerous books including Missing in Somerville and The Game Master of Somerville. It gives us insight into comics, books, TV shows, anime/manga, video games, and movies.
–
Read our before commenting.
Do not copy our content in its entirety to other websites. Links are encouraged.
Copyright © The Geekiaire
Related