Joshua Williamson launches new direction for DC's deadliest assassin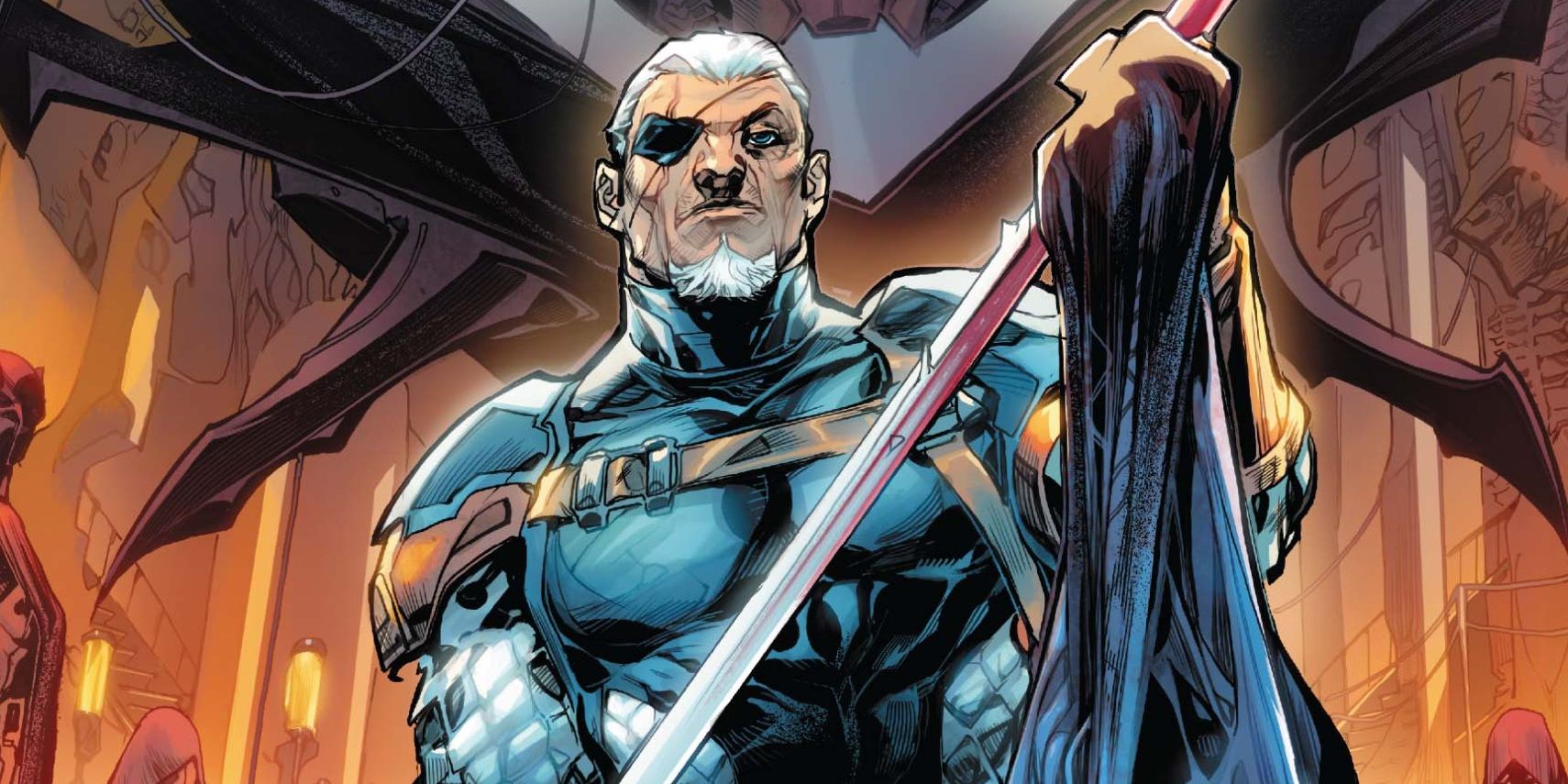 One of the DC Universe's deadliest characters, Slade Wilson, confronts his bloody legacy head-on while forging a new future in the comic book series Deathstroke, Inc. Reuniting comic book creators Joshua Williamson and Howard Porter after a string of fan-favorite DC titles, including Williamson's widely acclaimed run on Flash, the new series has Slade teams up with longtime nemesis Black Canary on a DCU-wide mission of redemption, with several familiar faces resurfacing along the way.
In an exclusive interview with CBR, Williamson explained Wilson's mindset at the start of Deathstroke Inc. He explained why he brought Black Canary and teenage Toyman Hiro Okamura to team up with the deadly assassin and teased Deathstroke's eventual confrontation with Robin and a certain Dark Knight. This interview also includes standard cover and an illiterate preview for Deathstroke, Inc. # 2, as drawn by Porter and colored by Hi-Fi, and a variant cover of the issue by Francesco Mattina. It should be noted that issue 2 will be entirely double-page spread to give a cinematic widescreen aspect to the Porter and Hi-Fi visuals.
RELATED: Deathstroke Inc Will Finally Confirm Slade Wilson's Hero / Villain Status
RBC: With Deathstroke, Inc., you have Slade Wilson at a crossroads, reflecting on the full extent of his life. What is it like to revisit its history, while forging a new direction for it?
Joshua Williamson: I just wanted to see Slade react to his own story, because him to look at his past life and face it. Know that he has been PLV all his life. He realizes that he is not the man he thought he was and has to face it. But that being said, I think people will be surprised at the real direction he's heading in and the impact it has on the rest of the DCU.
What I love about this book is that it can go anywhere in the DC Universe: techno-thriller, cosmic odyssey, dark, and supernatural. What was it about the story and the character that lent itself to this versatility and reach?
Williamson: Part of my thinking was that I didn't want to repeat what Priest had done with his big Death blow Course. Take the characters to parts of the DCU, we don't normally see them. Batman has this ability to be a vehicle for any kind of story, and I wanted to see if I could do the same with Deathstroke.
You've been working with Howard Porter and Hi-Fi since your run on Flash and beyond. What made them the perfect artists for this book?
Williamson: I've been a huge Howard fan since he was on The Ray, then Underworld Unleashed, JLA and his first run on Flash. He has always been one of my favorite artists. Years ago we worked together on Justice League / Suicide Squad, and gets along very well. Something has just happened between us. Then we worked on the Batman / Flash: the button crossover and from there I knew he was an artist I wanted to work with forever. We discuss the stories and issues ahead of time, so we're on the same page with everything. Howard takes what I write and amplifies it so much. Ditto with Hi-Fi. Hi-Fi works great with Howard and understands the kind of energy we want. They get it.
About a year ago we were talking about what Howard and I would do next and Death blow has come. I knew Howard wanted action and explosions, something fun and different from Sparkle. Me too! So we have to work on Death blow and I think that's one of the best jobs Howard has done in DC. Each number is slammed brilliantly.
RELATED: Red Hood Embraces a New Identity in DC's Dark Future
We haven't seen Black Canary and Deathstroke working together since New 52-era Team 7. What made you want to bring them together for this comic book series?
Williamson: They worked together a few times. In Team 7, in Birds of Prey, in No justice… but at the end of the day, they hate each other. When we found out we wanted to give Deathstroke a partner, or some sort of manager, we explored a few different names, but Black Canary kept coming back. We felt like their hatred for each other and early in the past together would be fun to write about. They compete in each issue in one way or another. But as bad as Deathstroke is, she's there Well. She brings balance to the story, which is exactly what the mysterious TRUST organization wanted. They were both chosen for a reason …
This set also features teenage Toyman Hiro Okamura. What about that character who specifically ran tech support for our heroes?
Williamson: I had tried to fit Hiro into so many of my books. I love the character. Originally, he was going to be a member of Justice League Odyssey, but that never was, according to the drawing board.
Number 1 teased a cross between Deathstroke, Inc. and Robin. What can you tease about it and why did you want to bring these two characters / titles together?
Williamson: It was written in the DNA of both books that they would collide at some point. Let them both create a massive conflict that will have a huge impact on the DCU thereafter. A few years ago, I had an idea of ​​history at the DCU. A large. But I wasn't sure all the characters that would be there. Then, about two years ago, I finally understood. As for the teasing… Deathstroke stalks the bad guys in the DCU, doesn't he? It might put him in conflict with a few different villains … and heroes …
RELATED: Robin Learns His Deadliest Ally's Tale With Batman Villain
Congratulations on taking the reins Batman this December! With Deathstroke having access to Batman's tech, will the Dark Knight learn more and can we expect a potential encounter between the two in the maps in the future?
Thank you!
100% yes. And it's going to be a hell of a fight.
Maybe they bring a group of friends to this fight …
Between Deathstroke, Robin, and Red Hood, you explore more deadly figures in the DCU. How did it work in this space and what can you tease to move forward?
Williamson: I wanted something different from Sparkle. Barry Allen and the Flash family are full of sunshine and hope. I wanted to go after a few more difficult characters. I was really about not to repeat myself. I was very happy there. If you look at my work as a creator, I really like writing characters that are a bit confrontational or questionable. It was a blast. I actually have another book that goes even further that hasn't been announced yet.
But everything I write to DC is connected. It won't be really clear until 2022, but you'll see. [laughs]
Joshua Williamson and Howard Porter'a Deathstroke Inc. # 2 goes on sale October 26 from DC Comics.
KEEP READING: EXCLUSIVE: Robin # 6 Sends Damian Wayne In A Kill
Dark Ages artist reveals Spider-Man's new daughter costume
About the Author