"Kings of B'more" by R. Eric Thomas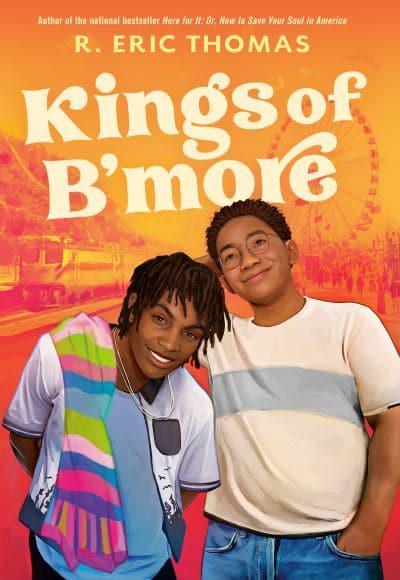 Our Pride Reads series continues with Kings of B'More by R. Eric Thomas, a fun adventure through Baltimore as two black gay best friends strengthen their bond.
Kings of B'More by R. Eric Thomas focuses on two young black gay boys living in Baltimore. Harrison is in love with the theater, while Linus is drawn to history. When Linus tells Harrison he is moving to South Carolina, Harrison is devastated. Stimulated by seeing Ferris Bueller's day off, Harrison plans an elaborate last day for Linus, which he calls "Ferris Day", in an effort to prevent the two from going their separate ways after the move. What follows is an elaborate day of adventure and self-discovery, though Harrison's plan doesn't quite go as he planned.
I was drawn to this book primarily because it hits close to home, or more specifically, about a forty minute drive from where I live. I grew up going to Baltimore almost as much as I did Washington, DC, mostly going to Baltimore Orioles games and the Inner Harbor museums. While I don't have the perspective of someone living in Baltimore, especially a black person's perspective, I enjoyed the familiarity of many of the landmarks presented in the story while learning a new side of Baltimore from a native's perspective.
Although the story is based on Ferris Bueller's day off, the story also provides commentary on the challenges of trying to pull off a day like this. Modern phone tracker technology makes the effort nearly impossible. Plus, "Ferris Day" for Two Black Gay Boys is radically different and comes with challenges Ferris Bueller never had to face. In particular, an early example of a white man assuming that Harrison is causing trouble in a museum despite no evidence provides commentary on how black men are scrutinized far more than others.
Both Harrison's and Linus' points of view drive the story, and both are fully fleshed out in the narrative. Harrison's point of view contains many references to Broadway shows while Linus provides interesting historical anecdotes throughout the story. Linus' struggle to be forced to leave his life behind and Harrison's struggle to potentially walk away from Linus are both compelling. The adventures they live also allow them to grow as individuals in addition to strengthening their bond.
Despite the differences between Harrison and Linus, it's easy to see why their bond is so strong. They are able to communicate with each other with a single glance throughout the story. Their friendship is powerful though not romantic and is the story's greatest strength. The portrayal of a healthy platonic relationship between two gay boys is very valuable to readers struggling with their own identities.
The supporting cast is also interesting, especially one of Harrison's friends named Aparna. She is the stage manager for their high school theater as well as "Ferris Day". His commentary on the day, formatted in scene notes, breaks down the main action in an interesting way. Harrison's sister, Corrine, is also amusing, especially since she seems to keep meeting Harrison and Linus.
Along with the city of Baltimore (and a brief appearance of Washington, DC), the main story setting is Pride. Harrison and Linus end up attending their first Pride, and it ends up being a time of self-discovery for Harrison and Linus. Depicting Pride as a safe and welcoming place for community members is an important rite of passage and it's no different in this story as Harrison and Linus find themselves integrating into the community.
On the surface, Kings of B'more is a fun adventure through Baltimore, with a brief stop in Washington, D.C., inspired by Ferris Bueller's day off. Digging deeper, it's a platonic love story between two boys who find community among themselves and within the confines of the queer community. Although Harrison's initial plan goes awry, the adventure the two end up embarking on ends up being even better than either imagined.
Kings of B'More is published by Kokila, an imprint of Penguin Random House, LLC, and is available now.
Check out more of our pride readings here.
Author:
Jessica Wolf
Jessica Wolff graduated from Drexel University with a BS in Film/Video. She has a passion for entertainment and representation in entertainment. She currently resides outside of Washington, DC.
–
Read our before commenting.
Do not copy our content in its entirety to other websites. Links are encouraged.
Copyright © The Geekiaire
Related