Marvel Debuts New Sentinel Design in X-Force Annual #1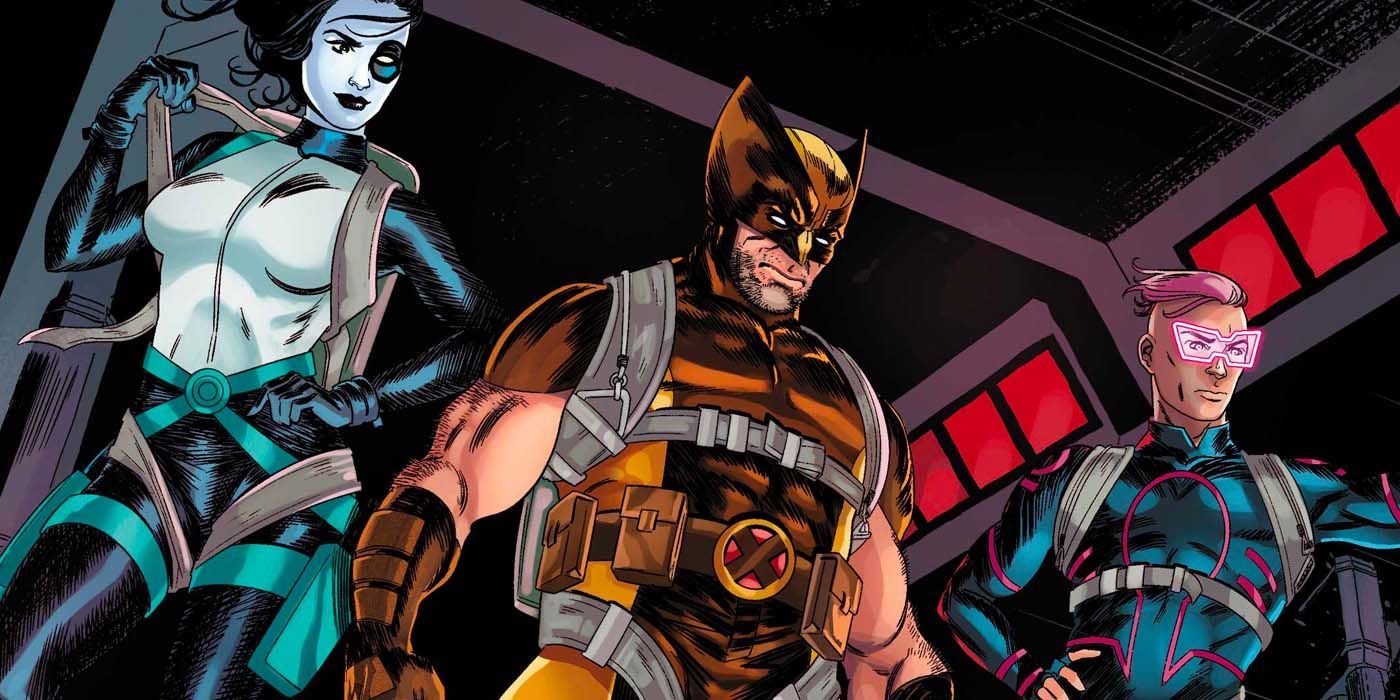 Wolverine, Domino, and Kid Omega are forced to face hordes of clawed Sentinels bearing Orchis logos in the upcoming X-Force Annual #1.
A new Sentinel variant appears in March's X Force Annual #1, and the giant robotic creations appear to be a variant of the robots used by Orchis, the organization fighting the rise of mutants in all x-men books.
CBR can present an exclusive preview of the annual, written by Nadia Shammas, drawn by Rafael Pimentel and colored by Carlos Lopez. The preview shows a glimpse of Emma Frost and Beast before focusing on Wolverine, Domino and Kid Omega, who find themselves beleaguered by a group of Sentinels wearing faceplates and wielding finger blades reminiscent of the adamantium claws of Wolverine. Logan immediately gets to work against these opponents, chopping, dicing, and doing what he does best.
RELATED: DC's Human Target Reveals The Best Way To Beat Professor X Is…To Lose?!
The cover of X-Force Annual #1, drawn by Taurin Clarke, shows that all Sentinels facing Wolverine and his comrades are adorned with the Orchis logo. The murderous group – made up of various people from organizations such as Hydra, SHIELD and SWORD – has been a thorn in the side of the mutants of Krakoa since 2019. House Xand all attempts to destroy their space station, the Orchis Forge, have failed.
The forge was responsible for building several mechanical monstrosities, including the all-powerful Sentinel variant known as the Master Mold, which was destroyed by the X-Men in House X in a battle that caused great casualties. So far, Orchis' efforts appear to be leading to the construction of the Nimrod – the ultimate, virtually indestructible Sentinel incarnation created by Chris Claremont and John Romita Jr. in 1985. Weird X-Men #191, and was featured prominently in the post-apocalyptic "Days of Future Past" timeline.
"The X-Men are legendary, and they've been a part of my life ever since my 6-year-old turned on the TV one day and heard that amazing theme song," Shammas told CBR when Annual X-Force #1 was first announced. "It's surreal and so exciting to write my first X-Men story, and especially to do it with X Force. Beyond the iconic characters I've worked with, I loved finding subterfuge, action, and digging a little deeper into Beast."
ANNUAL X-FORCE #1
NADIA SHAMMAS (F) • Rafael Pimentel (A)
Cover by TAURIN CLARKE • Variant Cover by FRANCESCO MOBILI
MISSION FOR MUTANKIND!
X-FORCE operates on the fringes of Krakoan society, undertaking the covert operations and dirty work that the X-MEN cannot handle. So who better than a target for enemies of the mutant kind? ORCHIS makes its killing blow, as WOLVERINE, DOMINO and KID OMEGA are drawn into a deadly trap designed to alter the fate of mutants! The next wave of X-FORCE adventures starts – and maybe ENDS – here!
Annual X-Force #1, written by Nadia Shammas, drawn by Rafael Pimentel, and colored by Carlos Lopez, hits comic book store shelves March 30.
KEEP READING: Future Wolverine Confirms The X-Men Will Lose Their Greatest Advantage
Source: Marvel
Hulk created mutants? ! Why Marvel refuses to choose the origin of the X-Gene
About the Author