Marvel's biggest loser, Avenger, kept rolling out new variations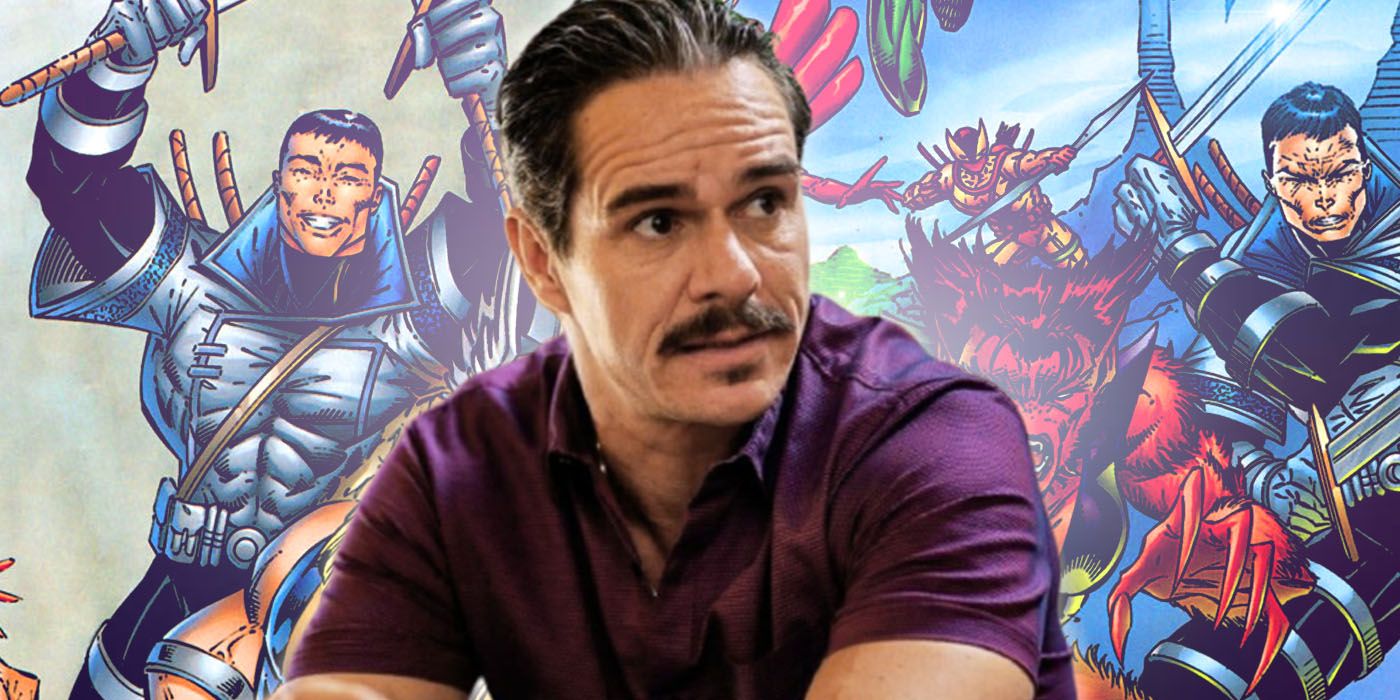 Today we look at how Jacques Duquesne, the swordsman, sort of had several variations introduced of him during the 1990s!
In each episode of Abandoned Love, we'll be looking at comic book stories, plots, and ideas that were dropped by a later writer without actively contradicting an earlier story (hence the more passive definition of retcons as anything that is added retroactively. to continuity, even if there is no specific conflict with a past story). Please feel free to email me at [email protected] if you have any suggestions for future editions of this feature.
My recent series of articles on the hilarious, convoluted story of Avenger's biggest loser, Swordsman, now brings us to how he received TWO comebacks in the 1990s … well, two. versions of the Swordsman, at least! Let's do a quick recap first. Recently, I discussed how Swordsman grew from a longtime foe of the Avengers who just made his way to the team at some point to become a legitimate member of the team. He later died saving his teammate and lover, Mantis, from being killed. He was resurrected, in a way, by having his corpse possessed by the spirit of a member of the Cotati, a peaceful plant species that married Mantis and imbued it with the "Heavenly Messiah", the perfect combination between the human and plant. However, after merging with a human, Cotati's version of Swordsman was corrupted by the original Swordsman's loser and recently nearly killed all humans on Earth as part of a misguided plan (manipulating his son into doing his dirty work using his heavenly Messiah powers).
In the 1990s, the Avengers faced off against a group known as the Gatherers, who were alternate reality versions of the Avengers led by a mysterious villain known as Proctor (who ultimately turned out to be a reality version). alternate from then-Avengers leader, Dark Knight). One of the members of the Gatherers was a variant of Swordsman, who hated the Avengers for their betrayal of him in his world. Eventually, he learned that the Avengers were the good guys and he switched sides and became an ally of the Avengers throughout the '90s.
RELATED: Before WandaVision: Did Reborn Heroes Change Vision Forever?
THE AVENGERS FALL INTO THE ASSAULT
During the Onslaught crossover, the Avengers and the Fantastic Four (but not Swordsman, so let's assume he was busy elsewhere and didn't try to skip this fight because it looked like a suicide mission) joined the X-Men in the finale. battle against Onslaught in Assault: Marvel Universe # 1 (by Scott Lobdell, Mark Waid, Adam Kubert, Joe Bennett, Dan Green, Art Thibert, Tim Townsend and Jesse Delperdang). The heroes ended up cracking the villain's psychic armor, and they discovered that if the humans entered psychic energy, they could absorb some of his power (mutants couldn't because he would simply take possession of the psychic energy). their body as the host, which is what he planned to do with the kidnapped X-Man. Scarlet Witch being able to enter due to his spell protecting her from Onslaught), so the heroes all sacrificed themselves to suck his power, even though it apparently killed them in doing so.
Once it was "anchored" by the mostly non-mutant heroes, the mutants then destroyed the energy, but, again, in the process, it looked like the Fantastic Four, Captain America, Thor, Iron Man, Hawkeye, Black Panther, Crystal, Vision, Scarlet Witch, Namor, Doctor Doom, Giant-Man, Wasp, and Falcon have all been killed. In reality, Franklin Richards subconsciously tapped into his great cosmic powers and transformed the heroes into the energy form they were transformed into by once again fighting Onslaught as humans on another Earth.
It was part of a release plan where Marvel gave these titles to Jim Lee and Rob Liefeld to do whatever they wanted with them in a new continuity called "Heroes Reborn".
RELATED: Why DC Made Supergirl … A Demon Worshiper?
THE AVENGERS ARE REBIRTH … WITH A NEW SWORSDMAN
In Avengers # 1 (from Liefeld, co-writer Jim Valentino, co-pencil artist Chap Yaep, and inker Jon Sibal and Marlo Alquiza), we meet the new team of superheroes that SHIELD has assembled, led by Captain America, a newcomer to suspended animation. Loki, not knowing how he got to this new world, investigates this new Avengers team and we first meet a new version of Swordsman …
These panels come close to the most important character development that Swordsman receives in the series. I mean, it's fair enough when the other characters are so much cooler, but still.
The Avengers are called into action for the first time …
We see that he and Hawkeye have a friendly rivalry with each other …
In the end, they convince Thor, whom they discover here ALSO suspended in animation in ice, to join the Avengers and the show ends with the new solidified team …
The Hawkeye / Swordsman rivalry was also shown in the second issue …
We never actually learn his name on the show. He obviously doesn't look like Jacques Duquesne, of course, but the variations are like that.
SWORDSMAN IS NOT MUCH MORE SUCCESSFUL IN THIS NEW REALITY THAN THE ORIGINAL
Sadly, the Swordsman of this universe was no more remarkable than the Swordsman of "our" reality. In the second issue, he ignores Captain America's orders and is quickly eliminated by a newly introduced Kang …
In the next issue, he even blames himself for his mistake …
In Avengers # 4 (with Jeph Loeb now co-writing the book with Liefeld and Ian Churchill doing a few pages before soon becoming the lead artist), Swordsman trains with Captain America and basically tells him that he knows Cap thinks badly. from him (Cap tries to hide the fact that it's pretty clear that he's not thinking of himself at all) …
They are then attacked by the Hulk and the Jade Giant brutalizes Swordsman …
Thor shows up and has a big fight with the Hulk which apparently leaves Cap, Swordsman, and Hawkeye covered in rubble from the brawl…
We see this in Avengers # 6, as Swordsman and Cap are dug up from the rubble and taken to hospital …
In Avengers # 7 (by Liefeld, Loeb, Churchill and Lary Stucker), Cap feels bad that Swordsman is in such bad shape …
The series was then taken out of Liefeld's studio and handed over to Lee, who had to bring in other writers for the newly added books, with Walter Simonson taking charge of the Avengers and in Avengers # 9 (by Simonson, Michael Ryan, Saleem Crawford and Sal Regla), Swordsman disappears from his hospital bed …
He's not repeated in the original Heroes Reborn stories, because the character of Swordsman is just abandoned, really. Funnily enough, since no one was really paying it THAT much, Swordsman continues to be a feature character in other books, like Captain America # 12 (by James Robinson, Joe Bennett, Ed Benes and many, many inkers) …
Then, in the mini-series, The return of the heroes (by Peter David, Salvador Larroca and Scott Hanna), Swordsman is simply not mentioned as the heroes all decide to return to their Home Earth once they find out they don't actually belong to it. world…
Swordsman doesn't even get a nod. Hard for him.
Interestingly, after being left behind, Swordsman actually grew into a much bigger character in the now heroless world, as Marvel has done a few follow-ups on this "Counter-Earth" over the years. CBR's Andrew Herbison explained what happened next in a CBR feature film earlier this year.
If anyone has a suggestion for a future edition of Abandoned Love, drop me a line at [email protected]!
KEEP READING: Green Arrow's Infamous 'Drug Story' Was Dark Enough – So DC Made It Much worse
Wonder Woman's new Dark Knights of Steel romance echoes her best origin story
About the Author