Mighty Morphin Issue 6 & More Comic Book Reviews (Week of April 14, 2021)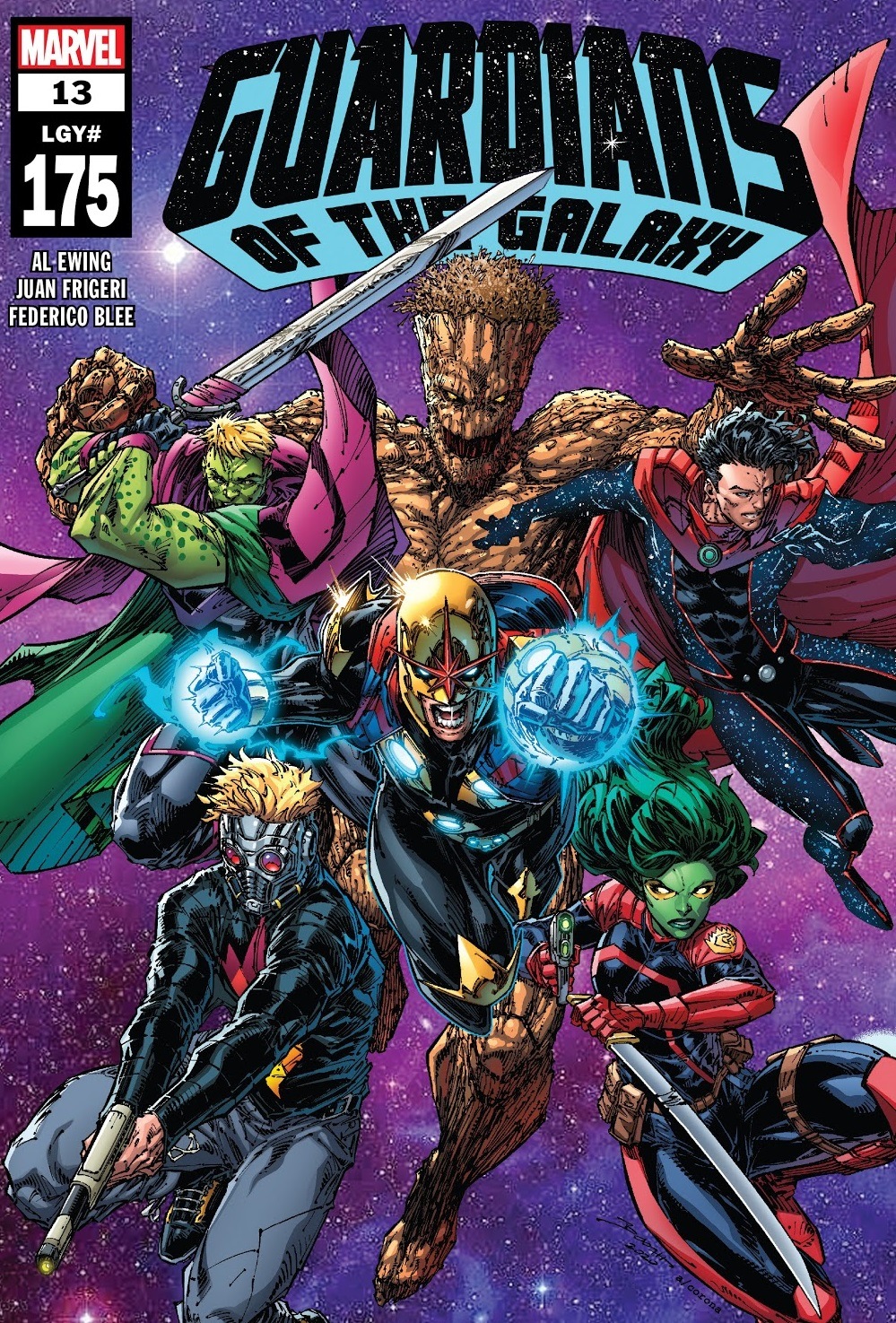 Welcome to my comic book reviews this week (April 14, 2021). I will cover guardians of the galaxy number 13, Mighty Morphin number 6, Young Hellboy: The Hidden Earth number 3, and more!
First of all we have guardians of the galaxy number 13 by writer Al Ewing. During the current series, Ewing has done a lot of work on the development of Peter Quill and decided to make the main Guardians of the Galaxy team work in such a way that different groups handle a number of missions. I am excited about how GotG works in this way. This opens doors for Ewing to explore various stories at once and even bring up more familiar faces.
The last issue has swung between two events. The main storyline asked Quill's team to help Hulkling and Wiccan fight off an ancestor invasion while the subplot introduced Drax and his team to a fire-worshiping death cult of Skrulls wanting to burn the universe down. integer for someone called He-Who-Waits.
Ewing did a good job jumping between the two missions, with Plot A being action-heavy and Plot B involving a more stealthy approach to spy on the cult. With the magic involved, I can't wait to see if Wiccan plays a bigger role in the current arc.
Speaking of Wiccan, while I enjoyed the action sequences, my only gripe would be that I didn't see Wiccan defeat a Progenitor (when some other characters were able to). He's supposed to be the future Demiurge. I would have liked to have seen him do something impressive focused on action in dangerous situations.
Also, can we please stop with Wiccan from having to sing his spells? He should have leveled up now. There's this weird inconsistency when it comes to Wiccan and his powers because some writers don't blackmail him while others do. Personally, I wouldn't want Billy to use reality-distorting chants to create shields, fire blasts of magical energy, etc. I wouldn't want him to sing a lot when something requires immense power and focus.
Either way, with a very selfish villain making an appearance at the end, I hope Wiccan has more to do with such a threat.
Along with the action stuff, Ewing made sure to add some excitement. I liked the little interaction between Quill and Gamora. He spent a lot of time in another world while in a polyamorous relationship. He even had a child. Quill needs time to understand his feelings.
The art of Juan Frigeri and the colors of Federico Blee were created for the visuals that I gravitate towards in the comics. It might be a personal bias, but I enjoyed seeing every page.
Does he have any obvious weird characters? Yes.
Recommendation: To pick up!
Mighty Morphin Number 6
It's been 23 days and the Power Rangers are still unable to dispel the shield around Angel Grove !!! Like, what is it?
Writer Ryan Parrott who upped the ante really made me worry about humans stuck in Zedd's energy dome. I can't wait to see Parrott explain what happened during the time jump. Similar to Kimberly, once the Rangers finally managed to get inside Angel Grove through the Energy Shield, I too expected a very different environment. What Parrott and artist Marco Renna gave me was quite unexpected.
As the Rangers continue to fight Zedd's forces, I also appreciate that Parrott explores Zordon's past and the interesting storyline developed due to Zelya's introduction. She's definitely a fighter the Rangers can use in their current situation. However, Zelya sharing how her home planet was like a paradise made me look at her from the side a bit. I might be wrong, but I have the impression that something fishy is going on.
When it comes to emotional rhythms, the major teens trying to cope with the possible loss of their family have been written quite well. Tommy has tried to act as a leader and stay hopeful, but it's clear he's worried too. I also appreciated his passive aggression towards Kimberly. Of course, he doesn't believe Kim had no idea Matt was the new Green Ranger, even though she's telling him the truth. Rocky talking about his siblings was another big moment. I love this series !
Does he have any obvious weird characters? No.
Recommendation: TO PICK UP!
Ghost on the scan Number 1
After reading some books published by Aftershock Comics, I decided to check out the new horror story Ghost on the scan by writer Cullen Bunn. The first issue paved the way for a lot of paranormal quirks. Apparently psychics are mysteriously dying, their heads literally exploding after experiencing a flood of thoughts from other people (evil spirits?).
We are introduced to our manager, Matthew, who wants to know what's going on. After realizing that his therapist was hiding information, we see Matthew reaching out to four other psychics (also his therapist's patients) to shed light on what is really going on.
As far as I know, experimentation on children might be involved. At this point, it would be incredibly impressive of Bunn to offer readers something unique and unpredictable, given the tons of similar stories available. That said, I'm intrigued by the childish spirit Matthew is talking about and the creepy art of Mark Torres hits all the right marks to help every page look weird. Torres isn't afraid of gore.
I especially liked the opening panels showing what happened 20 years ago. So yes, I will stay a bit.
Does he have any obvious weird characters? No.
Recommendation: To pick up.
Young Hellboy: The Hidden Earth Number 3
From Mike Mignola and Thomas Sniegoski, Young Hellboy: The Hidden Earth number 3 served as the penultimate chapter tasked with setting up a dangerous confrontation for our heroes in the finale. The Vampire Queen that Hellboy and the Professor must defeat is no joke. Considering that she was even able to drain Scarlett's old magic, it won't be easy to bring her down.
The last issue also gave us information about the mysterious island. It turns out that the locals had to teleport the island away from civilization and make it exist in a bubble reality to prevent the Vampire Queen from escaping and taking over the world. After seeing what she is capable of, I would be very surprised if the professor and Hellboy find a way to kill her for good. That's why I can't wait to see how the final goes.
Does he have any obvious weird characters? No.
Recommendation: To pick up.
–
What comics have you read this week? What are your thoughts on Mighty Morphin number 6?
Let us know.
–
Read our before commenting.
Do not copy our entire content from other websites. Links are encouraged.
Copyright © The Geekiary
Related