Peacemaker's Vigilante is very different in the DCEU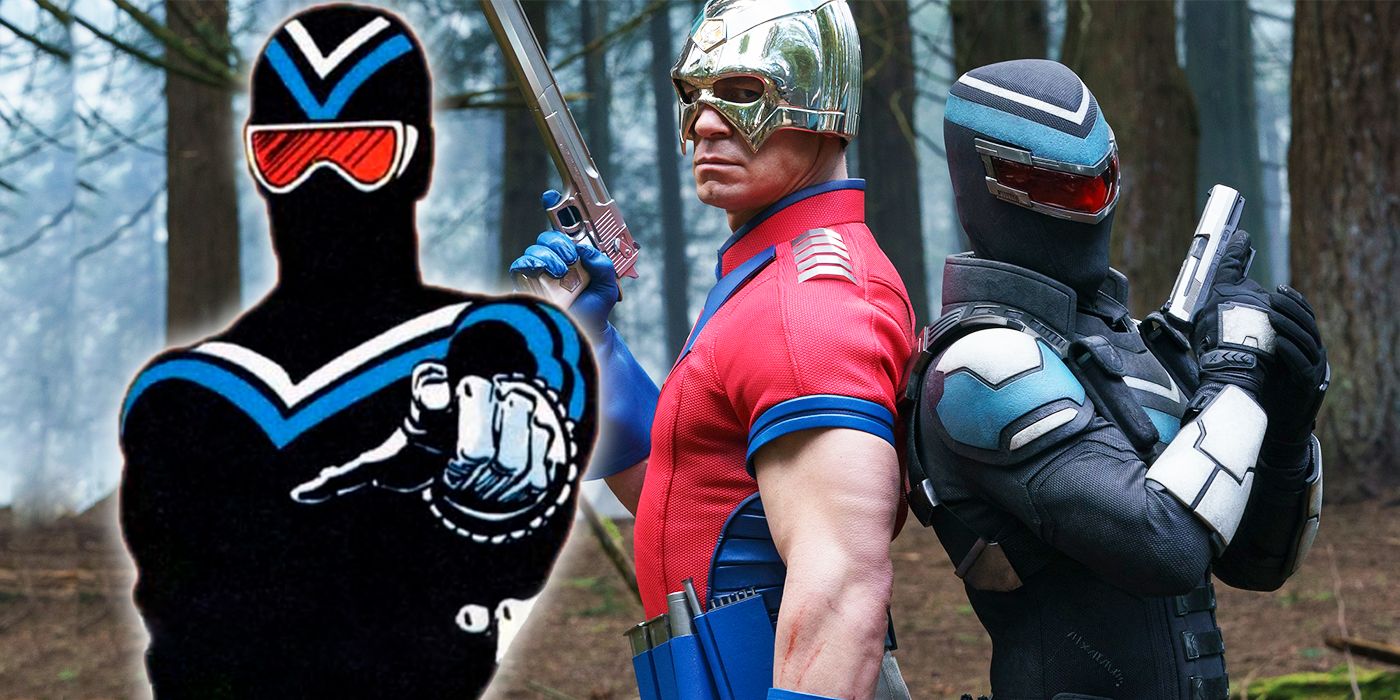 There's been frustration with accuracy as long as they've made movies based on comic books. It is reasonably probable that even at the time of the first Batman series, two kids walked into their local barber shop, one hating the ears on the Lewis Wilson costume, the other pleading for an artistic interpretation.
Today for each "the costumes of amazing spider man 2 is a perfect recreation of the comic book's contentment statement, there's sure to be a "why the hell did they make Joker his parents' killer?" A moan of frustration. While that's fine as far as adaptation debates go, perhaps it's time to retire the idea of ​​the need for an "exact" interpretation.
RELATED: Why Did Batman Team Up With Peacemaker's Vigilante?
Take, for example, Vigilante. If DC's Adrian Chase came across Peacemaker Vigilante (Freddie Stroma), they wouldn't recognize much apart from the eye-catching cut. The name is the same; the alter ego the same; the suit a pretty impressive capture of the four-color original on the page. But otherwise? They are fundamentally different characters.
The comic Adrian Chase had a wife and family until his job as a New York District Attorney made him a target. The villains managed to kill his family, but Chase survived. In response to the horrific tragedy, he began to take justice into his own hands as a vigilante. If he couldn't punish the criminals in the courtroom, he would break their legs in the alleys. However, part of Chase still believed in due process and the law. As a result, he avoided killing. His tools and weapons were all created to be non-lethal, and he was careful never to use lethal force.
Unfortunately, Chase couldn't reconcile his double life. He felt guilty for his costumed activities while working as a civilian and tried very hard to unleash all his rage in costume. Feeling that Vigilante's life was unhealthy for him, he attempted to quit. Tragedy brought him back inside, but he was different. More violent, more reckless. In the end, Chase was overwhelmed by his trauma, paranoia, and shame and ended his life.
RELATED: Why Peacemaker and Vigilante's First Encounter Was So… Deadly
The HBO Max series Vigilante, on the other hand, has no such conflicts. He kills with a kind of dizzying amorality. If a person is a violent criminal, he deserves death. There are no other calculations needed or desired. As seen, he seems even more comfortable with killing "in the line of duty" than even Peacemaker himself.
He's also something of a goofball. Admittedly, this is partly due to the atmosphere of the show. It's all a bit silly while also being a bit sad and gory, in great James Gunn style. Yet Chase's personality and life goes even deeper than that. Gone is the family man with the eminent white-collar career. Instead, HBO's Chase apparently has no life outside of costume, except for his job at a local family restaurant. He describes Peacemaker as his best friend, but Chris never even knew Adrian was the younger brother of a former classmate until now. While not free from pathos, this vigilante seems considerably happier with himself and his choices.
This Chase absolutely wouldn't work in the 80s and 90s books that featured the drawn Vigilante. Similarly, DC Comics' conflicted and increasingly unraveling Vigilante would likely be a poor fit for the Peacemaker series. They belong to their mediums, and forcing one into the other would only derail the larger work. So it's normal that they are very different. It's more than correct. Its good.
RELATED: DC Gives Peacemaker a Gruesome New Origin
That's not to say fans of the Vigilante comic should be happy with this rendition. It's perfectly valid if Chase is a favorite character or in the top five on his personal list to watch this guy and be bored, angry, or disappointed. Something can both work on its own and be a bad adaptation. Ask Stephen King what he thinks of Stanley Kubrick's version the brilliant to confirm it.
However, superheroes have become so prevalent in our pop culture landscape that such out-of-left-field character interpretation cannot be discounted. There's no longer any reason to worry that if the new movie based on that hero or team fails to get Captain Spectacular it will hurt the genre. Superheroes have arrived, which means things can and should get a little looser.
There are pros and cons to becoming one of today's most dominant forms of entertainment. On the plus side, there is so much material available that creators have plenty of cover to do unusual things with the source works. On the downside, that means sometimes his beloved character is the one who ends up the punchline or the unexpected villain or the brief to be killed off.
RELATED: James Gunn Explains Why Vigilante Is a Friendly But Worse Version of Peacemaker
As bad as a movie or TV show might "get" a character now, there's still a good chance that character will appear elsewhere and be more like fans who want it. Vigilante, for example, has made several appearances in the Arrowverse. While still not a one-on-one with his comic counterpart, this version came very close to that version. It's simplistic to say "don't worry, they'll be another one in about 15 minutes", but for now, that's pretty close to the truth.
No one needs to accept a lousy product. No one needs to watch something they don't like, even if their favorite comic book character is in it. Anyone can complain and do so with significant volume and duration. Still, when her favorites take their time in the sun, it helps to keep in mind that perfection is impossible. Disappointment, frustration and anger all have meaning. But the final work can still be great even if it doesn't meet someone's specific hopes and expectations.
Vigilante is not DC Comics Vigilante. It's true. But he's a great character on a great show. And if that's still not enough, well, there's no harm in not watching. With so many things we love dominating TV and movies, we're allowed to just say "not for me" and turn it off.
KEEP READING: How Hollywood Saved Comics – Then Killed Them
Harley Quinn and Poison Ivy lock lips in stunning cosplay
About the Author