PrintWeek November issue puts paper in the spotlight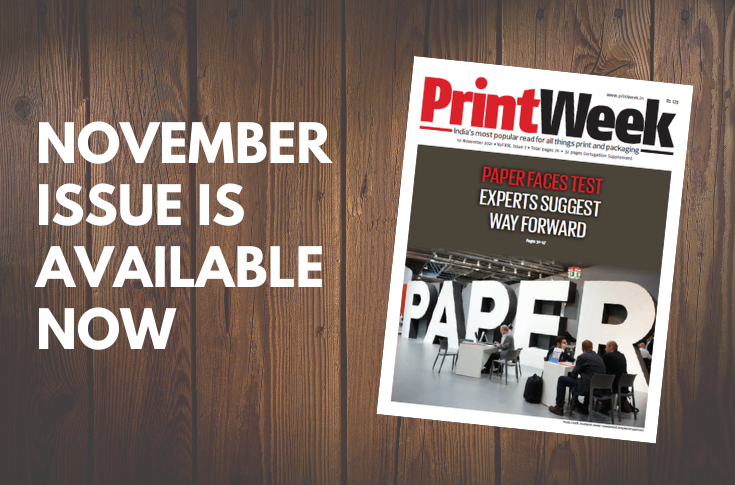 The 76 pages of the November issue are devoted to paper. In addition, there is a special 32 page supplement that focuses on the corrugated box industry.
India's printing and printed packaging industry is experiencing a rebound. And so, while most companies see an improvement in performance in the third quarter and many expect further improvements in the fourth quarter, Print week decided to focus on the paper industry.
As MK Goyal, secretary general of the Indian Pulp and Paper Technical Association (IPPTA), says in his guest magazine editorial: "The current situation of the paper industry in India, in terms of overall health, is optimistic. . Today, Indian paper mills are on a very solid foundation. The industry is expected to grow by at least 7% over the next 10 years, compared to the current production level of around 25 million tonnes per year.
Noel D'cunha, Managing Editor of Print week said: "The November issue contains a series of interviews with pillars of the paper industry. These interviews were conducted by PR Ray, based in Kolkata, who has been in the paper industry since 1970."
D'cunha added, "PR Ray has pursued a professional career related to the marketing of finished paper and paper industry raw materials such as waste paper and pulp. During his working life in the industry, Ray has had the opportunity to learn his skills from many pillars. in industry."
Ray's concerns about the future development of the paper industry in India led him to conduct these interviews, seeking valuable insights from the pillars of the industry.
Don't miss three important interviews with Jaiprakash Narain, CEO of Century Pulp & Paper; Dr Ashok Kumar, Executive Director of Pudumjee Paper Products and Anil Kumar, Executive Director and CEO of Shreyans Industries.
Corrugated cardboard industry – special issue
Rising input costs and supply chain disruptions have negatively impacted the corrugated packaging industry, reducing its revenue. The energy crisis, economic tensions, rising freight and fuel tariffs and the GST levied on corrugated boxes are hurting the already corrugated packaging industry.
This is the theme of the 32 pages Special ripple.
According to Rahul Kumar of Print week and What packaging? magazines, costs have increased an additional 30% over the past three months. This increase comes on top of an increase of at least 70% in raw material costs for corrugated box manufacturers between January 2020 and March of this year. Other than that, stationers have raised their prices every week, and box makers have to wait for customers to accept and approve the price hike. Most of the conversations revolved around this burning issue.
Sudhanva Jategaonkar, B2B Business Manager at Haymarket SAC Publishing, said: "The corrugated box manufacturing industry is an exciting space – and many companies and factories are featured in a magazine for the first time. Companies like Vapi-based Aryan who are a well-established player in India's kraft paper and corrugated industry. The company has a strong team of technically sound people to develop high RCT paper, in addition to other physical parameters such as the use of the latest recycled fiber technology. Jategaonkar added, "Then there is the new corrugated cardboard factory of Meerut Packaging Industries, which is a fully automatic facility, focused on pollution and waste reduction. "
To reserve your copy, send an email to: [email protected]
/ news / printweek-november-issue-spotlights-paper-55402
PrintWeek November issue puts paper in the spotlight

https://www.printweek.in/Utils/ImageResizer.ashx?n=http://img.haymarketsac.in/printweek/f2f85ade-dc39-4d16-ab00-fc5e86ebf273.png