Quentin Tarantino's Deadliest Movie Characters, Ranked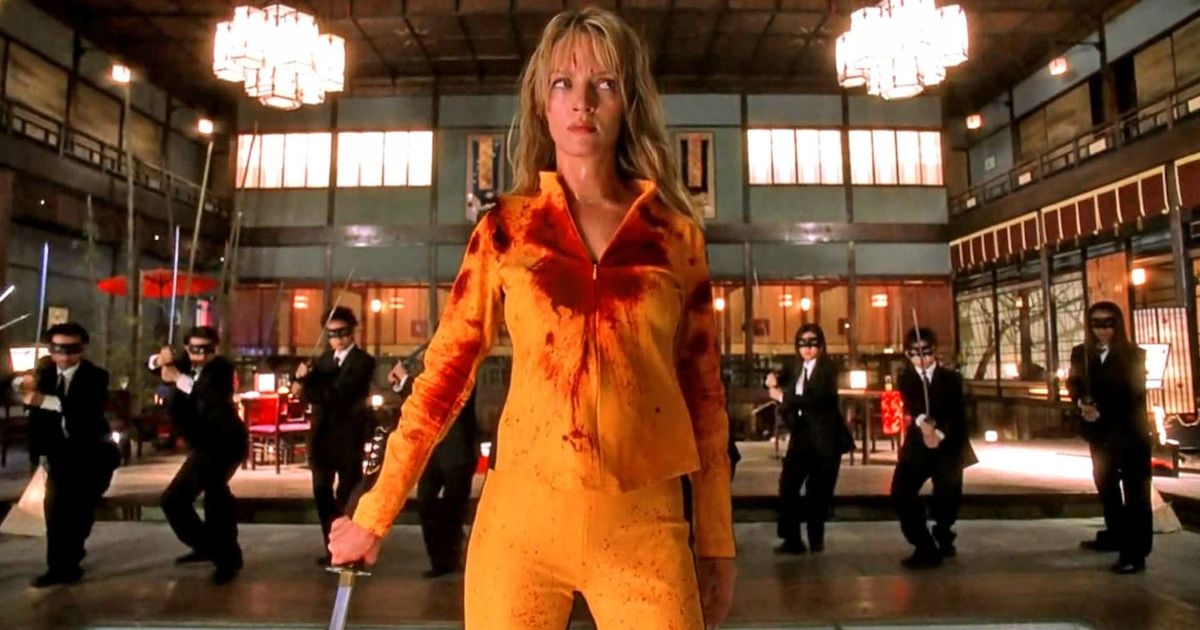 When it comes to making good violent movies, Quentin Tarantino is the king. He introduced the world to several memorable characters throughout his successful career, and many of them were ruthless killers. Some of his characters, like The Bride or Django Freeman, kill for understandable reasons: The Bride is on a mission of deserved revenge, and Django is on a quest to save his wife from slavery. On the other hand, there are characters like Mr. Blonde who simply enjoy the act of killing, as we saw in the iconic reservoir dogs torture scene. Either way, the death and violence perpetrated by the characters is seen in every film Tarantino takes on.
Tarantino was born in Knoxville, Tennessee, but grew up in Los Angeles. He spent his youth working in a video club, developing a pure love for cinema. After meeting his future producer, Lawrence Bender, Tarantino sold his first screenplay, true romance, earning him some recognition in Hollywood. Shortly after, he wrote and directed reservoir dogs, and from there, it's history. His filmography is filled with action, comedy, history and, of course, violence. Sadly, Tarantino has said he'll only make one more movie, according to IndieWire, but ahead of his release, let's take a look at his deadliest movie characters, ranked.
Related: Why Kill Bill Vol. 3 must be Quentin Tarantino's last movie
9


Mr. Blonde – Reservoir Dogs
Of all the "dogs" of reservoir dogs, Mr. Blonde (Michael Madson) is unquestionably the most deranged and sadistic. We watch him dance around the room as he ruthlessly tortures a policeman. At the same time, he seems to derive a lot of pleasure from the act. What we don't see, however, is that Mr. Blonde has gone completely insane during the botched robbery. It is said in the film that he murdered several civilians like a madman. Mister Blonde is certainly the deadliest character in the film.
8


Dr. King Shultz — Django Unchained
Dr. King Shultz (Christoph Waltz), of Django Unchained, makes the list for several reasons. One is that he's a bounty hunter who spends his days hunting down and killing criminals. At the same time, he is extremely skilled in what he does, and we can see that he surely knows how to handle himself with a pistol. When it comes to a draw, Shultz will always win, making him one of the deadliest characters in Tarantino films.
7


Jules & Vincent — Pulp Fiction
Not only Jules (Samuel L. Jackson) and Vincent (John Travolta), from pulp Fiction, two of the coolest characters ever, but they're also two of the deadliest. These hit men work for Marsellus Wallace (Ving Rhames) and they will do whatever is expected of him. This includes killing anyone who crosses Wallace the wrong way. We watch these two kill several people in the film without a blink of an eye, and we know they killed many more off-screen.
6


Stuntman Mike — Death Proof
In Tarantino's slasher movie, Proof of death, we are introduced to Stuntman Mike (Kurt Russell) who takes pleasure in killing innocent young women. The way he kills them makes him particularly sadistic. He lures the women into his car and crushes her knowing the driver's seat is deathproof. We watch him hunt down two different groups of women in the film with the aim of brutally murdering them with his deadly automobile.
5


Cliff Booth – Once Upon a Time in Hollywood
In the heyday of Once upon a time in Hollywood, we watch Cliff Booth (Brad Pitt) change history by brutally murdering members of the Manson family. We also watch him defeat Bruce Lee (Mike Moh) in a fight. Booth is a skilled killer who fought in World War II, likely killing many along the way. His physical abilities make him deadly beyond belief. At the same time, he may have also killed his wife.
Related: The Most Iconic Roles Brad Pitt Has Ever Played, Ranked
4


Bill – Kill Bill Vol. 1 & Kill Bill Vol. 2
In Kill Bill, Bill (David Caradine) is the leader of the Deadly Viper Assassination Squad. Bill is said to have sanctioned countless murders throughout his career. He is a criminal mastermind who will take a life without thinking twice. In Volume 2, we watch as Bill and his team brutally murder a church full of innocent people. He even puts a bullet in the head of his pregnant wife.
3


Django Freeman — Django Unchained
In Django Unchained, the main character, Django Freeman (Jamie Foxx) quickly discovers that he has an innate talent for throwing weapons. After helping Shultz kill several wanted criminals, Django goes after nearly everyone in Candy Land. Django kills them all one by one and emerges victorious. Not another character you would want to face in a draw.
2


The Basterds – Inglourious Basterds
In Inglourious Basterds, Lt. Aldo Raine (Brad Pitt) leads the Basterds on a quest to kill and scalp as many Nazis as possible. They are a group of murderous soldiers who end up confronting the leaders of the Nazi party. In the film's final act, we watch the Basterds change the course of history by killing top Nazi officers, including Hitler himself. Lt. Aldo Raine wanted 1000 Nazi scalps from each of them, and they worked tirelessly to make that happen.
1


The Bride – Kill Bill Vol. 1 & Kill Bill Vol. 2
In this epic tale of revenge, the bride (Uma Thurman) kills several people to finally reach her nemesis, Bill. She is one of the most skilled assassins on the planet and she wields samurai swords with ease. We watch her fight her way through many enemies in the "House of Blue Leaves" scene, leaving gallons of blood behind. Her skill, intelligence and determination make her the deadliest character in Tarantino's filmography.
Wallace and Gromit Film Crew Announce New Wallace Voice Actor
Read more
About the Author