Review of the documentary "Gemmel & Tim"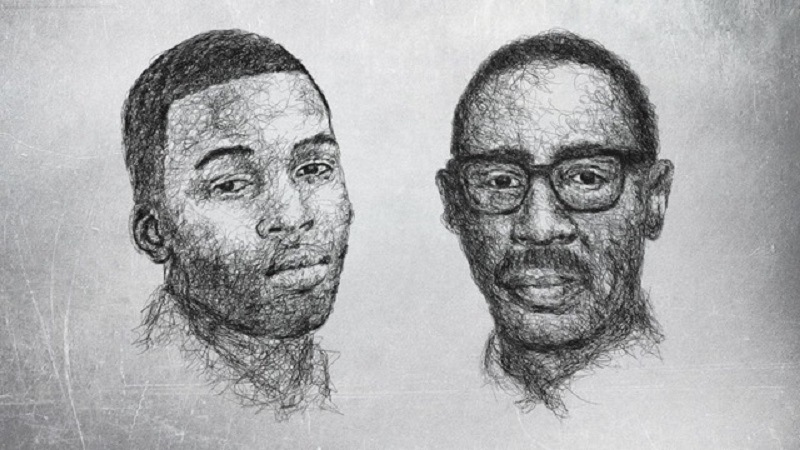 With Ed Buck sentenced in July this year, Gemmel & Tim is certainly a timely documentary highlighting titular gay black men and the impact their deaths have on the queer community.
I was provided with a free digital screener of Gemmel & Tim for evaluation. The opinions I have shared are my own.
In my opinion, Gemmel & Tim ended up being a well-constructed documentary. It introduced the two men, shared their education, and offered a story that showed how they were connected through Ed Buck. Gemmel "Juelz" Moore died in 2017 while Timothy "Tim" Dean died in 2019. It can be argued that Tim's death could have been avoided had the police and the judiciary acted in time to put an end to Ed Buck in 2017. The line on how the response would have been very different if the body of a young white man had been found in a black man's house had an impact.
Often the media tends to sensationalize such horrific events, using the victims to defend a certain point of view instead of seeing them as real human beings. With Gemmel and Tim dying of a methamphetamine overdose, some media began to suggest that the two deserved what had happened to them because of their troubled lives. Even Timothy's past as a part-time adult film actor has been used against him. A number of outlets have even tried to sweep the story aside. Not only that, with Buck being a former Republican who ended up becoming a Democratic donor, many media outlets were more interested in talking about politics than seeking justice for the two gay black men.
In June 2021, Marvel comic book writer Leah Williams, for some reason, decided to portray a similar story in X factor issue 10. Without going into details in this review, the problem allowed Prodigy to track down his killer, a film producer named Buck Thatcher. X factor Number 10 had a scene clearly showing two dead bodies hidden in Thatcher's house. Naturally, this particular X factor The problem was called for handling it quite carelessly. The timing has been criticized, especially with Buck's conviction in July. Others have criticized the way some creators use black pain as plot devices for their fiction work.
On the other hand, Gemmel & Tim ended up being a documentary with a lot of heart. One of the highlights is how director Michiel Thomas and the crew focused on Gemmel and Timothy as human beings. They had family, friends and more. Interviews with parents and friends of Gemmel and Timothy will touch your heart. Each interviewee bares their souls and shares their journey when it came to not only seeking justice for the titular men, but also how they approached their own grief and loss.
The way respondents felt guilty for not helping enough was understandable. There isn't much you can do if the person you want to contact claims everything is fine or quits any kind of help. Seeing how Gemmel and Timothy's death impacted their respective friends and family, and the queer community as a whole, is pretty well described.
Seeing what Gemmel and Timothy had in common as well as their differences will allow you to understand how they bonded with Buck as he continued his mission to prey on vulnerable black men to feed his twisted sense of pleasure. Buck had victimized many more, but Gemmel and Timothy were the ones who shared a tragic fate.
As well as offering details on the titular men, this documentary also makes sure to highlight what brought justice for Buck's victims, with Jasmyne Ariel Cannick playing an important role. It was an uphill battle for the queer community as it faced homophobia and systemic racism along the way.
The doc also shares steps that can be taken to ensure that other Ed Bucks don't continue to harm vulnerable people. There is a lot of talk about mental health and how many are unable to cope with their problems properly, opting for addiction for pain relief.
Queer PoC people are at serious risk in the United States (homelessness, unemployment, mental health issues, drug use, etc.). As the queer community does what it can to protect and support each other, major changes are needed from the government to ensure that the queer community gets the help it needs. With the government slow to provide the needed help, some evil people will continue to prey on the queer community.
You can clearly tell that this project is close to the director's heart because of what it shows and what it means. Thomas, who is part of the LGBTQ + community in Los Angeles, shared:
According to the DCD, from 2008 to 2017, the number of methamphetamine deaths in LA County increased by 707%; about one death per day. An alarming trend that I am witnessing with my own eyes – in 2020, I myself lost a friend to the methamphetamine epidemic.

I'm a member of the LA Gay Basketball League (LAMBDA), where Tim Dean played, so Tim's death deeply affected my close social circle. I hear their cry for justice and want to play my part in ensuring that Gemmel and Tim's death is not in vain. By highlighting their lives, told by authentic voices who knew them best, I want to offer Gemmel and Tim's extended family a platform to mourn, show who their friend really was, and come up with solutions to prevent these tragic events to happen. in the future. I am extremely blessed to collaborate with very talented, diverse and beautiful souls on this project.
Gemmel & Tim is definitely a documentary you should consider watching to better understand what happened to the victims of Ed Buck and why it took Gemmel and Timothy so long to get justice. We all know that there is still a lot of work to be done in terms of how the justice system treats minorities.
After having a screening in person today during Outfest 2021, Gemmel & Tim will have virtual screenings from August 16 to August 18, 2021. You can get your tickets here.
You can read more about our Outfest 2021 coverage here. With more reviews and interviews, we have a lot of plans for this year's festival. Keep an eye out!
Author:
Farid-ul-Haq
Farid has a double master's degree in psychology and biotechnology as well as an M.Phil in molecular genetics. He is the author of numerous books including Missing in Somerville and The Game Master of Somerville. It gives us insight into comics, books, TV shows, anime / manga, video games, and movies.
–
Read our before commenting.
Do not copy our entire content from other websites. Links are encouraged.
Copyright © The Geekiary
Related