Rick and Morty Seasons 1-4 Blu-ray Review & Digital Code Giveaway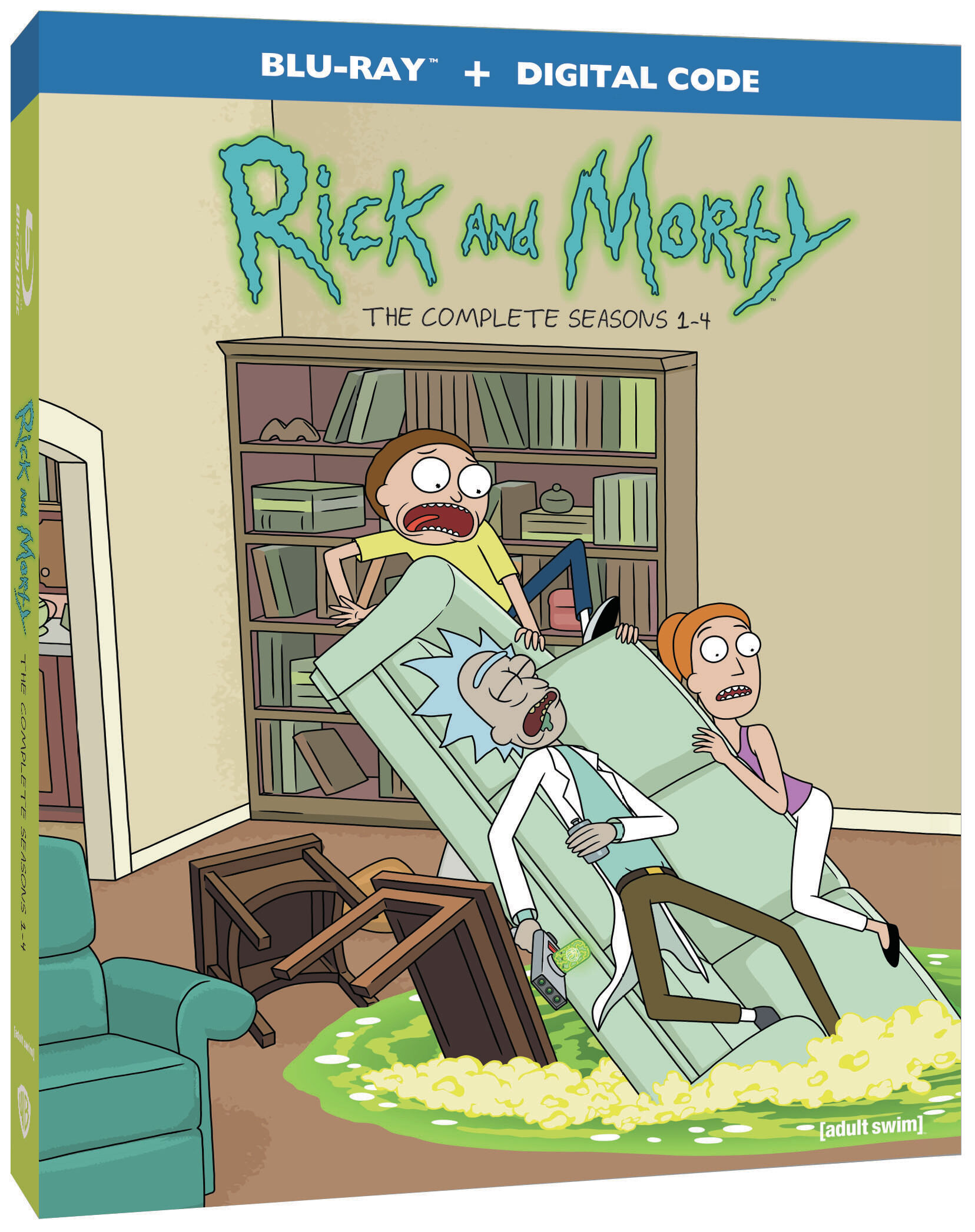 While fans wait for the release of Season 5, they can review all episodes and enjoy additional content through the Rick and morty Warner Bros. Seasons 1-4 Blu-ray box set released Home Entertainment. This home version includes a poster. We also offer a digital code!
Warner Bros. Home Entertainment provided me with a free copy of Rick and morty Seasons 1 to 4 Blu-ray box for review. The opinions I have shared are my own.
Created by Justin Roiland and Dan Harmon, Rick and morty debuted on Adult Swim in December 2013. Since then, the sci-fi comedy show has garnered a passionate fandom. The fourth season premiered on November 20, 2019. With final airing on May 31, 2020, fans are looking forward to the show's fifth season. A total of 41 episodes have been released and you can own them all in the Rick and morty Blu-ray release of the seasons 1 to 4 box set.
You can read my in-depth review of the Season 4 Blu-ray release here.
To be honest, if you haven't purchased all four seasons of Rick and morty, this version is a good deal. Its selling price is SRP $ 79.99 for DVD ($ 89.99 in Canada) and SRP $ 89.99 for Blu-ray ($ 99.99 in Canada), which includes a digital copy (at United States only).
However, if you've purchased the standalone home versions before, the current collection doesn't offer anything new except the limited-time poster and the various discs.
Visual presentation is what you'd expect from WBHE offerings, with everything appearing bright and crisp (1080p. 1.78: 1 aspect ratio). I have not encountered any issues with the audio (English 5.1 Dolby TrueHD).
For those wondering about the details:
Season 1
Audio commentary: A must for fans! The commentaries of the fourteen episodes are sure to amplify the fun factor. Participants include Dan Harmon, Justin Roiland, Ryan Ridley, Ryan Elder, Ryan Ridley, Matt Groening, Robert Kirkman, and more. You'll learn about Easter eggs, discarded concepts, and more.
Animatic: An approximate animated version of each episode.
Behind the scenes (about 19 minutes): Includes real behind-the-scenes footage and lots of jokes.
Deleted scenes: Unused material presented in animatic form.
Season two
Audio comments: We have Dan Harmon, Justin Roiland, Ryan Ridley, Tom Kauffman and more.
Animatic
Removed animated sketches (about 2 minutes): An unfinished scene on the visit of the "Butthole Ice Cream Parlor".
Rick & Morty Season 2 first night with Chaos Chaos (approx. 43 minutes): An entire concert from the first part of the second season.
Season three
Audio comments: We have Dan Harmon, Justin Roiland, Peter Dinklage, Courtney Love and more.
Animatic
"Inside Episodes" for each episode (about 2 minutes each): Some information for each episode.
Inside the check-in booth (approximately 6 minutes): An overview of the registration process.
Rick & Morty Origins Part 1 (about 5 minutes) and 2 (about 5 minutes): A look at the development process involving fictional characters and the world.
Season four
A Day at Rick and Morty – Inside Season 4 (about 9 minutes): Interviews with the creative team.
"Inside Episode" for each episode (about 2 minutes each): Tidbits from the creative team.
Creation of Snake Jazz (about 2h30): Composer Ryan Elder shares the process of creating Snake Jazz.
Realization of Rick and Morty (about 3 minutes): Features several directors from season four.
Samurai and Shogun (around 5:30 a.m.): An action-packed animated short.
Accessories process (about 3 minutes): Lead prop designer Brent Noll explains what goes into creating props for such an animated series.
Character creation (about 2h30): Shares the character creation process, including deaths.
Animation challenges (around 2h30): A glimpse into the difficulty of delivering while working on a series that continues to gain momentum with each season.
Here is the 22 x 17 inch poster (modified due to website policy)!
the Rick and morty The Seasons 1-4 boxed set will be available for purchase on Blu-Ray (4 discs) and DVD (8 discs) on March 2, 2021.
You can enter the digital code gift below.
The rules:
1. Details: the Rick and morty The Seasons 1-4 digital code giveaway begins Tuesday, March 2 at 12:00:01 a.m. EST and ends Tuesday, March 9 at 11:59:59 a.m. EST.
2. Eligibility: The contest is open to US residents only. The digital code CAN ONLY be used through Vudu or Movies Anywhere. You MUST follow The Geekiary's Twitter account before the end of the contest. You must tweet from your personal Twitter; gift or contest accounts will be disqualified.
3. How to enter the competition: You MUST save your tweets and entries WITH RAFFLECOPTER on this page or your entries will be invalid. Following the Rafflecopter instructions below, there are two (2) total ways to enter and both are mandatory. Each Rafflecopter item entitles you to one (1) entry into the contest. (1) MANDATORY: Following the @TheGeekiary Twitter account using your personal Twitter account, contest or giveaway accounts will not count as entries. (2) MANDATORY: Tweet BOTH the link to this post and the hashtag #GeekiaryRickandMortyGiveaway. (This can be done once a day.)
4. Selection of the winner: On or about Wednesday March 10, one (1) winner will be randomly selected from all eligible entries. Odds of winning depend on the total number of eligible entries received. We will make two (2) attempts to contact said winner by direct Twitter message or email. The potential winner must respond within two (2) business days of initial notification, or another potential winner may be selected from the remaining eligible entries.
Good luck!
a Rafflecopter gift
Author:
Farid-ul-Haq
Farid has a double master's degree in psychology and biotechnology as well as an M.Phil in molecular genetics. He is the author of numerous books including Missing in Somerville and The Game Master of Somerville. It gives us insight into comics, books, TV shows, anime / manga, video games, and movies.
–
Read our before commenting.
Do not copy our entire content from other websites. Links are encouraged.
Copyright © The Geekiary
Related