Robin, Two-Face, and more arrive behind the scenes at Batman '89 Art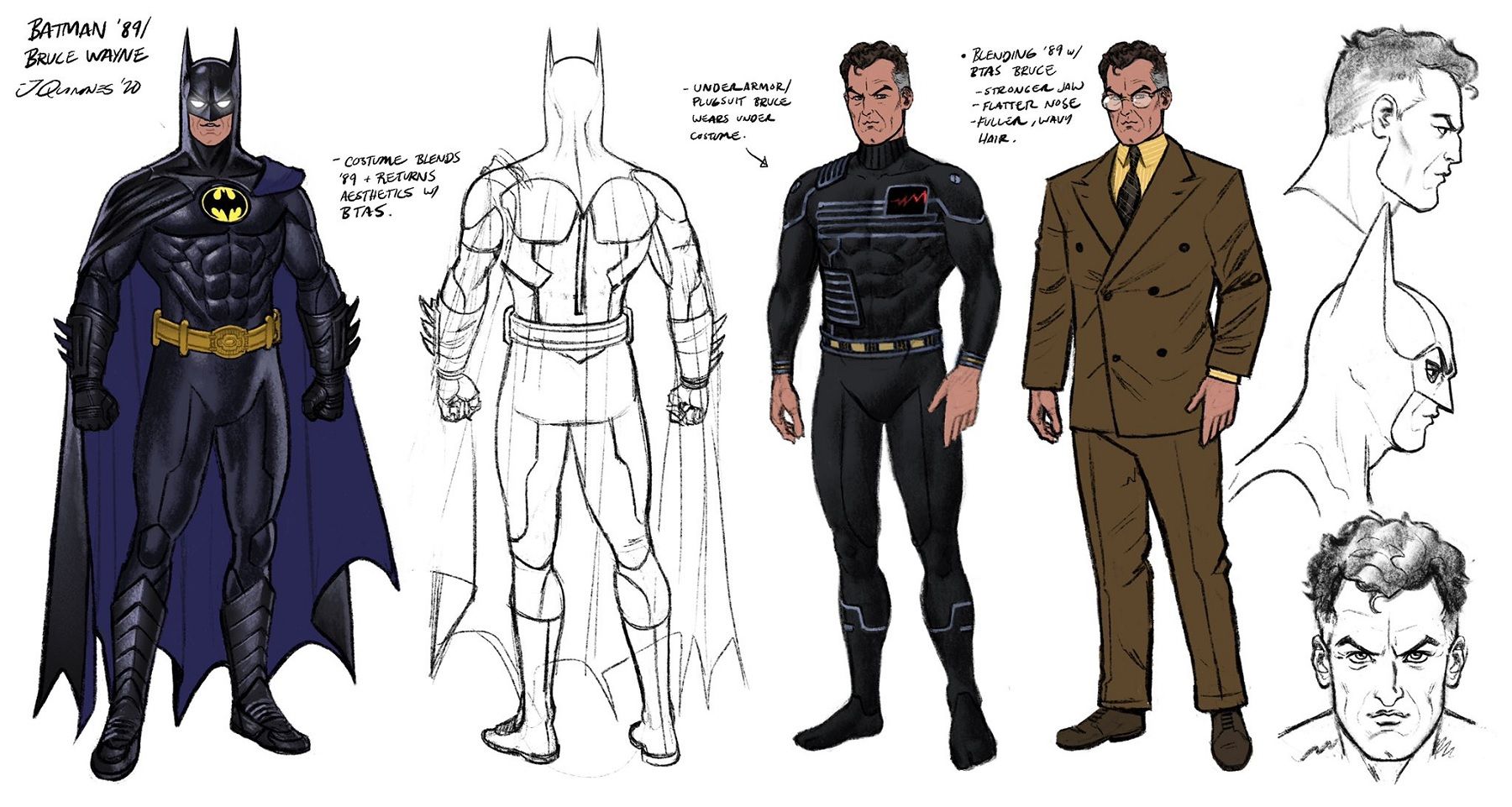 DC Comics is releasing character and gear designs by artist Joe Quinones for Batman '89, including looks at Robin and Two-Face.
DC has revealed a behind-the-scenes look at Batman '89, the comic book set in Tim Burton's film world, proving some character and gear sketches from artist Joe Quinones.
In a preview page of Batman '89 # 1 shared on Twitter, The Joker's followers cause widespread chaos, with one group staging a pile-up and another smashing windows and robbing stores. An observant Batman, in communication with Commissioner Gordon, watches from a rooftop and tells him and formulates a plan to end it all.
RELATED: Michael Keaton's Dark Knight Returns in Batman '89 First Look
The second image shows the character designs for Batman and Bruce Wayne, Robin in costume and without costume, Two-Face, The Joker Gang, Alfred, Commissioner Gordon and the Batcycle. Robin's design follows early plans to launch Marlon Wayans in Batman Returns, which never happened, and Billy Dee Williams as Two-Face. Williams appeared as Two-Face Harvey Dent's alter ego in Batman, but Tommy Lee Jones played Two-Face in Batman forever. Commissioner Gordon is inspired by the late Pat Hingle, but resembles the character's appearance in Batman: The Animated Series, including a trench coat.
The central figure of the Joker Gang sketch, however, is not drawn to resemble Jack Nicholson, who played the Clown Prince of Crime in the film. Instead, he looks like Prince, who appeared in two music videos from the film's soundtrack album as the character Gemini.
The first six chapters of Batman '89 will debut digitally on July 27, with six more chapters arriving each week thereafter. Once all 12 chapters are released, they'll be gathered into six physical comic books that will debut in August, September, and October. The collected hardcover edition will be available in October.
RELATED: Batman '89 Launches Exclusive Comic Book Store Specific Covers
DC Comics is also releasing a similar series based on Richard Donner and Christopher Reeves. Superman (1978), aptly titled Superman '78. This comic, which will also release six chapters on July 27, will be written by Robert Venditti and illustrated by Wilfredo Torres.
Source: Twitter
Mico Suyan's Batman '89 variant pays homage to iconic Jim Lee art
About the Author