Speculative Fiction Magazine Review: Baffling Magazine (issues 1-4)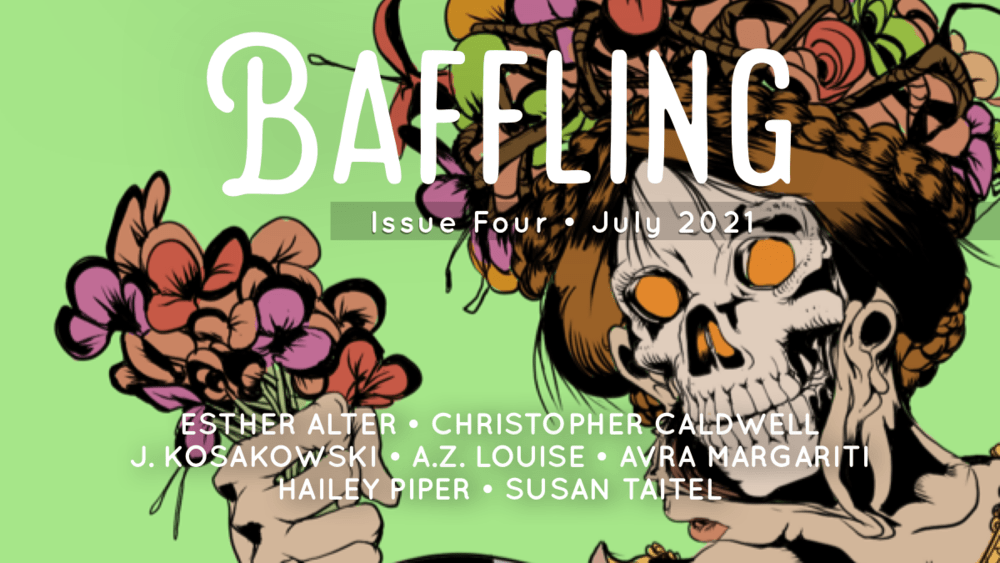 Confusing magazine, a quarterly magazine from Neon Hemlock Press, publishes speculative flash fiction that celebrates and explores queer identities and experiences.
This post is not sponsored. All opinions are mine.
Confusing magazine (official site) features speculative flash fiction based on queer voices and experiences. Since October 2020, the magazine has published a wide range of new and familiar voices including AZ Louise, Avra Margariti, Izzy Wasserstein, Brent Lambert, Jen Brown, Mari Ness, and more. The first four issues (the last one published earlier this month) impressed me with their magnificent prose and limit-pushing ideas.
One of the stories from the first issue – Mérida, Yucatan, 2060 by Jewelle Gomez – introduces the character Gilda (a black lesbian vampire) from Gomez's Gilda's diaries. Jennifer Mace's The birds are trying to reinvent your heart (from number 2) is full of beautiful atmospheric images. Rising writer Jen Brown honors this venue with her spectacular piece, Bandit, Reaper, yours, in the third issue.
As with other speculative flash fiction places, like Fiction by the fireside and Arsenika, confusing The content stands out for its dedication to amplifying underrepresented voices and experiences. confusing the fourth issue is no exception. Drag queen visits wish-granting fish in Christophe Caldwell's An island in its splendor. The first sentence of Our days of stained glass by Avra ​​Margariti is enough to bring me back (pun intended.)
The confusing magazine masthead: Dave Ring (editor and co-editor), Craig L. Gidney (co-editor) and Gabriella Etoniru (associate editor).
Take note; queries should be sent to [email protected] Confusing magazine does not accept submissions until December 2021.
You can support the magazine through their Patreon. Issues 1-4 will be published in an anthology for November 2021, which you can pre-order here.
Check out Neon Hemlock Press here.
For more speculative fiction magazine recommendations, check out my review of Dead lands (Issues 1-3), my Queer magazine recs and my Queer SFF short fiction recs.
Author:
Brahidaliz Martinez
Brahidaliz (pronounced Bra-da-leez) graduated in 2019 from the Masters program in Creative Writing at American University. They are Submission Editors for Uncanny Magazine. Their various areas of interest include intersectionality in apocalyptic and disaster films, artificial intelligence, writing for animation, YA SFF, and LGBTQ + portrayal in children's media.
Pronouns: he / they
Location: DC Metropolitan Area
Twitter: @brahidaliz
–
Read our before commenting.
Do not copy our entire content from other websites. Links are encouraged.
Copyright © The Geekiary
Related