The New Hit Movie Pushing Chinese Sci-Fi Into Uncharted Territory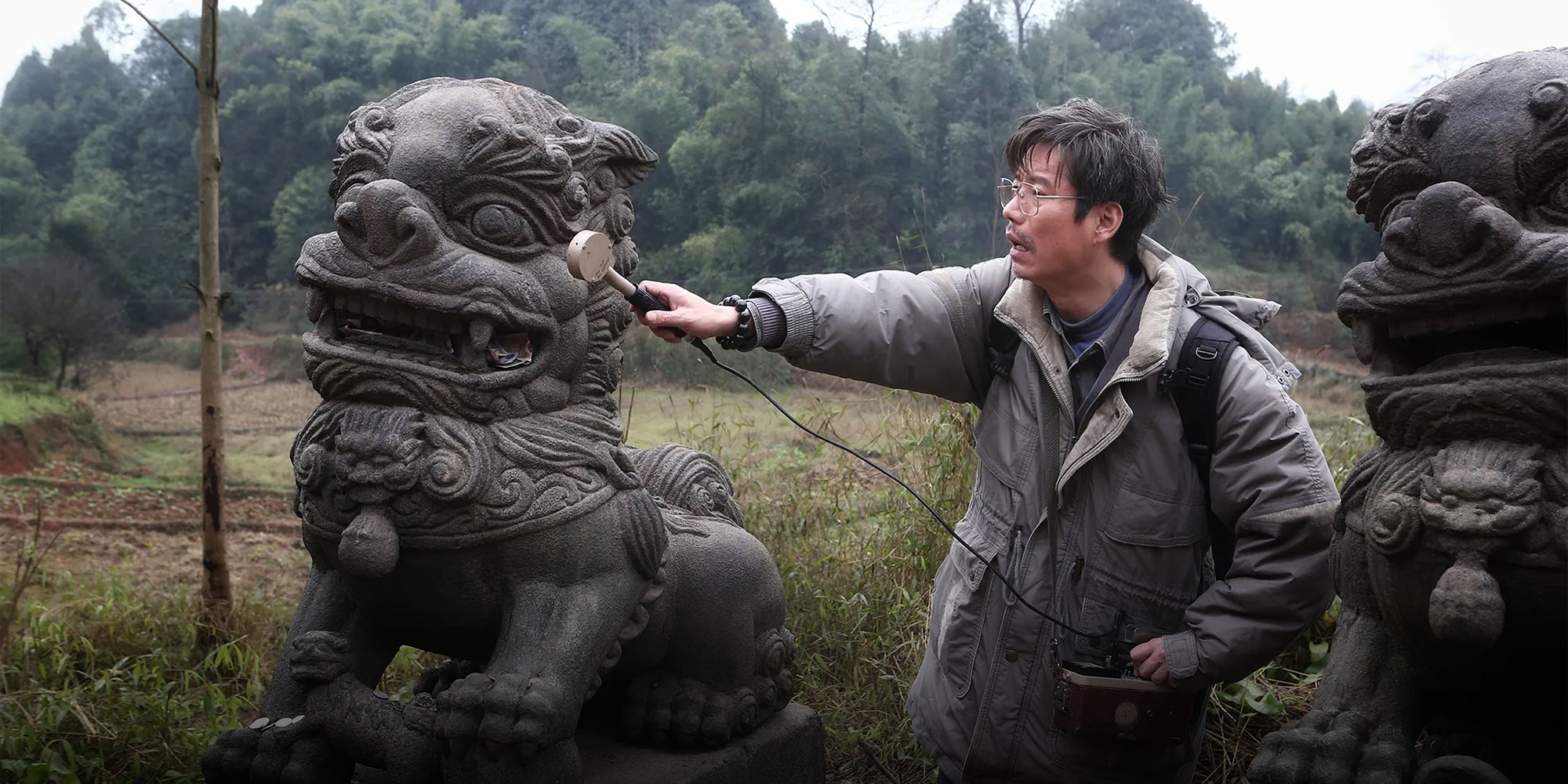 In Kong Dashan's new blockbuster film "Journey to the West," aliens aren't lurking in the cornfields of the American Midwest. They roam the villages of northern China.
The film has caused a stir on the festival circuit in recent months by offering audiences something rarely seen before: a sci-fi tale with a decidedly local flavor.
Tang Zhijun, a middle-aged magazine editor from Beijing, travels to a remote village to investigate a massive sighting of an unidentified flying object. There he meets a local poet who says the answer to the mystery lies in a distant mountain.
As the tension mounts, the couple embark on a road trip that turns into a journey of self-discovery. It's an eccentric, often comical tale that echoes the original "Journey to the West," the classic Chinese novel about the monk Tang Sanzang's quest to retrieve Buddhist scriptures from India.
Last October, the film won an unprecedented four awards – including best film – at the Pingyao International Film Festival, China's main platform for independent cinema. He has since performed overseas at the Rotterdam International Film Festival and the Osaka Asian Film Festival to further acclaim.
With a Chinese theatrical release pending, film industry insiders say the buzz surrounding the feature film is palpable. Kong, the film's 32-year-old director, says the film's low-budget, down-to-earth style proved to be an asset.
"We gave people science fiction in a story that might feel familiar to aspects of their own lives," Kong says. "It's something new."
Figures from the Chinese sci-fi scene hailed 'Journey to the West' as a step forward for the industry – and a sign that it's finally ready to step out of star author Liu Cixin's shadow .
Chinese science fiction has exploded in popularity in recent years, propelled by the smash hit of Liu's "The Three-Body Problem." The novel, which transcends time and space as it depicts humanity's war against an alien civilization, became a global sensation after winning the prestigious Hugo Award in 2015.
The Chinese government, once wary of science fiction films, began to actively embrace the genre as a tool of soft power in the following years. This opened the door to a series of big-budget science fiction productions, many of which were inspired by Liu's work.
A still from the 2019 film "The Wandering Earth". From Douban
In 2019, "The Wandering Earth" – an adaptation of a short story by Liu about a group of astronauts trying to save the planet from destruction – became a box office hit, grossing 4.4 billion yuan (then $638 million) in ticket sales and winning a slew of local awards.
Other Chinese sci-fi films that attracted large audiences that year included the zany comedy "Crazy Alien" – also based on a story by Liu – and the special effects-rich alien invasion film "Shanghai Fortress".
Although the pandemic has caused major disruptions to film production in China, a big-budget sequel to "The Wandering Earth" is slated for release in 2023. Streaming giants Tencent and Netflix, meanwhile, are currently putting the finishing touches on a television adaptation of "The Three-Body Problem."
Liu continues to dominate the Chinese science fiction scene. His style of fiction – speculative, epic in scale, and informed by hard science – influenced an entire generation of Chinese writers.
"Currently, I see a lot of physics, astronomy, and space – natural science stuff," says Chen Qiufan, a top science fiction writer and honorary president of the Science Fiction Writers Association. Chinese. "It's kind of like America in the 1950s. Like (Isaac) Asimov, Arthur C. Clarke, those 'golden age' writers.
A still from the movie "Journey to the West". Courtesy of Xu Jiahan
But there are signs that this is starting to change. Some creators are beginning to experiment with a more folksy sci-fi style, which draws more from China's cultural heritage and current events. For Chen, it's part of a movement to explore "what are the Chinese characteristics of science fiction."
"Maybe in the future there will be something different," he says. "I could also do explorations myself to connect with ancient Chinese philosophy and mythology…so the work uses a different kind of language."
Filmmaker Kong seems to be ahead of the game. 'Journey to the West' revolves around its title character's woes and his search for answers: not only about what might lie in the afterlife, but also about how his own life has been.
It is a work that is steeped in traditional science fiction themes, such as the search for redemption and humanity's fascination with the possibility of extraterrestrial life. Kong says his inspiration came from the hours he spent flipping through science fiction magazines while growing up in the 1990s in Shandong, a province in eastern China.
"My generation grew up reading science fiction magazines, books about unknown mysteries," Kong explains. "If we really think about what extraterrestrials represent, it's actually another kind of system, totally different from the existence of human beings."
Filmmaker Kong Dashan. Courtesy of Xu Jiahan
Unlike Liu Cixin, whose work is often compared to "Golden Age" science fiction writers of the 1940s and 1950s, Kong's work shows faint echoes of more recent classics. The central character – played by veteran actor Yang Haoyu – is obsessed with outer space as his real life on terra firma crumbles, much like the protagonist in Steven Spielberg's 1977 masterpiece "Encounters of the third kind". As in this film too, there is a voyage of discovery as personal as it is extraterrestrial.
But there are also sly nods to the greatest road trip of them all – the one taken by Tang Sanzang and his three disciples in the original "Journey to the West". In Kong's feature film, however, the characters' quest for fulfillment is rooted in a decidedly contemporary setting.
"In this book and in my film, you have characters searching for the ultimate answers in life," Kong says. "I think it comes from the influence of 'Journey to the West' unconsciously. It's a road trip, but inside it's also its own mental journey. I think it's necessary to have this kind of science fiction trip.
The hope is that more Chinese filmmakers will find opportunities to experiment with science fiction in the coming years. Chen, the author, says the prospects for Chinese science fiction have never been better, especially given the government's embrace of the genre.
"There have been science fiction themes in China for about 100 years, but they haven't been continuously developed because of wars or political reasons," Chen said. "But (now) seems like a golden age because it's top-down. We've had a lot of support from the government and, moreover, the market is ready."
Chinese authorities are investing resources in science fiction-related projects. Next year, the city of Chengdu in the southwest of the country will host the influential World Science Fiction Convention. Officials have greenlighted a massive $8 billion Paramount Park theme park in Kunming, another city in southwest China, which will include an area themed around the "Star Trek" franchise.
In 2019, the government also helped launch the Chinese Academy of Science Fiction at Sichuan University in Chengdu, a facility whose stated mission is to develop "a science fiction theoretical system with Chinese characteristics". Last year, researchers estimated that China's science fiction industry was worth 36.3 billion yuan in the first half of 2021.
A still from the movie "Journey to the West". Courtesy of Xu Jiahan
A still from the movie "Journey to the West". From Douban
The scene is also benefiting from the growing demand for sci-fi movies among young Chinese, Chen said. Unlike previous generations, who often didn't have easy access to science fiction, Chinese millennials like Kong grew up immersed in science fiction culture.
"So many younger generations are so passionate about science fiction as a genre, whether it's literature, movies, or video games," Chen says. "I think that was a fundamental shift, because back in the 80s, or even the 50s and 60s, maybe people weren't ready for science fiction yet."
Publisher: Dominic Morgan.
(Header image: image taken from the film "Journey to the West". From Douban)