The Strange Role Moon Knight Played In John Byrne's Iconic Fantastic Four Run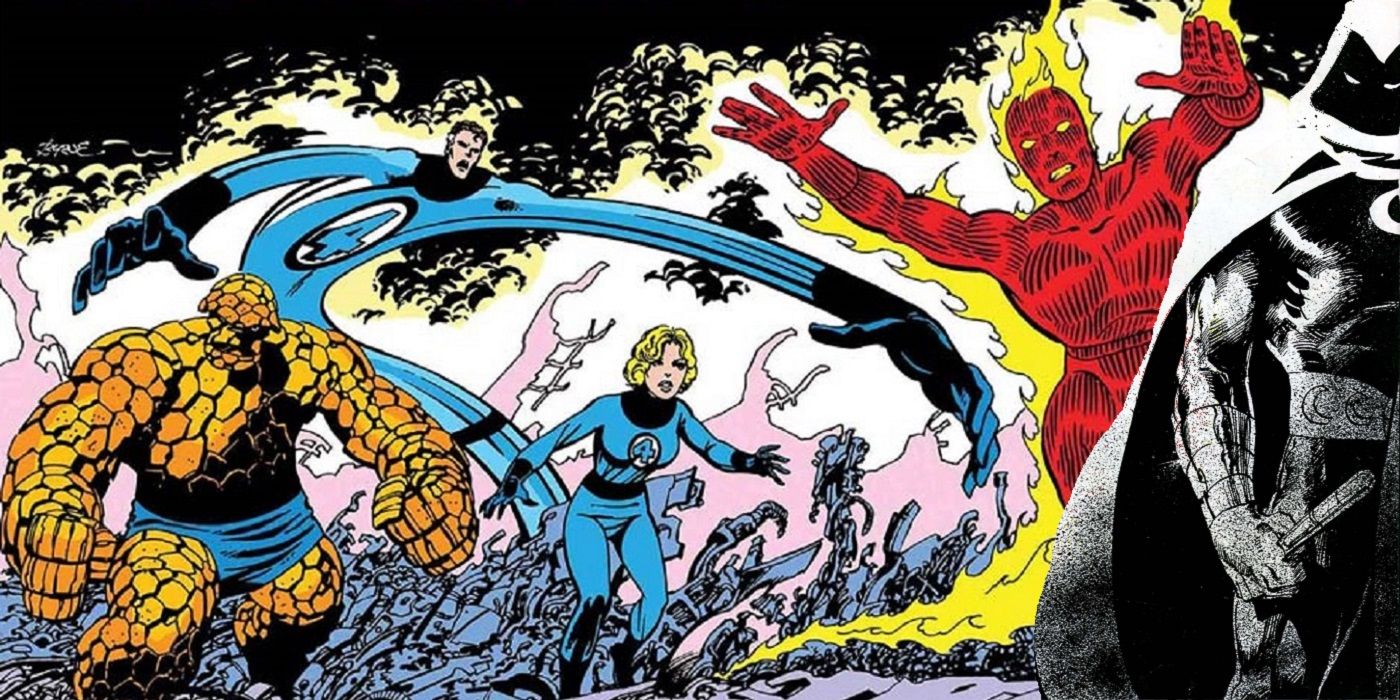 Today, find out how close we've come to John Byrne and Bill Sienkiewicz on The Fantastic Four!
In Nothing Was Delivered, we take a look at announced comic book projects that never saw the light of day. We will try to find out WHY they did not come out. I'm sure you all know tons of examples of comic book projects like these, so feel free to email me at [email protected] to tell me a few for future columns.
As I explained in another column recently, Bill Sienkiewicz had a fascinating start at Marvel Comics, where the artist first tried to find work at DC because he felt his job wasn't quite there yet. on a Marvel level, but was sent by then-DC art director Vince Colletta to Neal Adams' Continuity Studios, as Sienkieiwcz initially drew in Adams' style. Adams looked at his work, then called Marvel and told the company to hire Sienkiewicz. It turns out that Ralph Macchio was looking for a new artist for Moon Knight's regular backup feature in the Pontoon! color magazine and when he saw Sienkiewicz's work he quickly signed him on the feature with regular writer, Doug Moench (who had co-created Moon Knight with Don Perlin a few years earlier in the pages of night werewolf #32).
These back-up stories quickly became a sensation, as Sienkiewicz's Adams-esque art style quickly attracted a number of fans. Typically, as these things go, when an artist gets hot on a minor feature, then you try to give them bigger work (like Russell Dauterman being so good on Cyclops that he was quickly cut from the book to cast the Jane Foster Thor with Jason Aaron and then Dauterman's replacement Javier Garron being ALSO so good that he was given a number of other assignments including possibly working with Aaron on The Avengers).
RELATED: Why Marvel Aborted Ronin's Possible Original Reveal – And How They Changed It
BILL SIENKIEWICZ RESUMED THE FANTASTIC FOUR ARTISTIC FEATURES
At the end of 1979, Sienkiewicz and Moon Knight de Moench race in Pontoon! was over and the two then graduated to start working on launching a new moon knight ongoing regular series (I pointed out in a recent column that Sienkiewicz literally had to redesign his first original issue for this series).
At the same time, however, the two then did a guest number of The Fantastic Four #219, a book that Jim Shooter was to support as a new regular writer…
Instead, the issue was received well enough that after two replacement issues, the two became the regular Fantastic Four creative team (with Joe Sinnott remaining on the show) starting with #222 ( I'm showing the cover of #223 because I just think it looks cooler)…
However, Moench almost immediately felt uncomfortable on the show. I think he did a good job, but he and editor Jim Salicrup didn't exactly have a meeting of minds on the book, and Moench's run was cut short, with John Byrne taking over the series with The Fantastic Four #232.
RELATED: Shang-Chi Almost Starred in a Milestone Media Marvel Series
THE JOHN BYRNE/BILL SIENKIEWICZ FANTASTIC FOUR RACE THAT NEVER WAS
However, while Byrne's first issue notoriously implied that Byrne wrote AND drew the series…
This was NOT the original plan (hell even when it became the plan the idea was for Terry Austin to write Byrne and THAT also fell through at the last minute so Byrne had to ink himself) . Originally, Byrne was just going to write the show and Sienkiewicz was going to stay on the show as a regular artist (likely doing some layouts with Joe Sinnott doing the finishing touches).
At this point, however, moon knight had been launched and Sienkiewicz had also done about eight issues of this series, while drawing The Fantastic Four (again, though, I believe he was doing layouts with Sinnott finishing up, which means Sienkiewicz wasn't literally drawing two books a month, but even doing layouts is a lot of work, because you always do the work of laying out the page and designing the look of the page. For example, people don't remember that Frank Miller "just" did layouts for Wolverinewith Joe Rubinstein doing pencils and finishes on these layouts, and yet Wolverine still looks like a comic book drawn by Miller because his design skills are so distinct. Sienkiewicz is like that too).
Byrne, however, was still drawing x-men with Terry Austin when he accepted the writing assignment on The Fantastic Four. In an old Legends Revealed comic I noted that even though people think the progression went Byrne leaving x-men then take over The Fantastic Four, his original plan was to do BOTH books at the same time! Co-ploitation and drawing x-men and writing The Fantastic Four with Sienkiewicz and Sinnott on artistic homework.
However, when Byrne decided to quit x-men (due to his repeated frustrations with co-plotter/screenwriter Chris Claremont, as the two would co-plot the book, with Byrne even doing the majority of the plotting towards the end of their run together, but since Claremont's scripts would be the finale done, Claremont could always make changes when he felt like it and that would be what would be published and Byrne didn't want to work that way anymore), suddenly he didn't have an artistic mission.
He and Marvel editor Jim Shooter talked about it, and although Byrne had given Sienkiewicz months of storylines by then, Shooter and Byrne agreed that Byrne should just write AND draw. The Fantastic Fourwith Sienkiewicz then doing "just" Moon Knight. I don't know if Sienkiewicz was okay with the decision or not (making two books a month seems very hard for Sienkiewicz to do, especially since he had recently injured his wrist at the time, but I don't dunno, he might have felt he could do it), but it certainly seems like things would have been VERY different in comic book history if Sienkiewicz's only artistic mission had been The Fantastic Four. I tend to think he wouldn't have been replaced if he was, so the fact that he was also doing moon knight probably played a major role in the history of comics in general.
If anyone has a suggestion for another interesting comic book series/story that has never been published, let me know at [email protected]!
How the New 52 took us away from Justice League/Transformers!
Read more
About the Author