Wednesday Webcomics: "Charity Case" by Malacandrax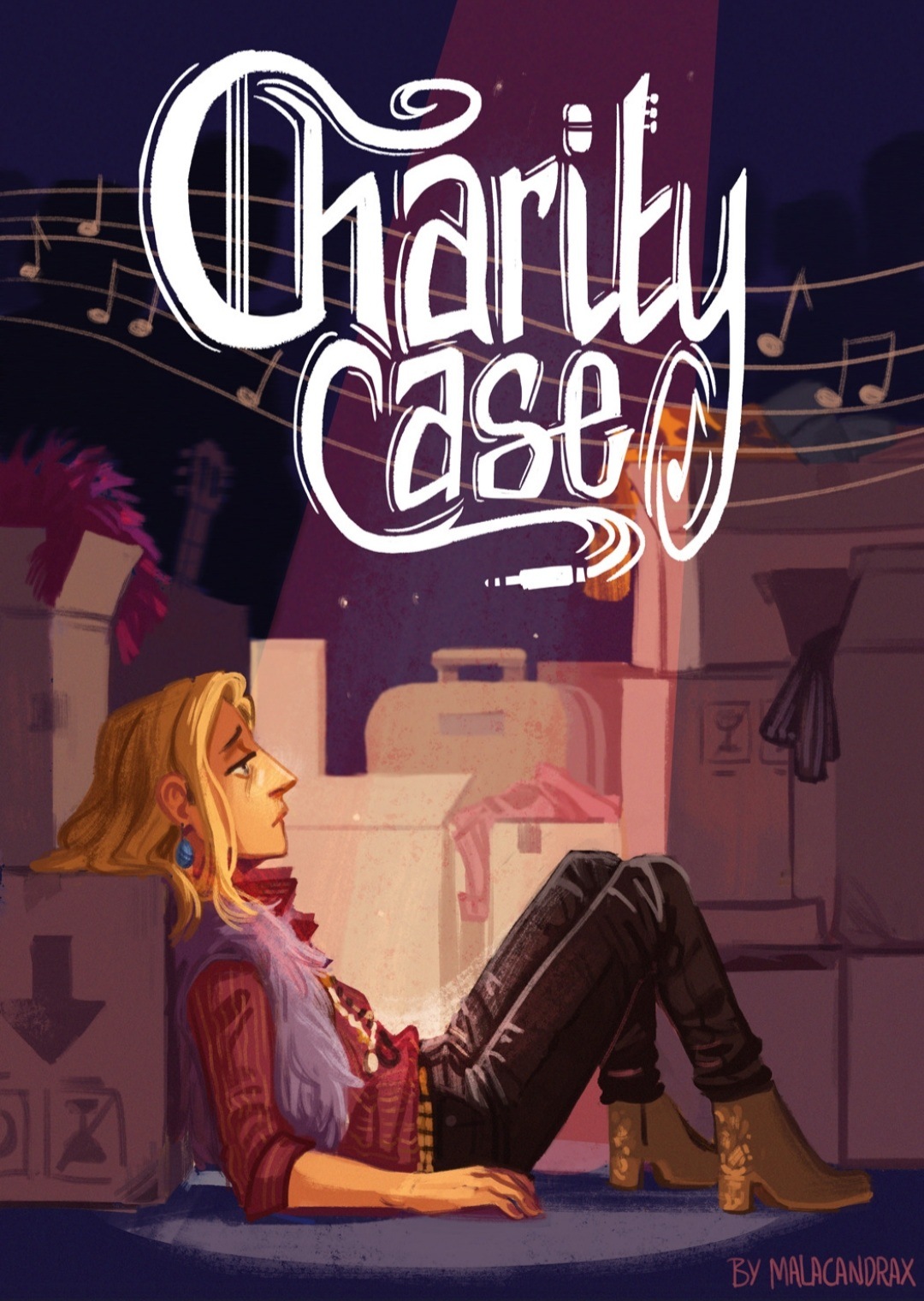 Charity case by Malacandrax contains the themes of the family found and the discovery of love for oneself and for others. It's a much needed queer webcomic today.
Julien, a musician, is in desperate need of money and it's getting harder and harder to get gigs these days, even with the help of his Queer elders Jerry and Sylvia. But he can't rely on charity to pay his rent, so with advice from Jerry and Sylvia, he moves to a more affordable place. He now lives with his roommates Marnie and Roman, and while working on his financial situation, he falls in love with Marnie and Roman.
Reading Charity case it feels like dancing: the music flounders through an irregular rhythm, bracing the unexpected ups and downs of the song called life. The webcomic doesn't circumvent the reality of being a queer adult. Julien lost the support of his living family to be himself. He has to make ends meet on his own. Married couple Jerry and Sylvia (Jerry is a cis lesbian, Sylvia a trans lesbian) support him in his difficult times, but on condition that he manages his financial situation.
This leads him to meet and live with Marnie and Roman, these two being in a romantic relationship. Julien tries to get over his situation, dealing with his depression and anxiety, but then he begins to develop feelings for Roman and Marnie.
The strangeness of this webcomic is not addressed to the eyes of the cishets. Julien even wears makeup during his concerts. Marnie, Roman and their friends range from various queer identities and expressions like ace / aro spec, agender, and pansexual. Jerry and Sylvia are seniors, and not only do they advise Julien on his independence, but they are as dynamic as the other characters. Polyamorous romance is still brewing, but the romantic and sexual tension between Julien and his roommates is well paced and nuanced.
Charity case is available for reading online.
For more great webcomics recommendations, check out our Wednesday Webcomics Archives! You can find more Queer webcomics here.
Author:
Brahidaliz Martinez
Brahidaliz (pronounced Bra-da-leez) graduated in 2019 from the Masters program in Creative Writing at American University. They are Submission Editors for Uncanny Magazine. Their various areas of interest include intersectionality in apocalyptic and disaster films, artificial intelligence, writing for animation, YA SFF, and LGBTQ + portrayal in children's media.
Pronouns: he / they
Location: DC Metropolitan Area
Twitter: @brahidaliz
–
Read our before commenting.
Do not copy our entire content from other websites. Links are encouraged.
Copyright © The Geekiary
Related