When Batman's Bizarre Silver Age Suit Became Weirdly Important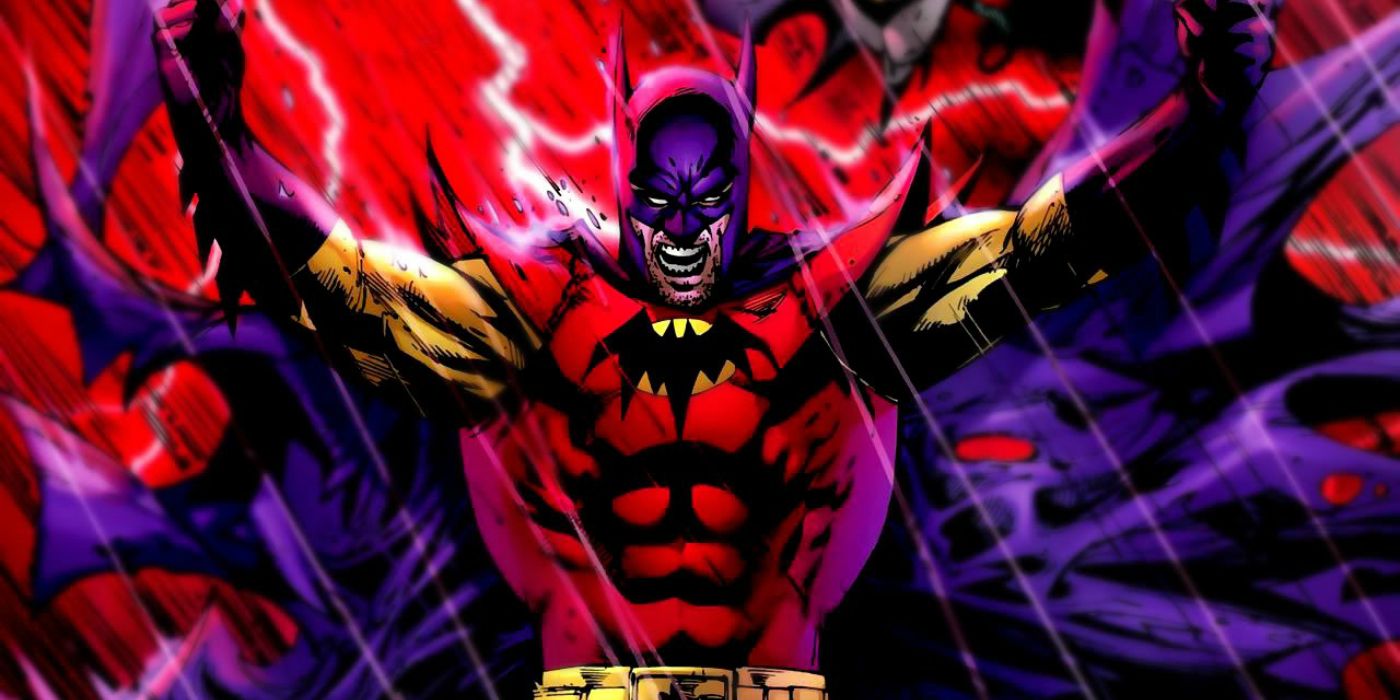 Batman has worn many capes, cowls, and suits over the years, from his classic gray look to the black suits of most movies. These costumes reflect its darker and grittier stories, with the black costumes in particular reflecting its more urban and stealthy premise. A costume and accompanying story, however, completely removed both stealth or anything remotely cool.
The Batman of Zur-En-Arrh's costume is a garish, downright ridiculous series of threads that make The Dark Knight more suited to a psychedelic dream than a street-level gothic nightmare. Despite the ridiculousness of its appearance and origin, this costume has ironically returned in a much darker form thanks to Grant Morrison.
RELATED: Batman's Latest Emotional Blunder Could Jeopardize His Biggest Romance
Who was Tlano, the Batman of Zur-En-Arrh?
Tlano, the Batman of Zur-En-Arrh, debuted in Batman #113. Created by France Herron and Dick Sprang, this Caped Crusader had a costume and training very similar to Earth's. Bringing the man Batman to his homeworld of Zur-En-Arrh, Tlano hoped for assistance against robots used by another alien race. On this strange new planet, Earth's Batman discovered that he had suddenly developed incredible powers like that of his friend Superman. After defeating the would-be alien conquerors together, the Batmen went their separate ways, with Tlano giving Bruce Wayne a Bat-radia as a token of their friendship.
Zur-En-Arrh's Batman had perhaps the most laughable Batman costume ever. Instead of grays, blacks, or even dark blues, his Batman costume was purple, red, and yellow, rendering his fearsome qualities non-existent. Needless to say, this ridiculous concept lay dormant for quite a while after being introduced in the Silver Age of comics. However, this costume concept would reappear several years later under writer Grant Morrison.
RELATED: Batman Could Be The Perfect Ninja – He Just Chooses Not To Be
Grant Morrison Made Zur-En-Arrh Batman Much Cooler
Zur-En-Arrh's modern take on the Batman was introduced by Grant Morrison, who radically reimagined the idea in Batman #681. This was in an attempt to legitimize all aspects of Batman's publishing history, even the dumbest sections of the Silver Age. It is revealed that in the Post-Crisis continuity, Zur-En-Arrh is a kind of "backup" personality for Bruce Wayne if he is ever mentally compromised. The strange name of the trigger phrase stems from Bruce mishearing his father's last words when Thomas said that "the saddest thing is that they would probably throw someone like Zorro into Arkham".
Once "triggered" by the phrase Zur-En-Arrh, Bruce reverts to a much wilder and more violent persona. Making himself an improvised Batman costume, the bright colors of the sketchy costume are of course those of the classic Zur-En-Arrh Batman. The brilliance of this costume is also compared to Robin's theater, and it's ironically meant to be a fierce threat to anyone who sees it. Zur-En-Arrh poses as Batman with Bruce Wayne "out of the equation", and he's constantly spoken to in hallucinations by none other than fellow Silver Age Bat-Mite. Bat-Mite is meant to mentally counter Zur-En-Arrh, as without Bruce Wayne's inhibitions, he is far more likely to use lethal force on anyone who stands in his way.
Since Morrison's run on the book, there have been adaptations of both versions of Zur-En-Arrh Batman. The cynical deconstruction used by Morrison showed how even the wildest Silver Age concepts can be reused in interesting and modern ways. Another more recent example is the new version of Topo in Geoff Johns' run on Aquaman during the New 52. This series changed what was once Aquaman's octopus friend who played musical instruments into a gigantic octopus-like monster who is summoned by a musical instrument. Hopefully more writers will feel free to reuse these old ideas for new generations of readers, though as in the case of Zur-En-Arrh Batman, they definitely need to be tweaked to be truly usable and relevant to the story.
James Gunn responds to hopes of the return of the first Guardians of the Galaxy
Read more
About the Author