Woman Says She Breastfed Baby In Church, Then Was Punished By Her Leaders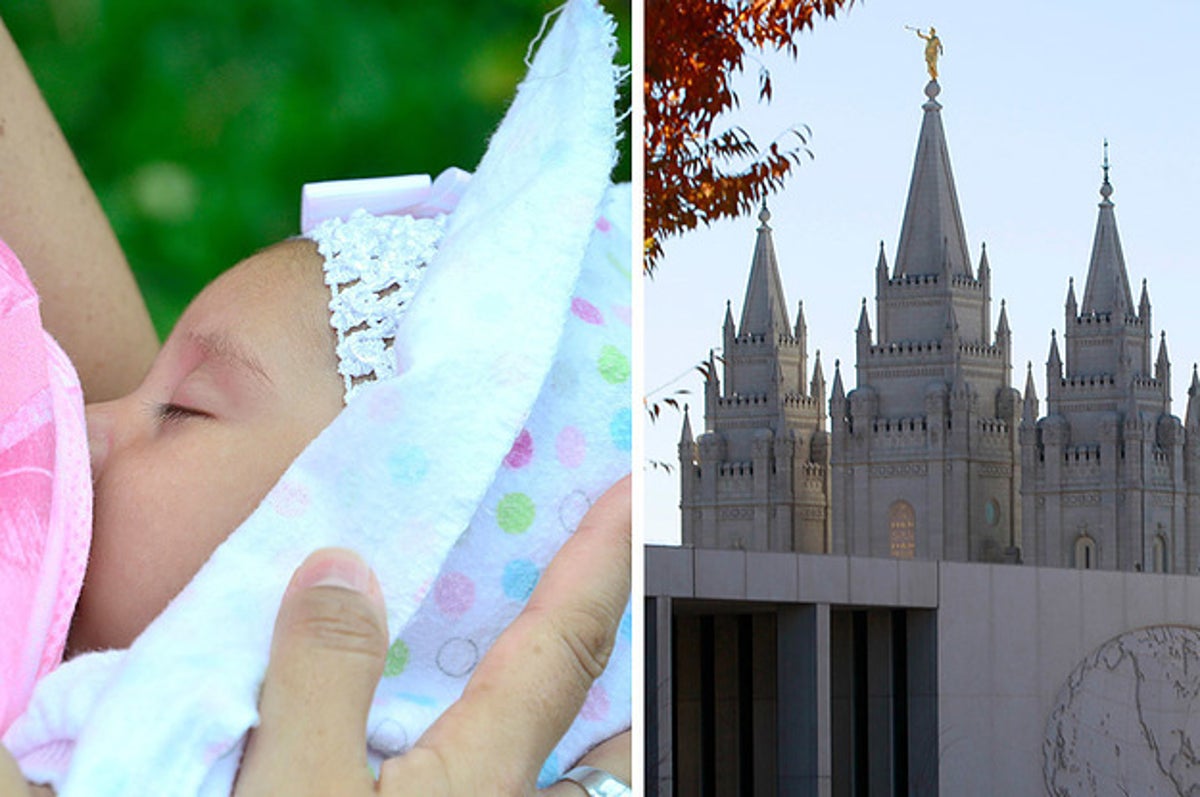 A Mormon woman attending church in northern Utah with her four children and her husband sat in a home last month and finally began breastfeeding her 19-month-old baby.
It was a routine Sunday for the mother, who spoke to BuzzFeed News but asked to remain anonymous, until the meetings were over and her bishop – a local lay leader similar to a pastor – called her to a conference.
"He called me and told me that people had complained," the woman said, "and they were just worried that young men would sexualize my breastfeeding my daughter."
The conversation, she said, was "ridiculous".
"I basically told her that I was not going to change what I was doing and that the Lord is the only one who can change my point of view on this issue," she recalls.
Two weeks later, the woman said her stake president – a leader one step above a bishop – called her to a meeting and told her that she should cover up while breastfeeding "because that it is a problem of modesty ". The woman said the church leader quoted a brochure aimed at teenagers and said women "should be dressed and modest at all times so that men do not have bad thoughts."
The woman, who was accompanied by her husband to the meeting, called the meeting with the stake president controversial, recalling that she went out three times. During one of those absences, she said, the stake president insisted that her husband should "control" his behavior.
"While I was away, he told my husband he had to control me," she continued.
When the wife and her husband refused to budge, the stake president responded by telling them that he would not sign their "temple recommendations" – documents that allow Mormons access to the most sacred buildings of religion. , as well as the rites that members of the faith religion believe are essential to their salvation. Temples are also where Mormons hold weddings, as well as ordinances such as baptisms for the dead, which are meant to offer salvation to deceased ancestors.
The incident, which happened last month, sparked a long boil debate within The Church of Jesus Christ of Latter-day Saints, known as the Mormon Church, which has for decades privileged support for families as one of its most cherished values. And it prompted the launch of a campaign to push church officials to clearly define how and where mothers are allowed to breastfeed their children.
Carrie Salisbury, who advocated for the church to create a policy on breastfeeding and interviewed the northern Utah woman for a blog post last week, said many other breastfeeding women were ordered to cover themselves in church or hide from the public, although this is the first time she has heard of a local leader refusing a temple recommend.
"It is as if the comfort and needs of mother and child come after the comfort of the people around her," Salisbury said.
The northern Utah mother said she knows other women who have separated from the faith as a result of similar experiences.
"I have spoken with several other moms who have had the exact same problem," she said. "In fact, they even left the church because of it."
Salisbury said the problem is the lack of a clear church-wide policy. Public breastfeeding laws vary from state to state, but in general, it is a protected act in the United States. However, the women who spoke to BuzzFeed News said they were unsure of the legality of breastfeeding at church because the chapels are privately owned. They therefore want the church to take a stand.
"Since there is no policy, what has happened is it's kind of left to the determination of the local leader, bishop, or stake president," said Salisbury.
All local LDS church leaders are drawn from the congregation, are unpaid, do not receive any formal training, and are serving temporary sentences that typically last a few years. Jenne Alderks, a Mormon and Doula who also wants the church to articulate a clear breastfeeding policy, called the results of this system a "leadership roulette."
"It's the game that women play," Alderks told BuzzFeed News. "Some leaders are very supportive and some are not. Some will apparently withdraw your temple recommend."
Some church members responded to the northern Utah woman's experience by suggesting that she should have covered up or moved to a "mother's room" that some LDS meetinghouses have. But Alderks and Salisbury said not all babies will continue to nurse under a blanket, and mother's bedrooms – which are often attached to bathrooms – can be cramped, uncomfortable and lacking basic amenities.
"It can seem very isolating to always lock yourself up behind a closed door in order to protect the prudish sensibilities of the people around you," Alderks said.
She added that women faced with calls to cover up are often told it's about modesty, but the underlying problem has to do with people who sexualize breastfeeding.
"It fits into this rhetorical idea of ​​modesty that any level of visible skin is immodest and sexual," she said. "But the purpose of breasts is to nourish babies. The bottom line is that it is biologically appropriate for babies to be fed with their mother's body."
In response to the northern Utah woman's experience, other women encourage members of the Mormon religion to write letters to church leaders asking for clarification. Salisbury said the effort was discussed in a closed Facebook group, with more than 200 people saying they plan to contact their church leaders about the matter. Her first blog post on the incident received an overwhelming reception, racking up tens of thousands of views and numerous comments, she said.
A spokesperson for the LDS church declined to answer questions about the incident or say whether authorities have considered drafting a new policy on breastfeeding during church services.
The northern Utah woman told BuzzFeed News she hoped the church would respond with a policy to protect the rights of women to breastfeed as they see fit in the church, adding that such practices are common. in congregations outside the United States.
In the meantime, she decided to compromise. Although she maintains that there is nothing wrong with open breastfeeding in public, she said that after her controversial meeting with the stake president, she returned home and prayed for solutions. Eventually, she decided to use the "two-shirt" method, which involves wearing several tops at a time to cover the breast from above and below during feedings. It's a solution that allows her to continue her relationship with a church she loves, despite her disagreement with her local leaders.
"I specifically asked the Lord, 'Shall I give in to their demands or at least compromise? And the Lord told me yes, that my spiritual well-being was at stake, "she said." I try to stay strong and stay in the church because I love my church. "