Wonder Woman: 10 best comic book numbers of the 1970s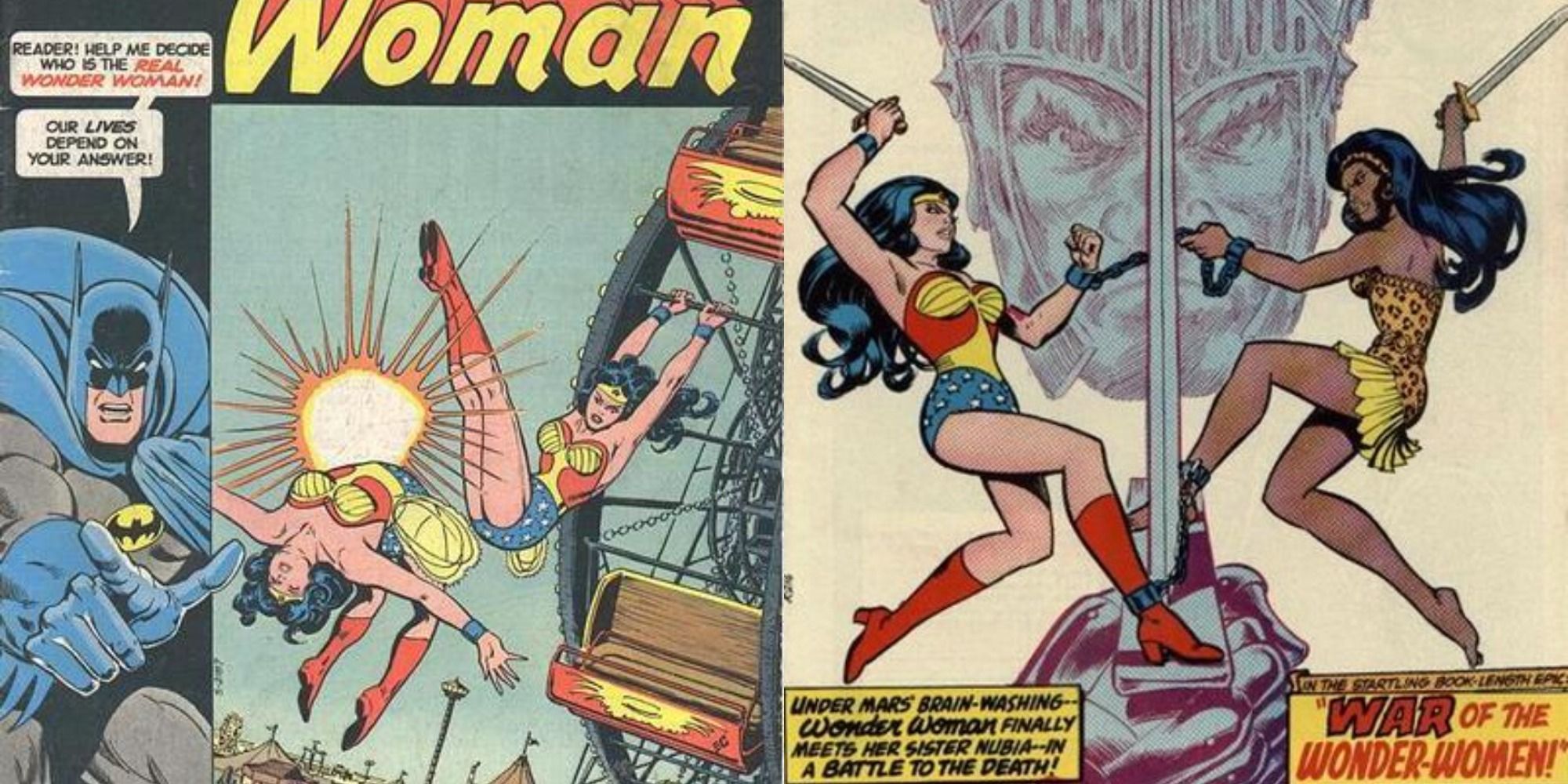 Wonder Woman has a long history, a fascinating track record, and has captivated audiences since her first appearance in 1941. However, the 1970s were a time without roots for the iconic superhero. After the huge changes in the Mod era, the book and the character lacked real direction. Some of DC's best writers at the time, like Len Wein and Matin Pasko, took turns writing it, but the creative teams didn't stick around for long and new directions often changed between issues.
RELATED: 10 Things You Didn't Know About Lynda Carter's Wonder Woman Costume
In 1975, ABC created the Wonder woman TV show starring Lynda Carter and won good ratings. The show's first season was set during WWII, so the comic reverted to the same timeline for a while. When the series modernized, the comic followed, confusing some readers. Despite this, the '70s still saw some great individual Wonder Woman comics.
ten

Wonder Woman # 228, 1978: "Retreat Towards Tomorrow!"
Wonder Woman of Earth-One finds herself on Earth-Two and teams up with the Wonder Woman of the Golden Age to take down Nazi villain The Red Panzer.
This issue set up the new direction for presenting the adventures of Earth-Two Wonder Woman, but was placed in the Golden Age year of 1942. This was to reflect the current era of ABC. Wonder woman TV show starring Linda Carter, also set in the 1940s. The title would be set in the past up to # 244.
9

Wonder Woman # 201-202, 1972: "The Fist of the Flame"
Diana and I-Ching team up to hunt down the mysterious "Fist of Flame" gem that is believed to drive people "crazy." Once they have the treasure, Fafhrd and the Gray Mouse attempt to stop them, as does guest thief Catwoman.
RELATED: 15 Things About Wonder Woman That Make No Sense
Diana shows how talented, courageous and fearless a fighter she is, even without her powers. This comic is part of the Wonder Woman's Mod era, or the Diana Rigg era, where Wonder Woman lost her powers and became a globetrotting adventurer, much like Emma Peel in The Avengers. The changes were a way to shake up a franchise whose better days were behind them. It's the final hurray in this version and features the appearance of Catwoman in her early '70s outfit and two famous sword and witchcraft characters, Fafhrd and the Gray Mouse, created by Fritz Leiber.
8

Wonder Woman # 187-188, 1970: "Earth Quaker"
I-Ching receives a call from an old friend in Hong Kong, asking for help. Asia is threatened by "earthen Quaker" machines and Diana must find and stop them.
Diana is now halfway through the controversial Mod era, still searching the world for Dr. Cyber, Steve Trevor's killer. The "quest for revenge" trope has carried the series pretty well so far. The era has been unfairly overlooked in the past, but it was an improvement over previous Wonder Woman storylines which had the love-sick superhero against Steve Trevor, transformed into a gorilla, or fighting giant eggs. . Without Steve, who was often brash and abrasive, Diana could be more independent. This problem allowed him to save Hong Kong, I Ching and face the tidal waves, all powerless, using his wits and physical skills.
7

Wonder Woman # 204, 1973: "The Second Life of the Original Wonder Woman"
A murderous sniper shoots I-Ching, who dies in Diana's arms. Diana pursues the killer but is punched in the head and knocked unconscious. She finds herself on Paradise Island, her powers and ancient costume restored by Queen Hippolyta.
RELATED: 15 Things About Wonder Woman That Make No Sense
The cleanup of the Mod era has begun. Right away, one of the most reprehensible characters, I-Ching, is killed and at the end of the problem everything is back to normal. This is not so much a "new" direction as a return to the old – with some modifications. Rather than retreading the silliness that marred the stories of the '50s and mid' 60s, this is a mature, thoughtful relaunch that showcases a more independent Diana.
6

Wonder Woman # 206, 1973: "War of the Wonder Women"
Wonder Woman learns that she was not the only girl made from clay: a second statue was created from black clay by Queen Hippolyta and was also created by Aphrodite.
Diana is still one of DC Comics' best fighters and could probably give Batman some hints, but she met her match in her sister. Nubia is a major retcon of the origin of Wonder Woman. DC is back to the evolved "made from clay" origin story, but this time around, she's not an only child. The addition of Nubia expands the origin and gives Wonder Woman allies and much-needed diversity to a beloved comic book series.
5

Wonder Woman # 212: 1974: "The Man Who Mastered Women"
Wonder Woman has no memory of losing her powers, and to be re-admitted to the JLA, she insists on a "Twelve Labors of Hercules" trial, which will be tried by the JLA. This is the first job, reported by Superman.
Wonder Woman was now going through a rootless period both in and out of the comics. As Diana, she was employed at the UN but changed jobs, had roommates, then didn't, and she still found her way. Editorial wise, she had a different team of writers and artists for almost every issue, which resulted in a host of continuity issues. The "12 works" are a way to bring stability and direction to the comic strip.
4

Wonder Woman # 214, 1974: "Wish Upon A Star! "
Wonder Woman avoids WWII when a restaurateur's wish to be king of the world forces a bomber to unload its nuclear charge. This is the third work, reported by Green Lantern.
RELATED: Wonder Woman 15 Things You Didn't Know About Her Sword And Shield
Diana is now an independent woman, single and living in New York City. Steve Trevor may have been killed, but that death really freed the character to be more of his own – and she doesn't have to continually save him. She's trying to prove herself to herself and regain the trust she relied on so much in the past. Even preventing World War II from happening was not enough to make it happen.
3

Wonder Woman # 216, 1975: "Heaven in Peril!"
Wonder Woman saves Paradise Island from a bound Greek tycoon determined to invade it against Aphrodite's law. This is the fifth Labor, reported by Black Canary.
Love is the theme, the mogul's obsessive "love" for Diana that causes the attack, and Diana's love for her home, family, and tradition. While Aphrodite's "no men" decree against Queen Hippolytus might be a curse, it is now a tradition and one that must be protected as a way of life for the Amazons. Amazons firmly believe in traditions, because they help to maintain the unity of their society; they fight for these traditions.
2

Wonder Woman # 221, 1975: "The Glass-Faced Demon"
Wonder Woman's old nemesis Dr. Cyber ​​returns, and this time she wants two things: Wonder Woman's face and her life. Hawkman guest stars as a JLA Observer.
Dr Cyber, who was reportedly killed in an explosion at No. 187, is still alive but has clearly visible scars. This is a final callback to the Mod era as Steve Trevor's killer is still alive and at large. Dr Cyber ​​was the main instigator of this story and her "death" halfway through made the series talk about more than a woman seeking revenge on her man.
1

Wonder Woman # 222, 1976: "The Real Wonder Woman Please … Drop Dead!"
A Wonder Woman duplicate attacks Diana and leads her to Dazzleland Amusement Park, where her life force will power the cryogenic chamber of a frozen Wade Dazzle, founder of Dazzleland.
This is the final job. The whole theme of the "Labors" series wasn't that the JLA would decide to let Diana come back – they all wanted her from the start – it was if she would let go. se It was a 12 problem arc to prove to herself that she was mentally and physically capable of being a member of the League again. It took 12 problems for her to come up with yes, but she did. She has regained her self-confidence and is ready to move on.
NEXT: 15 Inspirational Warrior Women To Watch Out For After Wonder Woman

Next
10 things about Killmonger that only comic book fans know